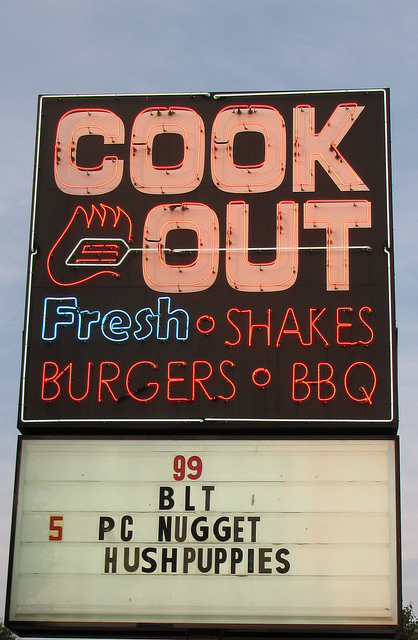 One big double burger, hushpuppies, chicken nuggets and a huge tea all for $4.99. The typical College student would be hard pressed to find a cheaper meal in a ten-mile radius without scavenging through dumpsters outside the Commons Dining Hall.
Cook Out, a southern fast food chain founded in North Carolina, certainly deserves its title of best cheap eats. Two of its $4.99 platters boast a price tag on par with most eateries around the College but offer more food than your typical College student could possibly eat.
Aside from its diverse southern style menu, Cook Out is also well-known for its wide variety of milkshakes. Whether you're in the mood for a classic chocolate shake or December's specialty fresh eggnog shake, Cook Out won't disappoint with its 46 flavor options.
If you're not up for an entire meal, a milkshake with a regular fry (for dipping in the shake, if you're bold) will usually fit the bill.
While it is just as fast as surrounding fast food chains, Cook Out manages to keep the speed while still providing friendly service and a clean atmosphere. Once your order number is called, there is no lack of wood-carved benches and tables for you to devour your platter on.
Even though Cook Out is not as close as some competing food options, its cost to distance ratio is just high enough to beat out the competition. A comfortable 1.5 miles off campus, Cook Out is the perfect distance to act as a quick escape while still not requiring an unnecessary trek.
If none of your friends can be goaded into driving you a few minutes down Richmond Road, the Williamsburg Area Transit Authority's Green Line stops a short walk away from its location — perfect for the cold winter nights when you are sure to need a break from Sodexo dining hall food.
If the unrivaled price and various milkshakes aren't enough, Cook Out's hours of operation are favorable for overworked students who need to mix something new into their Wawa runs. Cook Out stays open until 3 a.m., the perfect time for a milkshake break during finals week. Most importantly, though, Cook Out will always be there when you're at your lowest — both financially and emotionally.
To view all winners of Best of the 'Burg, click here.