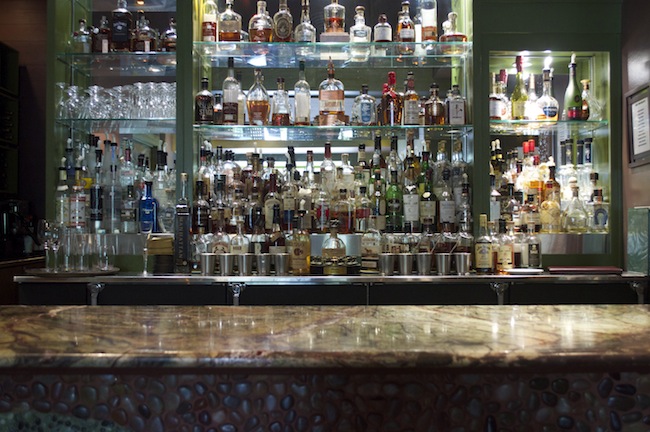 While Williamsburg may not have a Rainbow Room, it does indeed have something just as special.
Located on Duke of Gloucester Street, The Trellis is an oasis for 21-and-over students with a penchant for consuming stylish cocktails and libations, and who also want an escape from the cliché bar and deli scene. Open every evening, the bar is situated on the left side of the restaurant. Thanks to the addition of a few juxtaposed high-top tables with a great view of Colonial Williamsburg, the bar provides an oft-needed relaxing environment and refined break from the annoyances of collegiate life. Charlie Parker's saxophone quietly vibrates from the speakers as you nibble on tasty bar snacks – salted peanuts, compliments of The Peanut Shop – while well-informed bartenders are quick with a joke and a smile as the business casual-clad patrons walk in an out. Oh yes, and cocktails are abundant, of course.
The bar selection is excellent and often under-appreciated by College of William and Mary students. Cocktails are particularly tasty, although hearty glasses of wine or tall glasses of beer can also be consumed with equal delectability. All cocktail staples – cosmopolitans, martinis, mojitos and grasshoppers, to name a very select few – are on constant rotation and crafted from the best liquors, while the bartenders (or "mixologists") are always happy to make a custom creation upon request. A variety of Trellis-specific handcrafted cocktails are also ample and delicious. You'll almost certainly see a few bar patrons sipping on a "Southern Belle" (bourbon, creme de mure, lemon juice, orange slice, simple syrup and garnished with a blackberry) or a "Cuervo's Cup" (agave tequila, lime juice, cucumber water, hot pepper syrup, cucumber spears, lime wedges) in between bites of special bar-only plates. If you're feeling peckish, the three different types of sliders make a great accompaniment to any drink.
Also a plus is the fact that the cocktails won't set you back too much money, despite their innovative and high-quality ingredients. The average cocktail costs about $10, rounding up to around $12 including a tip. It's also worth noting that every Wednesday from 4:30 p.m. to 7:00 p.m., all drinks and bar food are half-price. Two for one, anyone?
To view all winners of Best of the 'Burg, click here.