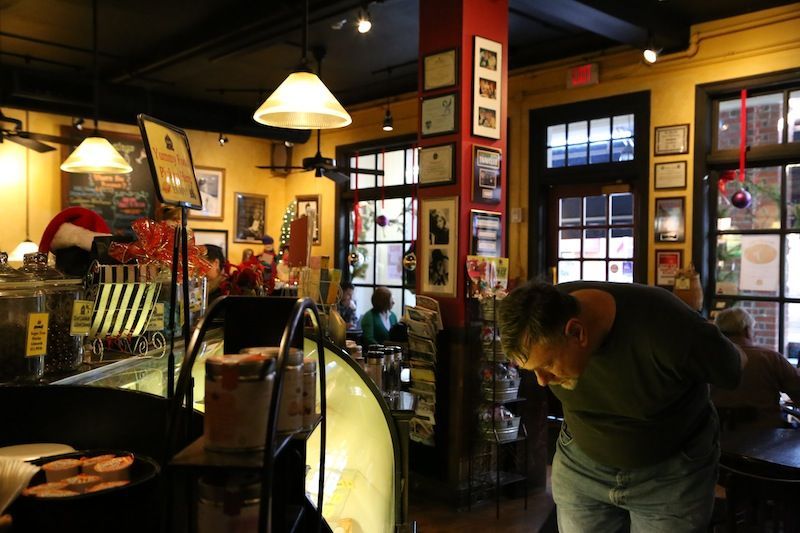 Choosing the right place for brunch in the 'Burg can be a tough task with all of the pancake restaurants monopolizing Richmond Road. But sometimes for the best choice you just might need a slight change in perspective. Instead of searching Richmond Road to fulfill your pancake pleasure, try Prince George Street, where the brunch at Aromas proves itself worthy.
Aromas has the quaint, cozy vibe of a coffeehouse while also having the charm of a local restaurant. It is affordable, close to campus and caters to locals, college students and Williamsburg visitors alike. It is the perfect place to grab a good cup of coffee and read or enjoy a well-prepared meal while catching up with an old friend. It offers outdoor seating with a view of Colonial Williamsburg and indoor seating with a more appealing view of the dessert display and ever-changing wall art.
On entering Aromas, the lingering smell of rich coffee will initially hit, and then the smell of the garden omelet on the plate of the customer beside the entrance will take over. Although it is a popular local coffee shop, it also holds its own as a good restaurant with quality cuisine.
For brunch, Aromas offers a variety of fresh, healthy and varied breakfast options. Along with the breakfast basics (like bacon, eggs and French toast), it offers a few understated options. It has embraced the classic combination of banana and peanut butter on a toasted bagel for a healthy but filling meal. It also offers a granola and yogurt parfait with fruit for those who are hungry but not quite ready for an endless stack of flapjacks. And let's not forget about its infamous poached eggs on grits.
Aromas also has a flair for international cuisine: Check out the selection of biscotti on top of the dessert display to pair with a coffee or a sinfully good spiced chai latte. It also offers croissants and fruit-filled crepes as other tempting options.
Aromas' brunch energizes and satisfies without weighing you down. So, in the future when you are overwhelmed with the selection of potential pancake houses, consider something a bit lighter on stress and on your stomach, and head to Aromas.
To view all winners of Best of the 'Burg, click here.