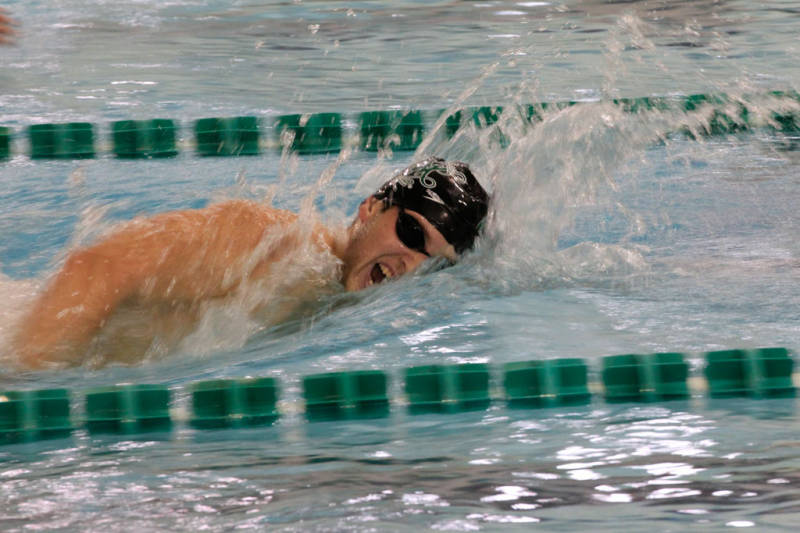 William and Mary competed in its final events ahead of a nearly two-week break for exams. Both basketball squads fell in tightly contested matches, while the track and field program and swim teams scored a number of record performances. The Flat Hat sports desk recaps the weekend that was.
MEN'S BASKETBALL
A halftime lead quickly fell by the wayside as two-time reigning Big South Champions High Point used a strong second half to ease past William and Mary, 66-63, Saturday night. The loss, coming on the heels of a tight decision at Richmond days before, drops the College to 5-3 on the season.
The Tribe owned a 28-27 lead at the break, despite High Point (6-2) holding senior guard Marcus Thornton scoreless. Thornton found his touch early in the second, though, as the College built a 42-27 lead, its largest of the night.
After a slow start in the second half, the Panthers responded with an eight-point run. Following a pair of Thornton free throws, High Point went on to score 15 of the next 17 points, taking the lead for good with less than seven minutes remaining. The College couldn't close the gap.
Thornton finished with 12 points, all scored in the second half. Junior forward Terry Tarpey continued a string of strong performances, scoring 13 points alongside nine rebounds and a team-high five assists. Junior forward Sean Sheldon tallied a career-high 12 points, while sophomore guard Daniel Dixon added 11 to round out the double-digit scorers.
The College returns to the court for a home matchup with Washington College Dec. 19. Tip is set for 7 p.m. Fans can follow @FlatHatSports for live updates and analysis. TribeAthletics.com will stream the game live, and Jay Colley and Charlie Woollum have the call on The Tide 92.3 and 107.9 Bach FM.
WOMEN'S BASKETBALL
Despite by leading by as many as 18 in the first half, William and Mary watched a 45-31 halftime advantage evaporate in a back-and-forth second half as La Salle prevailed, 78-71, Saturday afternoon in Philadelphia, PA. The loss drops the College to 5-3 on the season.
La Salle (6-2) scored 10 of the first 11 second half points before claiming the lead with less than 17 minutes to play. The College, led by senior guard Jazmen Boone''s season-high 19 points, climbed back to tie the game at 61 at the 9:14 mark. The Explorers withstood the rally, though, and held off the Tribe the rest of the way.
Boone added a season-high five steals and six rebounds. Sophomore guard Marlena Tremba contributed 17 points, extending her streak of scoring in double digits to eight games. Senior guard Kyla Kerstettter added 11 points to the effort.
Following the exam lay-off, the College travels to Wofford for a Dec. 18 matchup. Tip is set for 6 p.m. Fans can follow @FlatHatSports for live updates and analysis.
TRACK AND FIELD
As has become customary, William and Mary opened the indoor season in style at the Christopher Newport University Open Saturday. Across the men's and women's programs, the College won seven events and earned two Intercollegiate Association of Amateur Athletes of America (IC4A) and six Eastern Collegiate Athletic Conference (ECAC) qualifications.
On the men's side, redshirt-junior Brian Waterfield won the weight throw (18.30 meters), good for an IC4A qualification. Freshman Davion Hutt ran the fastest 60-meter dash in the Colonial Athletic Association since 2010, placing second in the finals with a time of 6.85 seconds to qualify for the IC4A. Event wins included freshman Asher Smith-Rose in the 3,000-meter (8:40.45) and sophomore Trevor Sleight in the 5,000-meter (14:52.49).
On the women's side, cross country conference champion and regional runner-up redshirt-junior Carolyn Hennessey won the 3,000-meter (9:29.57) to lead the Tribe. Junior Meghan McGovern (No. 2, 9:33.97), freshman Regan Rome (No. 3, 9:37.07), senior Dylan Hassett (9:38.13) and freshman Molly Breidenbaugh (9:46.88) all joined Hennessey in earning ECAC qualifications.
Senior Lizzie Powell won the pole vault (3.80 meters), good for an ECAC qualification. Other event wins included junior Claire Tito in the 800-meter (2:17.21) and senior Heather Clagett in the mile (5:06.90).
The men and women both return to action Jan. 23-24 at Virginia Tech.
SWIMMING
William and Mary closed out the fall season at the USA Swimming Winter National Championships in Greensboro, N.C. The four day event that featured six Tribe athletes. See below for results (as of Sunday, Dec. 7*).
Senior Megan Howard
50 free – No. 14, 22.84
Junior Will Manion
100 back – No. 13, 47.88
Junior Jeremiah O'Donnell
200 IM – No. 18, 1:47.99; 400 IM – No. 13, 3:52.56; 200 breast – prelims, 2:01.56 
Sophomore Josh Zimmt
200 breast – No. 18, 1:58.33
Freshman Wyatt Grubb
200 back – No. 46, 1:48.48; 200 IM – time trial, 1:53.54 
Freshman Conrad Zamparello
200 IM – No. 66, 1:51.94; 400 IM – No. 15, 3:56.80; 200 fly – No. 21, 1:49.73; 1650 free – No. 41, 15:56.84
*Check here for updated results.