During their weekly Tuesday meeting, Student Assembly senators failed to confirm the nomination of Secretary of Public Affairs Scott Caravello '15 to the election commission. They also introduced five bills in new business.
Two nominees to the Election Commission were brought before the senate for confirmation: Kathleen Gayle '15 and Scott Caravello '15. Gayle's nomination was approved by unanimous consent. Caravello's nomination was discussed at length during a closed session.
Before entering closed session, Caravello shared his qualifications for the position, including three years of experience with the Student Assembly and familiarity with campaign processes. He also explained that as a senior, he has no vested interest in the outcome of the campaign.
"If you look through the Code, [there is] the part where it says that the Commission will have no public interest or private gain from this, and so as a graduating senior I certainly meet those conditions," Caravello said. "And in addition, like I said, [after] three years in SA I love this organization, and I can't think of a better way to send it off than to make sure that the next round of leaders are elected fairly and properly."
Senators Yohance Whitaker '16 and Chase Jordan '15 both said they believed Caravello would add insight to the election commission. Student Assembly Chief of Staff Drew Wilke '15 also vouched for Caravello, highlighting the nominee's unique perspective.
"Scott's really a natural pick for this role. … His experience in SA will really bring a lot to being the fifth member on the commission," Wilke said. "In particular, he actually has a lot of experience being involved in campaigns on campus, and having that experience gives him a great perspective. I don't think anyone else on the Commission right now has that perspective of actually being on a campaign."
Wilke also addressed the fact that Caravello already holds another position within the SA, as he is secretary of public affairs. Wilke explained that past cabinet members, including previous secretaries of public affairs, have served on the commission.
Sen. James Walker '15 asked Caravello if time would be an issue for him, as he already holds another position. Caravello explained that the docket for the public affairs department is becoming lighter, as there are no spring city council elections, and Road to Richmond took place Jan. 27.
Senators then moved into closed session to discuss Caravello's nomination.
When senators reconvened for the open session vote on Caravello's nomination, three senators abstained, six senators voted aye, and eight senators voted nay. Thus, Caravello was not confirmed.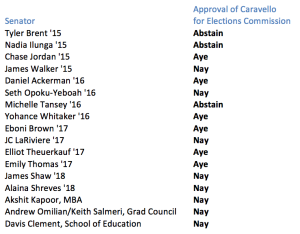 Later in the meeting, SA President Colin Danly '15 expressed disappointment that the senate did not confirm Caravello. Danly also raised the concern that Caravello was not given the opportunity to address senators' concerns, as most of the senator discussion on his nomination occurred in closed session.
"I'm not going to lie, I was a little disappointed with what happened tonight," Danly said. "Not because of what the vote was, but because of how it went down. I wish we were in a spot where we could have an open discussion. I think Scott — and I can't speak for him — but he felt like he didn't have a chance to really address … some things that weren't going to be addressed, some of which might be personal to him, and might involve personal relationships with members of this senate … I respect your vote and that you guys can vote yes or no on a candidate, but I was also disappointed that you didn't give him the opportunity, or any of us, to really speak on his behalf either."
Under new business, Sen. Nadia Ilunga '15 introduced the Support the Tribe Act, which reallocates $5,000 from the subsidized STI testing funds in the SA 2014-15 budget to the Tribe Rides Program. Tribe Rides is a program that provides transportation to students who require access to off-campus mental health facilities. The Tribe Rides Program requires more funding to be sustained through the spring semester.
As of Dec. 8, the subsidized STI testing budget rested at $17,646. The budget began at $20,000. Vice President of the Student Assembly Kendall Lorenzen '15 was clear in pointing out that STI testing will continue to be subsidized, and Tribe Rides will continue to be a resource available to students.
Sen. Seth Opoku-Yeboah '16 introduced the Gender-Neutral Code Act, which makes the SA's code a gender-neutral document in its writing. A similar act was passed during the senate's last session to make the SA's constitution gender neutral.
Jordan introduced the One Tribe Resolution, which charges senators with crafting a resolution in response to the recent racial climate on campus. The senators will work on the language of the resolution during all of the senate's Sunday committee meetings.
"The goal of this bill is to draft up a resolution that is both impactful and meaningful in response to the recent racial climate on campus," Jordan said. "This bill will be drafted by all senators that are interested, and it will be assigned to all committees. We are looking to draft the language for this bill with the assistance of trained individuals in the executive department, but also some members from the center for student diversity."
Finally, the Code Restructuring Act and the Constitution Restructuring Act were introduced to the senate after the Undergraduate Council passed both bills at their respective Tuesday night meetings.