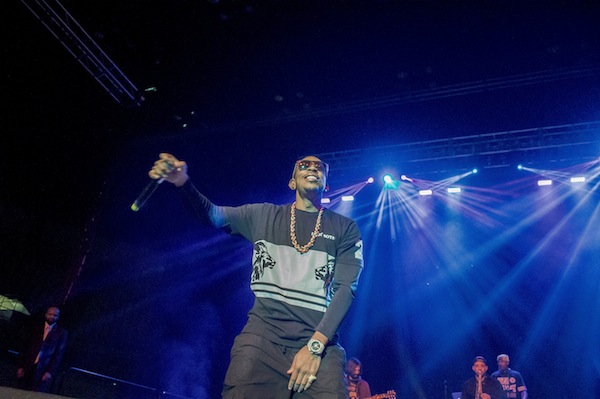 It was Saturday night, around 10:30 p.m. Maybe it was the wine, but the weather was imperceptible — and since it's February, imperceptible weather feels warm. I turned to my housemate as we walked down Ukrop and said, "This is going to sound like a strange question, but when we get home can I smell Ludacris's shirt?"
It wasn't a strange question to my housemate. He was going to smell it too — and maybe frame it. "This is the best night of my life!" he kept repeating, his arm wrapped tightly around his girlfriend's waist.
I imagine that most of Saturday night's concertgoers didn't have as good a time as we did. But then again, Ludacris had the almost-filled-to-capacity Kaplan Arena crowd's hands up longer than a twamp's in an International Relations in Disciplinary Perspective class. As is fairly typical at a Charter Day show, the crowd was fairly eclectic. There were students from nearly every circle within the College; there were some older folks, like Karen Reilly and her husband Paul, who wore paint-splattered pants, a black long sleeve shirt and a silver chain that matched his unkempt hair; I met a few high school seniors — prospective College of William and Mary students — who came down from Yorktown; and word has it that there were even some middle-schoolers in the building.
And yet, this event showcased a new and different atmosphere for the College. There are but few days when our small liberal arts school — where every week a team full of muggles run around Jamestown Field with brooms between their legs, pretending to be wizards — feels like the type of party school where "I'm Shmacked" videos take place. There's Blowout at the soccer house every spring, and this year there was Ludacris at Charter Day.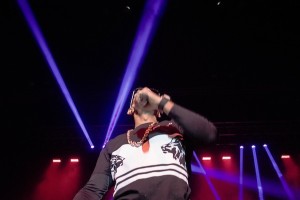 What do I mean?
"If there [are] some real Ludacris fans out here we can go deep into some album cuts that ain't never get played on the radio," Ludacris says after finishing crowd-favorite "Money Maker." "And it's crazy because someone in here is smoking some weed and shit. What the hell are y'all doing?"
The crowd goes nuts. They echo his call of "Woo-Woo!" Ludacris asks for the spotlights to be turned off, and for the weed smokers to put their lighters and cell phones in the air. The arena looks like a mass vigil — it's colored only by small lights and scattered clouds of smoke. Ludacris plays "Blueberry Yum Yum," his weed-smoking anthem.
There were a few similarly raucous moments in the show. At one point, Ludacris and his blinged-out fellow MC (and childhood friend) Lil' Fade engaged the two sides of the crowd in a battle over who could wave their middle fingers higher; during "Money Maker," Ludacris swung a bra in the air as he rapped; and it looked like some of Kaplan's seats might get dislodged when he performed "Move Bitch (Get Out the Way)."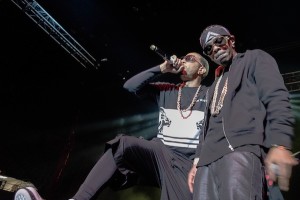 There are going to be those who stick their chins in the air and argue that Ludacris's lyrics can be demeaning and that these moments of unruly drunkenness are grotesque and not befitting of serious college students. But those people would be missing the point. A veteran MC who has not lost his vigor for performance, Ludacris made too-stiff students move and forget themselves with vintage southern hip-hop.
Above all, the show was fun. The best moment for me came during "Pimping All Over the World." Ludacris introduced his five-member band, giving each a solo. That sax, man.
Of course, others had a different — more worthwhile — critique: the show was too short. Indeed, Ludacris abbreviated some of his songs, and his entire set was shorter than that of his opener, Andy Grammer. He was on a tight schedule.
When I got home, my friend whipped out Luda's "I got Both" t-shirt — black, large, with two rams facing each other. It smelled brand new. Ludacris didn't break a sweat.