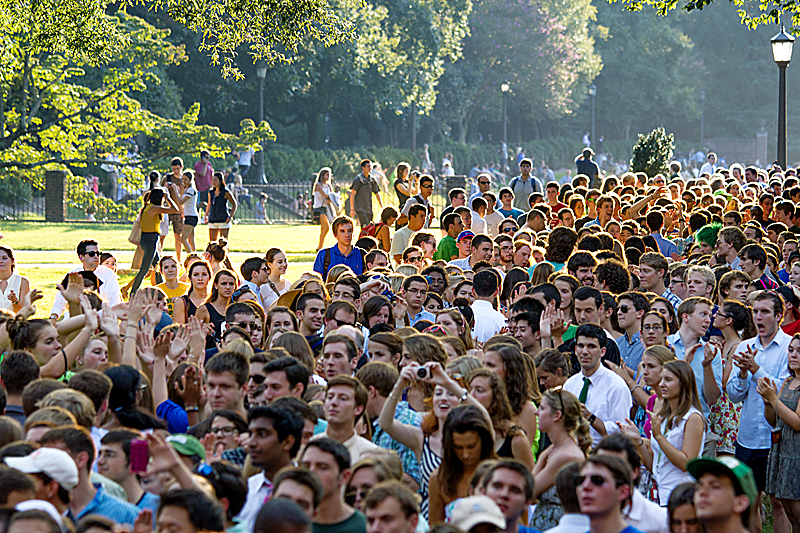 The College of William and Mary accepted just under a third of its applicants for the class of 2019, with just 4,950 applicants, of a record 14,951 receiving emails offering them admission.
2015 marks the 11th consecutive year of record-breaking application numbers. The tally is up 3.1 percent from last year, when 14,500 applicants vied for a place in the class of 2018.
"We're always so impressed that students we offer admission to not only have outstanding academic records, but we tend to find that they're very interesting people," Associate Provost for Enrollment and Dean of Admission Timothy Wolfe '95 M.Ed. '01 said. "Either [they] have done some very interesting things or accomplished a lot outside of the classroom."
In terms of academics, 89 percent of this year's applicants are expected to graduate in the top 10 percent of their classes.
Prospective students' median SAT score was 1410 — based on the 1600-point scale combining critical reading and math scores. Last year's median SAT score was 1420, while the previous year's was 1410.
32 percent of admitted students are students of color, approximately the same percentage as last year. Seven percent are international students, down two percent from last year's admissions cycle.
Come next fall, 1,520 new students are expected to enroll at the College.
Prior to receiving news of their admission, future members of the class of 2019 were subject to a rigorous vetting process, according to the admissions office.
According to Wolfe, every application is read by at least two readers. Many applications are also read by a third reader, or they go through a committee process where a group of admissions officers read over applications and make final decisions together.
Applicants are also permitted optional 30-minute interview sessions conducted by one of 12 senior interviewers.
"We have a lot of freedom to design our own questions," senior interviewer Adam Enochs '15 said. "Everyone has what they call 'fun questions.' My fun question was always 'if you could design your ideal seminar, what would it be on?' I'd narrow down to a very specific topic and really get to explore what people are academically interested in."
The goal of the interviews is to evaluate prospective students on criteria such as how academically motivated or intellectually curious they are.
"Students expect [that] it's going to be a super professional interview asking about grades, but we already have that information," senior interviewer Megan Brew '15 said. "There's no need to ask about it, so we definitely ask more personality questions getting to know their passions."
Based on the pool of applicants she interviewed, Brew said that the class of 2019 seems to be a unique, self-aware class.
"Their creative answers were indicative that they knew themselves and knew their passions," she said. "[That] self-awareness coming in will set them apart."
The class of 2019's next step is the College's Day for Admitted Students, set for tomorrow, April 11, from 8:30 a.m. to 4:30 p.m.
More than 3,000 visitors are expected to attend sessions ranging from academic advising to intramural athletics and sustainability on campus.
Attendees will also have the chance to attend an activities fair showcasing dozens of organizations at the College.
"[Day for Admitted Students] really does a great job of capturing the incredible balance that we have here at the College," Wolfe said, "of being able to see and learn about academic opportunities and experiences but also, right from the start, having the chance to see how [students] can jump right in and be active in the student community."
Wolfe offered several words of advice for prospective students.
"Students need to know that they get out of their college experience what they put into it," he said. "They should be willing to jump in and fully immerse themselves in all that college has to offer … I encourage them to meet, interact, and become friends with students who share very different interests and experiences. Also, be involved outside of class. Find a way to make a difference in the community, and find a way to be active in the College."