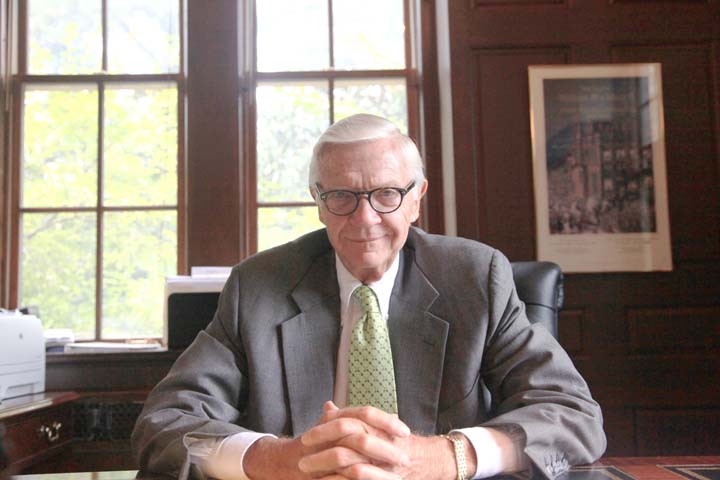 College of William and Mary President Taylor Reveley said that he was the type of person to read every book on the syllabus as an undergraduate at Princeton University.
"I was not a party animal. But it was kind of hard to be a party animal," Reveley said. "We were all boys. There were pretty strict rules as to when girls could be in the dorms. But some guys were party animals."
After overcoming a brief, intense bout of homesickness upon first arriving at the Ivy League school, Reveley said he threw himself into his studies and several extracurricular activities. He joined a service group that organized visits to a local reformatory, rowed on the lightweight crew team freshman and sophomore year, and eventually earned Phi Beta Kappa status.
As a student, he said he most enjoyed history and political science classes. Reveley praised Princeton's liberal arts approach, which required that he take courses in music and art history.
"All of a sudden, you see how much else is there in the world that you'd never really even begun to wrap your brain around," Reveley said.
Not all of his classes went so well. As a longtime Latin student, Reveley felt that learning to speak, write and understand French would be wonderful. However, he struggled with the language and did not get along with the professor.
"Every now and then give yourself permission to take a break."
"He found my accent absolutely appalling," Reveley said. "It grated on his fine Parisian ears."
Reveley said he worked hard to overcome his difficulties in learning French. In the end, it didn't even matter. He still received a terrible grade.
"I had never gotten a bad grade on anything in my life," Reveley said. "I didn't get bad grades. And it wasn't for lack of effort. I was trying hard but I just didn't do very well, initially. "
Reveley noted that most incoming students at the College of William and Mary maintained excellent grades in high school. He advised that students should not expect to constantly succeed in an academically rigorous environment like the College and should be prepared to cope with stress, as mental health and wellbeing is ultimately more important than grades.
"Every now and then give yourself permission to take a break," Reveley said. "Which may just mean sitting on a bench and admiring the beautiful campus, or taking a walk, or taking a nap, or reading a book for the sheer pleasure of it. It's okay to do that, even if your peers all seem to be running around doing something else. Give yourself permission to take a break."
Aside from his struggles with French, Reveley said the low point in his college experience came while working as a student waiter freshman year. The dining halls operated like all-you-can-eat restaurants, with student waiters serving groups of ten or so classmates seated at large, oak tables. According to Reveley, the quicker waiters could clear tables, the sooner they could leave.
Because the lake where his team rowed was far away from the campus dining facilities, Reveley couldn't reach it in time to serve during normal hours.
"… They snarled a little bit. I wasn't in a receptive mood."
"All I could do was get there in time to serve the freshmen football players who had just finished practice and were as hungry as wolves," Reveley said. "Of course, my reaction to that was, 'What on Earth is going on here?' I've been involved in just as demanding a sport as they, I've walked all the way back from the lake and now I've got to feed these jackasses while I wait to eat? So I wasn't … wildly cheerful about it."
The breaking point came one day when he carried a tray of pork chops, green peas, gravy and mashed potatoes over to the table of football players.
"And as I'm coming in for a landing with this tray actually stuffed with food, I slipped and ended up with pork chops all over the floor, green peas all over the floor — I don't know where the potatoes went," Reveley said. "Gravy had run into my shoes. It was not a good scene. So I picked the pork chops back up off the floor put them on the plate and said, 'Here.' … They ate the pork chops. I didn't give them much alternative … They snarled a little bit. I wasn't in a receptive mood."
He did replace the green peas and gravy.
"I must have preserved the mash[ed] potatoes because I don't have any memory about that," Reveley said. "But here you are with your peers, fellow freshmen, football players, and you've just gone down with this tray. You got gravy in your shoes … That was probably the low point."
Reveley only stayed on as a student waiter for one year. Later on, he became a research assistant for a politics professor, a job he said he enjoyed.
His father, Walter Taylor Reveley II, was president of Hampden-Sydney College from 1963 to 1977, but he hadn't considered a career in education. However, his first year out of the University of Virginia School of Law — where, he asserted, he did not read everything on the syllabus — Reveley took a job as an assistant professor of law at the University of Alabama Law School. The next year, he clerked for Supreme Court Justice William Brennan. U.Va. subsequently offered him another teaching job, but, eventually, Reveley decided that he needed to get more experience in the field of law before he could continue teaching.
"The expectation when I got out of school was, you get a job … and if that went well then that's where you'd be when they carted you away. That is not the expectation now at all … A change in incarnation every now and then is invigorating."
So he joined Hunton & Williams, a Richmond law firm where he remained for 28 years.
Reveley said that his ideal career path would have taken the form of a recurring cycle — three years working in a large, sophisticated law firm, three years working in a senior government position, and three years of teaching and writing. Government was the only thing he missed out on, aside from his brief stint clerking for Brennan.
Reveley noted that the current generation of college students will likely tackle a number of different roles throughout their professional careers.
"The expectation when I got out of school was, you get a job … and if that went well then that's where you'd be when they carted you away," Reveley said. "That is not the expectation now at all … A change in incarnation every now and then is invigorating."
This charge in incarnation came for Reveley when he became dean of the Marshall-Wythe School of Law in 1998. Ten years later, the College became embroiled in the Wren Cross controversy, which resulted in the resignation of College President Gene Nichol. Reveley was then appointed interim president, but continued to teach law courses.
"Teaching is an enormous amount of fun and intellectual stimulation, if you prepare, so you really feel like you're going in and engaging the students effectively and delivering a lot of useful lore to them," Reveley said. "Then it's great. But if you're running around like a headless chicken being president with an unpredictable schedule, then it's just not good."
When it comes to getting involved on campus, Reveley advised students to avoid getting involved in too much too soon.
"Give yourself the opportunity to get used to your roommate, to find food, to know where your classes are, and get a handle on what's expected from college classes," Reveley said. "Begin to get a feel for extra curricular activities, but don't feel like you've got to join ten to twenty of them. Just give yourself a chance to adjust and learn the feeding habits of William and Mary. Give yourself a chance."
The Board of Visitors officially appointed Reveley as the College's 27th president on Sept. 5, 2008. He is currently in the process of sitting for a portrait that will hang in the President's Gallery in the Sir Christopher Wren Building one day. He said that the long portrait process makes him feel silly.
Reveley said that he finds other perks of the College president's office more appealing, like getting to live in the President's House. The Georgian building has housed all of the school's presidents except Robert Saunders, a College alumnus who served as president from 1846 to 1848 and apparently preferred his house on the Palace Green. Reveley described the President's House as elegant and beautifully furnished, yet comfortable.
"When no one else is there, you can put your feet wherever you want to put your feet," Reveley said. "The furniture doesn't squeal on you."
However, according to Reveley, he and his wife Helen might not be entirely alone in the house.
"You always have to be careful when people visit the President's House that they sign the guest book, because the ghosts definitely want to know who's been in the house," Reveley said. "As long as they know who's in the house, they're at peace. If they don't know who's in the house, they get very restive, so you sign the book."
Three ghosts are said to haunt the President's House. Reveley said he finds the legend of the French soldier most plausible, as the French army did occupy — and accidentally burn down — the house after the Battle of Yorktown. The two other alleged phantoms are said to be a vaguely unhappy maiden and a skeleton with an unusual resting place that Reveley said he finds unlikely.
"After they had shuffled off their mortal coil, after they were as dead as a doornail, and their bones had time to dry, that person's bones were interred in the wall of the third floor [of the President's House], to which I said, 'Oh, come on,'" Reveley said.
The Reveley household used to be more crowded, with four children, several springer spaniels and some cats. The children have moved away — today, Taylor Reveley IV serves as the president of Longwood University — and the only pet left is Lillie, a Coton de Tulear who Reveley refers to only as the "little white dog."
Coton de Tulears are somewhat rare and were first bred to sail on ships as ratters. Lillie was born in Spain and taken to Washington D.C. then later Seattle. There, the Reveleys' neighbors in Richmond purchased her. They brought the small white dog back to the East Coast, where they hoped she would take to their new boat.
According to Reveley, becoming separated from her mother as a young puppy and being constantly confined in a traveling bag left Lillie somewhat "psychotic". The small white dog's new owners found that she hated being at sea and offered her to the Reveleys.
"Even though I said, when they offered the dog to our daughter, 'No, no a thousand times no, we already have four children and three domestic animals, we don't need another mouth to feed'… Of course, we got this dog," Reveley said. "And we've had it now for twelve years. At one point I was reasonably sure she'd outlive me but I don't think so anymore."
This year, Reveley said he is looking forward to Convocation, when new students march through the Sir Christopher Wren Building. It is part of his favorite College tradition, which sees those same students reverse their path upon graduation.
He said that he hopes students will leave the College with the ability to think rigorously, a breadth of perspective, and an interest in life-long learning.
"But I also hope people have made at least a few friends for life," Reveley said. "People who they really want to stick with for the rest of their lives, who will stick with them. And that they have developed a genuine love of William and Mary itself. And if all that happens, then it's a whole lot."