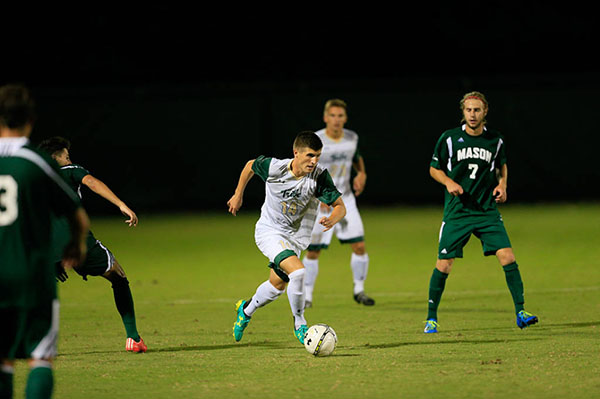 With the new semester upon us, a new season of fall sports begins at William and Mary. Along with the schedule of home and away games come renewed hopes for championships and record-breaking. Click the links for our 2015 sport-specific preview analysis.
Men's Soccer: Gaining new footholds
After finishing with a losing record in both the Colonial Athletic Association conference matchups (3-4-1) and the overall schedule (6-11-1) in 2014, William and Mary seeks to redeem itself and make a run for the National Collegiate Athletic Association Tournament as it did in 2013.
-Sports Editor Nick Cipolla
Women's soccer: 2015 season preview
When William and Mary women's soccer comes up in conversation, the biggest name that springs to mind is likely Jill Ellis '88. The former Tribe forward coached the United States Women's Soccer Team to a World Cup victory this past summer, reigniting the American spirit for soccer and women's sports in general. Back in Williamsburg, the current squad looks to add their names to Ellis's on the list of the school's soccer greats in head coach John Daly's 29th season.
-Associate Sports Editor Josh Luckenbaugh
Field hockey: 2015 season preview
As William and Mary gears up for the 2015 field hockey season, Tribe fans can be sure of one thing: the opponents' goalkeepers are not going to have a whole lot of leisure time on the field.
-Sports Editor Sumner Higginbotham
Cross country: 2015 season preview
Entering the fall of 2015, William and Mary will face eight opponents on the way to the National Collegiate Athletics Association Championships, which occur right before Thanksgiving weekend.
-Staff Writer Devin Logan
Football: College prepares for season opener at Lafayette
As anticipation builds on campus amidst the continuing Zable Stadium renovations, William and Mary is gearing up for its first road trip of the season. The Lafayette Leopards will host the Tribe in Easton, Pa. Sept. 5, with Kickoff scheduled for 6 p.m.
-Sports Editor Nick Cipolla
Be sure to pick up our Sept. 8 issue next week, which includes our in-depth annual football preview insert.