Over 350 College of William and Mary students studied abroad for part of their summer break this year, and about 60 of those elected to study abroad through a third-party provider instead of the College. Almost half of all undergraduates study abroad at some point in their college careers, and for some, going during the summer break makes the most sense. The College offers programs in 17 countries spanning from China to South Africa to Ireland.
Most of the College-sponsored summer programs are faculty led, meaning that a professor from the College joins the students abroad as an additional lecturer. The most popular of those is in Cambridge, England. Director of Global Education for the Wendy and Emery Reves Center Sylvia Mitterndorfer '96 said that she believes language is a primary driver in the popularity of Western Europe.
"Western Europe definitely continues to be a favorite in part because there isn't the language barrier," Mitterndorfer said. "Some of the other programs in Western Europe, like in France or in Germany, are actually largely focused on language acquisition so again, students who have taken the language before, and are ready, are working to develop more language skills."
Galway, Ireland
From the Cliffs of Moher Kyle Frego '17 could see the Irish countryside: green fields, the rocky shore, the Aran Islands and the Twelve Bens — a sharp peaked mountain range outside of Galway.
"Just the imagery of Ireland — I connected with it," Frego said. "It's not all rolling, lush green fields like how it's portrayed, but it's really rocky and mountainous. It's really pastoral almost."
Frego's studies focused on cultural understanding with a class comparing the Basque and Irish nationalisms, as well as a course on the portrayal of the Irish in film. He said that hearing Irish perspectives on their own culture and internal issues, as well as on American culture was one of his favorite experiences. Frego also said there was a generational gap in their opinions of Americans.
"It's not all rolling, lush green fields like how it's portrayed."
"The kids definitely had this kind of glorified America," Frego said. "They thought America was more like 'Keeping up with the Kardashians' or 'Jersey Shore,' but the professor was more in tune with actual social issues. He actually explained social issues here better than I've heard any American describe them, so it was cool to hear an outsider's perspective on certain things."
Prauge, Czech Republic
"We actually walked through the gas chambers at one point and it was the creepiest thing," Gabby Negus '17 said. "You couldn't help but be like 'please don't shut the door, please god don't shut the door.'"
Negus spent six weeks of her summer in Prague, Czech Republic, studying government and history, but her most memorable experience was visiting Auschwitz I and Auschwitz II-Birkenau, two of the most famous Nazi concentration camps. Negus said that being there, seeing evidence of the magnitude of the operation, really hit home for her.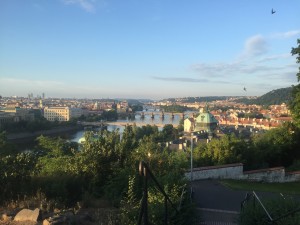 She said her favorite part of the experience were the people she travelled with.
"I think the people really made the program, the people that we went with. They were all just really awesome and thoughtful people," Negus said. "They clearly cared about why they were there, they all had their different reasons."
In addition to her classes on the politics of the Czech Republic and on Hapsburg history, Negus picked up some Czech in a two-week intensive course that she said she's already starting to forget.
Cape Town, South Africa
Hiking Table Mountain, overlooking Cape Town, South Africa, was the most memorable moment from abroad for Mariah Frank '17. During the southern hemisphere's winter, Frank said the hike was cold anyway, but as they neared the top and were enveloped in a cloud, it was freezing and wet.

"I remember growing up as a little kid wondering what it would be like to be in a cloud and then I found out — and it's cold," Frank said.
The College's South Africa program focused on Religious Diversity, including white privilege and philanthropic tourism, according to Frank. The other part of the program was global studies internship in which students visited Khayletitsha, a Cape Town township, and taught English, math and life skills to 11 and 12-year olds.
"They're so smart and have such high aspirations," Frank said. "It was probably my favorite part because it was eye-opening and just an incredible experience."
Jakar, Bhutan
For some, study abroad means visiting historic European landmarks discussed in high school history books, while for others it means exploring an entirely new culture — one they may have never known existed.
"I didn't even know Bhutan was a country until I went and I looked it up on [the School for Field Studies] website but I read the little blurb and it just kind of stuck out," Will Evans '16 said.
"You were just surrounded by everything you were learning about."
Evans spent the summer in Bhutan with the School for Field Studies, a third-party provider study abroad program. The program focused on Bhutanese development and environmental sciences, but he also spent time hiking and camping, visiting monks in monasteries, learning about Buddhism, travelling throughout the small country and catching frogs for his research project. His favorite part of the experience was the complete immersion.
"You were just surrounded by everything you were learning about," Evans said. "Going to monasteries you would ask monks to clarify things that you learned in a class about Buddhism. You were so fully immersed in everything you were learning that everything was a classroom. I thought that was really cool."
Beijing, China
Mandarin, Chinese is a very tonal language, according to Hannah Reach '17, and hearing it from a native speaker makes all the difference when learning. Reach spent seven weeks in Beijing, China, working to improve the Chinese she studied for years.
"I thought the absolute best way to learn it and become better at it would be to go to China where they actually speak it," Reach said.
Mandarin, Chinese is a very tonal language.
Although she went for the language, Reach said some of her favorite memories were visiting the Great Wall, the Forbidden City and the Summer Palace. She said she was also surprised by some of the differences between Chinese and American cultures.
"I was surprised [by] how much the collective mentality is big over there," Reach said. "Here we're like 'be yourself, be an individual. If you're different that's good,' and over there they're like 'no, if you're different — not good.' They have a saying that is something like 'the nail that sticks out gets hammered down' or 'the tree that grows the tallest breaks in the storm.'"