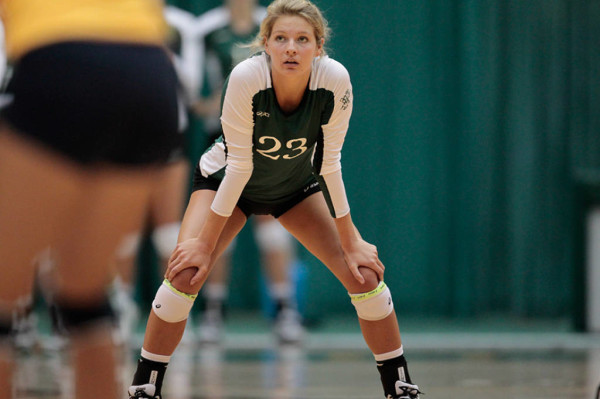 In a five-set point extravaganza, William and Mary racked up a season-high in kills, attack percentage and assists, yet still tasted defeat by a 3-2 margin against Virginia Commonwealth (2-2) last Tuesday in Richmond, Va.
The College (2-2) had no answers for VCU senior Kalah Jones, who finished with a grand total of 24.5 points. No Tribe player exceeded 14 points, while Jones and sophomore Jessica Young (19.5 points) hit well above that mark.
Setting proved to be a strength for the Tribe, as junior setter Gabrielle Pe and senior Katie Kemp combined for 51 of the 56 total assists. Of Pe and Kemp's assists, 13 went to junior Michelle Heath, who finished with a .308 attack percentage. Senior Carolyn Albright was a star on both sides of the ball, notching 10 kills to complement six blocks.
Starting the first set on the low side of an 11-8 score, the College came back to seize the set, tying the Rams six times before pulling away for the 25-21 win. William and Mary then took the first point of the second set, but it was VCU that stole the last point, breaking away for a 25-22  win after 11 ties in the hyper-competitive set.
With the match tied 1-1, each team entered the third set eager to pull ahead. The Rams jumped ahead to an 18-11 lead, but the College methodically cut the gap to a 24-23 game-point deficit. However, VCU secured the final kill to claim the set and entered the fourth set up 2-1.
However, the Tribe was determined to stay in the game, fighting through 15 ties to go into extra points to claim the penultimate set 26-24. However, the Rams found a way to win the tiebreaker set on a late 5-2 run en route to a 15-11 set and the 3-2 match victory for VCU.
William and Mary falls to 41-38 in the all-time series against the Rams, and a 16-14 game margin for games played in Richmond. However, this record belies the Tribe's lack of success in recent years, as the College hasn't won an away game against VCU since 2010.