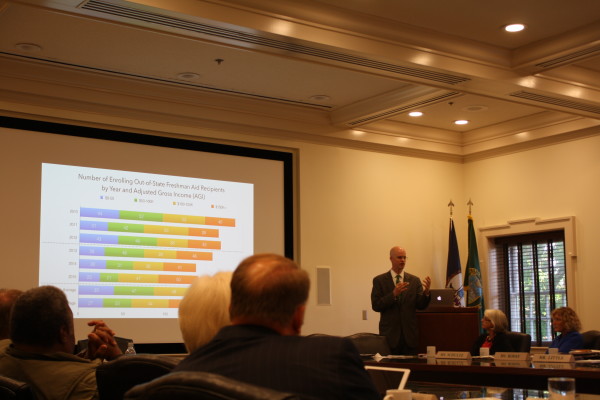 The Board of Visitors Strategic Initiatives and New Venture Committee met Sept. 18 to discuss a potential bioscience partnership and the College of William and Mary's financial aid plans.
After attendance was taken, committee chair Thomas Franz reviewed recent state-level development projects, including widening I-64 and an initiative to better the connectivity within the state through its ports. He said an industrial team from California is working to develop 10 million square feet of industrial space between Northern Virginia, Richmond, Va., Hampton Roads, Va., and Raleigh, N.C. Franz went on to talk about a bioscience initiative developed to help diversify the local economy.
"This started … as a regional effort, from Richmond to the oceanfront, to come up with a diversification plan that focused on bioscience," Franz said. "We developed a plan, from Richmond to the oceanfront, with the view of having multiple hubs up-and-down 64 focused on diabetes, heart — cardiovascular, [and] neuro … and we focused on how can we move in the direction of more data and analytics in those areas."
Franz expanded upon this plan and described its three parts: a focus on scholars and research, local incentives, and a suggested governance structure. He said that it has now expanded to the state level. According to Franz, the College is a good choice to participate because it would benefit from being closely connected to the medical field of science and the plan would require collaboration between at least two universities for funding.
"It's a powerful idea," College President Taylor Reveley said.
"We have spread aid dollars deeper into the middle incomes segments of in-state students and that was very much by design," Broaddus said. "We knew with the increases in tuition middle class affordability was at risk."
Following Franz, Vice President for Strategic Initiatives Henry Broaddus broke down financial aid at the College, looking specifically at the William and Mary Promise. The Promise, initiated in 2013, is a form of aid for in-state students by locking in their first year tuition rate for the rest of their College career.
"What this will reinforce, I expect, is that we have held our standing with lower income in-state students in a way that really qualifies as a success even though haven't seen significant growth," Broaddus said. "We have spread aid dollars deeper into the middle incomes segments of in-state students and that was very much by design. We knew with the increases in tuition middle class affordability was at risk."
Broaddus also said that there has been contraction in the number of out-of-state students receiving financial aid, in particular in the lower income brackets.
"There are no gaps in in-state financial aid packages," he said. "We are committed to meeting all of the need in-state. Unfortunately we are not able to do that out of state."
Broaddus explained how financial need is determined, including the expected family contribution, which is a federally-determined amount of what a university can expect a family to pay to send their child to school. The difference between the expected contribution and the full price of education — including tuition, fees, room and board, and additional expenses determined by the university — is what the College tries to fill with grants, loans and work-study, according to Broaddus. A gap is an amount not met by any of the factors listed above.
With out-of-state students, the College has a gap in those financial aid packages. After family contribution is factored in, the College can give up to 25 percent of the cost of tuition in grants. For students entering in fall of 2015 the average family contribution of students receiving aid was $25,000, while the full cost of education totaled about $56,000, meaning out-of-state students were eligible for up to $14,000 in grants. That leaves an $11,000 gap on average after all else is included. Broaddus said that the gap is a consequence of the move to better meet aid needs for in-state students.
"We need to meet enough [financial aid need] to stay competitive and do what we ought to do for the families, and we aren't even close. We aren't even close in-state, but we're a lot closer in-state than we are out-of-state," Reveley said.
Since the adoption of the Promise, the overall number of aid recipients has risen. For enrolling out-of-state students, there has been a decline in the total proportion that receives aid, especially for lower income brackets. Broaddus then compared matriculating versus non-matriculating out-of-state students who applied for aid.
"We are seeing some losses, again they're small numbers, on the out-of-state students, but they're something that are a real call to action for us — not a complete surprise but something we continue to need to address through strategic use of the aid we have and especially by increasing what aid is available," Broaddus said.
The discussion then turned to how out-of-state students overcome that gap and how much it deters their enrollment at the College for another school that provides more. Reveley said that the wealthy schools in the country are able to make sure all of their students receive only grants, no loans.
"If we were trying to do that, it would be over," Reveley said. "We need to meet enough [financial aid need] to stay competitive and do what we ought to do for the families, and we aren't even close. We aren't even close in-state, but we're a lot closer in-state than we are out-of-state."