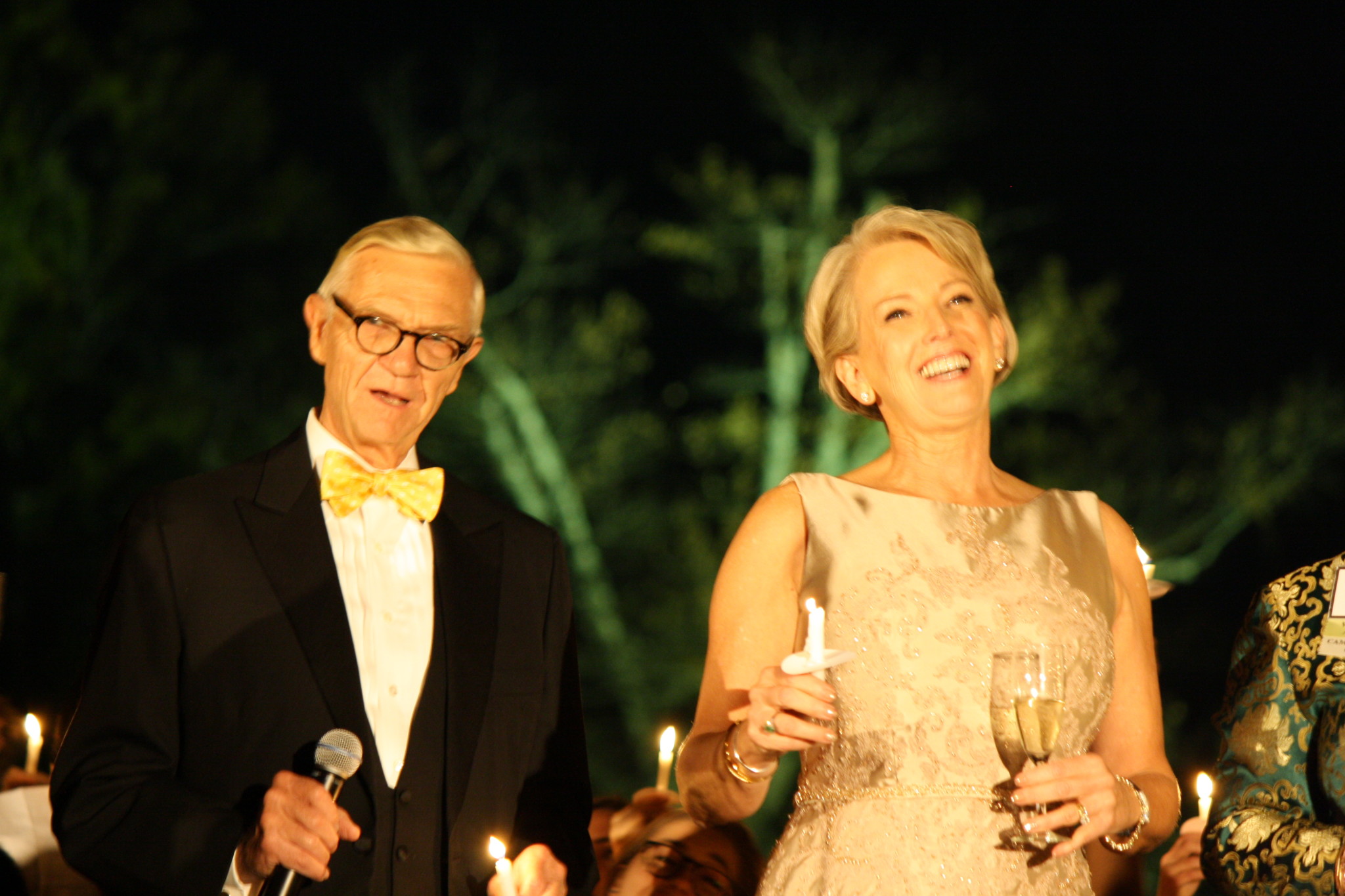 The College of William and Mary publicly launched its $1 billion fundraising campaign, titled For the Bold: The Campaign for William and Mary Thursday evening. Over $532 million has been raised since the campaign's inception in 2011. For the Bold emphasizes fundraising for scholarships and widespread participation in alumni giving.
Breaking Down the $1 Billion (GRAPHIC COURTESY OF WILLIAM AND MARY NEWS)
College President Taylor Reveley said that the campaign is ambitious and that he had to be persuaded to believe the College could achieve such a goal. The College is the smallest public university to embark on a billion dollar campaign.
"Pretty frisky for such a small school … We don't have a medical school, we don't have an engineering school, and medical schools and engineering schools attract money like honey attracts bees," Reveley said. "We don't have either. We're not a private university any longer since 1906. Private schools have always done better than the publics in raising money. We haven't traditionally had, since the Revolutionary War, a disproportionately wealthy alumni body. When you put it all together, to go for a billion dollars is to say, we really believe in this place, we think it's rolling, we can do this but it's going to be a stretch."
Pretty frisky for such a small school …
This public phase of the campaign began with a gala on the Sunken Garden Thursday evening. Speaking to attendees, Reveley discussed the College's turbulent finances throughout history.
"It's exciting to think about where William and Mary would be today, had its fortunes continued to burn as brightly as they did during colonial times," Reveley said.
The event also featured remarks from former College President Paul Verkuil '61, former College President Timothy Sullivan, Chancellor Robert Gates '65, Murray Scholar Hannah Kwawu '18, geology department chair and professor Chuck Bailey '89 and Kaylee Gum J.D. '16.
At the launch event, Campaign Chair and Board of Visitors Secretary Sue Gerdelman '76 announced a $50 million anonymous commitment. This gift is the largest in the school's history, surpassing the $23.9 million donation from the Zable estate. The $50 million will largely go towards scholarships, especially those pertaining to the Marshall and Wythe School of Law and the Raymond A. Mason School of Business.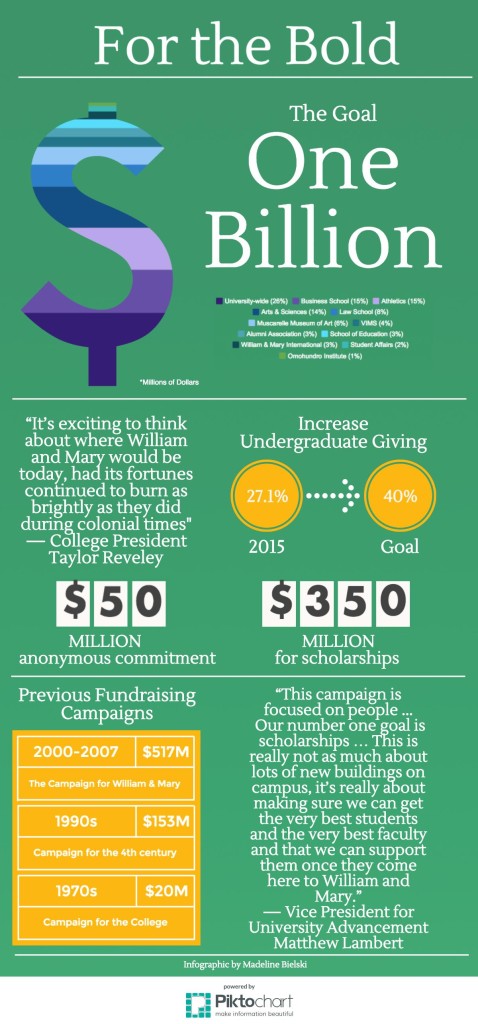 "This couple shares an interest in our top campaign priorities of teaching and scholarships," Gerdelman said. "They want to make sure we attract and retain top teaching talent to inspire and prepare our students to go out into the world and do great things. They want to make sure those students are able to choose William and Mary, regardless of what their financial situation is."
Vice President for University Advancement Matthew Lambert also emphasized the focus on providing financial aid for students and competitive salaries for faculty. In total, the school hopes to raise $350 million for scholarships.
"This campaign is focused on people," Lambert said. "Our number one goal is scholarships … This is really not as much about lots of new buildings on campus, it's really about making sure we can get the very best students and the very best faculty and that we can support them once they come here to William and Mary."
According to Vice President of University Relations Brian Whitson, the campaign will also help to fund an Integrative Wellness Center, which is slated to be built where the Lodges currently stand. The Center will house the Student Health Center, the Counseling Center, Health Promotion and elements of Campus Recreation.
The campaign also intends to increase undergraduate alumni giving from 27.1 percent to 40 percent by 2020. A 40 percent giving rate would put the College 4th overall in giving for public and private universities. The College's rate previously increased from 23.6 percent to 27.1 percent from 2011 to 2015, putting the College 16th for undergraduate giving out of top universities. 40 would put the College fourth overall in terms of public and private universities.
Lambert explained that the College's high watermark for undergraduate alumni giving was 29 percent in 2005, when College President Tim Sullivan retired. He said that the For the Bold campaign goal is bucking against the national trend amongst public and private university of deemphasizing alumni participation.
We're not just focusing on the billion dollar goal.
"Most universities have given up on participation, and they just focus on a smaller number of very large gifts and put all their effort into those very large gifts," Lambert said. "President Reveley, since the time he has taken over, has focused very heavily on annual giving as an important part of our overall strategy. In other words, every gift counts."
Lambert explained that over the last several years, the combined sum of gifts less than $250 has reached over $2 million.
"When somebody makes a gift to alma mater, it's a vote for the school … everyone alumnus and every alumna matters to William and Mary," Reveley said. "So the act of giving back is significant in and of itself."
The College's last fundraising campaign occurred between 2000 and 2007 and raised $517 million for the school. Other campaigns include the Campaign for the 4th century, raising $153 million in the 1990s, and the Campaign for the College, $20 million in the 1970s.
Lambert said that this campaign is more sustainable. In past campaigns, the College would hire staffers and lay them off once the campaign concluded. This time, the campaign is less focused on simply achieving a specified dollar amount.
"We're not just focusing on the billion dollar goal," Lambert said. "We're focusing intensely upon an enhanced and strengthened alumni engagement, making sure all alumni feel connected to the institution."
The leadership phase of the For the Bold campaign began July 1, 2011. The leadership phase refers to a period of time during which the College solicits campaign gifts from top donors. The university has received over 80 gifts and commitments worth $1 million since the leadership phase of the campaign. Lambert said that university campaigns have run from 7 to 13 years. He said that universities typically wait until they have raised 35 and 50 percent of the total campaign goal before launching an announcement.
"If you get them giving back on a regular basis, then in the long run, they continue to give back."
"Otherwise, you can't launch it with all the tubas and trumpets triumphantly sounding," Reveley said. "You just look a little silly."
Reveley and Lambert said that the goal is to have the campaign conclude in 2020. Lambert said that the College will encourage students to give to the school, noting that last year the senior class achieved a rate of nearly 70 percent giving, with the freshmen, sophomore and junior classes reaching about 20 percent each.
"If you get them giving back on a regular basis, then in the long run, they continue to give back," Lambert said. "We want them to think about William and Mary as a place where, throughout their lifetime, they stay connected. They attend our alumni events, they come back for reunions and homecomings, they give back every single year, and then ultimately when they become zillionaires, they remember William and Mary."