A little under a decade ago, students had the option of living in dorms with a checkered history. Once, those dorms housed the nurses of Eastern State Hospital, the nation's first public mental health hospital. Now abandoned, the Dillard Complex is home to beautiful architecture, rich history and even few ghost stories.
The complex is located about two miles away from main campus, and is comprised of two large halls – Hughes Hall and Munford Hall – as well as four smaller houses known as the Gault houses.
According to Senior Planner in the office of the Senior Vice President Martha Terrell, the College of William and Mary acquired the buildings from Eastern State Hospital due to a housing need.
"The hospital deeded the property over to the college, and by the early 1970s we had students live there," Terrell said. "Basically Eastern State determined that they did not need the space. The College was very interested because they needed new housing for students."
Associate Vice President of Student Affairs Deb Boykin '76, M.Ed. '82 said that, in their time, Hughes and Munford were truly beautiful dorms to live in.
"There were huge beautiful lounges on the first floor and beautiful lounges upstairs," Boykin said. "There were also really large singles in the two halls, they were just really beautiful dorms."
While many students loved the opportunity to have a large single or to keep their car on campus, others felt removed from main campus. Students without cars relied on the Green Machine, The College's own bus system. Boykin said this was part of the reason the dorms were eventually abandoned.
"There was a bus service, probably up until the 1990s, that students called the Green Machine," Boykin said. "It would do a loop through campus and then go back to Dillard. However, the buses stopped at a certain time, which was usually midnight. We didn't want students walking far distances back at night to dorms that were far away."
In 2006, with the creation of the Barksdale dormitories, later renamed Jamestown North and South, the Dillard Complex was emptied of students. According to Director of Facilities Planning, Design and Construction Wayne Boy, the complex was vacated, and kept vacant, because the cost of renovation was too high.
"Every building on campus is built to building codes, but the renovation costs to bringing the Dillard Complex up to code would be very high," Boy said. "They have very low ceilings, and it would be very hard to go in to fix those. Also, the egress passages were narrow, they don't have enough protection against fire."
The 2015 Campus Master Plan lays out a  plan to demolish the Dillard Complex, and calls for moving athletic facilities out to those fields.
"Right now the soccer field is out there as well as the Plumeri baseball facility," Boy said. "Right now we are building an indoor pitching facility. So we will be moving the soccer pitch and turning it, and we will move the track around it. We want to build locker rooms for those facilities. There will also be storage buildings that will house library storage, geology storage and potentially, a storage building for anthropology."
There were huge beautiful lounges on the first floor and beautiful lounges upstairs.
Although some students didn't like the long commute to their classes, according to Assistant Director for Community Development Jess Raymond – who was the area director for the Dillard Complex from 1999 to 2006 – the students who did like the complex made it a wonderful community.
"It was absolutely fantastic being area director there," Raymond said. "The students that were out there after room changes really wanted to be out there. It was a fabulous community, one of the most intense communities I've ever been in. They were some of the best years of my professional life. I have been doing this for 20 years but Hughes and Munford are still of the most special buildings I've ever worked in."
Although the abandoned, shuttered dormitory may be especially spooky now, decades-old student lore has said that the buildings were host to some spirits, in part, due to its previous ownership by Eastern State. Raymond said that she too, has heard many rumors of ghosts, as well as tapping late at night on the windows. Her only direct run-in with these rumors was after the buildings were emptied.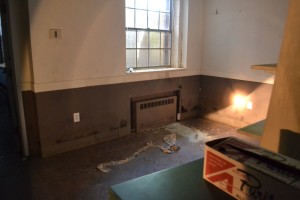 "There was a group of police that had search and rescue dogs, and I was there once watching them," Raymond said. "A cadaver dog kept picking one room, and kept going back to the room. They bring cadaver pieces and hide them for the dogs to find, but they didn't have anything in that room. It was Munford 119, I remember that room very clearly."
However, Raymond doesn't believe any negative spirits lived in the complex. To her and her students who lived there, the buildings felt warm and comforting.
"Students always told me they had a feeling of safety there," Raymond said. "I've been told more than once by students that they felt like they were being hugged by the buildings."
For Raymond, the demolishing of the complex is bittersweet since the historical significance of the buildings is very personal to her.
"It breaks my heart, but from an operations standpoint I understand," Raymond said. "The costs to renovate are just too high. I wish it didn't have to happen. Unfortunately for the buildings, they're just built so well that it's hard to get in there to fix things. I'm not going to chain myself to the buildings, but I'll be there. I'd love to see them come down. They served the College well for 40 years."
Behind the Brick Walls is a series exploring the unusual histories of ordinary campus buildings.