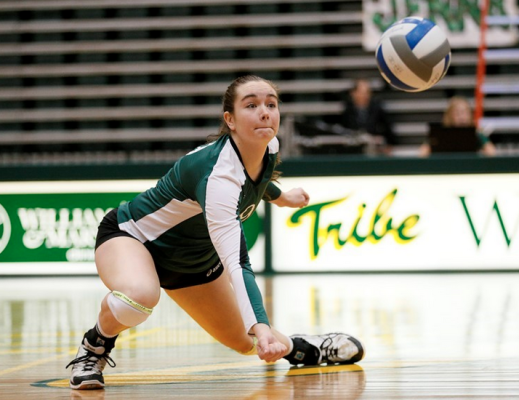 William and Mary fell to eventual champions UNC-Wilmington 3-0 Friday at the Colonial Athletic Association tournament quarterfinal. While the first two sets were close, the Seahawks ended the Tribe's season by taking the third set handily. UNC-Wilmington dominated the stat sheet, earning more kills, points, blocks and assists in the match.
The first set went back and forth, as the score was tied four times in the first 14 points. As the College (10-20, 4-12 CAA) grabbed a 14-11 lead, two kills and two attack errors by senior Dessi Koleva and sophomore Sydney Biniak gave the Seahawks (24-7, 12-4) a lead they wouldn't relinquish. Once UNC-Wilmington scored three straight points and took a 20-17 lead, William and Mary called a timeout to stop the bleeding. The two teams then traded points until an attack error clinched the first set for the Seahawks. UNC-Wilmington's Kristen Powell earned four kills and carried the Seahawks to victory in the first frame.
The two teams started the second frame with two points each. UNC-Wilmington then scored seven-straight points off kills from Powell and attack errors, cruising to a 9-2 advantage. As the set progressed, the Seahawks' Maddy Kline picked up three kills and increased the Tribe's deficit to eight points, forcing William and Mary to break up the run by calling a timeout. After the huddle, Biniak and freshman Heather Pippus had the Tribe roaring back to within three points at 19-16, then three straight UNC-Wilmington attack errors following a Powell kill had William and Mary down just a single point. However, despite their valiant comeback, the Tribe lost momentum when the Seahawks' Meredith Peacock helped UNC-Wilmington run away with the set, clinching it 25-20. Biniak and Pippus had two kills each in the frame.
Ultimately, UNC-Wilmington sealed the victory by scoring three of four points, taking the final set 25-13.
The Seahawks sprang ahead in the third set, scoring the first six points. William and Mary scored just three of the set's first 20 points, while UNC-Wilmington's Nichole Lott had three kills in the sequence, helping catapult the Seahawks to a commanding lead. The College did not fall easily, bringing the lead down to 10 after another Pippus kill. Ultimately, UNC-Wilmington sealed the victory by scoring three of four points, taking the final set 25-13.
The Seahawks would go on to clinch UNC-Wilmington's first CAA tournament title, while the Tribe ended its season with a disappointing 10-20 record.