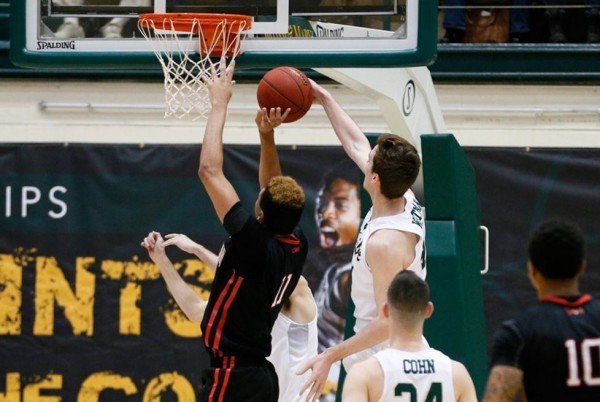 William and Mary (11-4, 3-1 Colonial Athletic Association) continued its strong CAA division play in a  win over Northeastern University (11-6, 3-1 CAA) Saturday Jan. 9, with a final score of 78-60 in a critical early-season matchup between last season's CAA Championship Tournament finalists.
This is the worst loss the Tribe has handed to Northeastern since Feb. 11, 2012, when the Tribe poured it on for a 79-54 win, and also marks their first victory in CAA play in 2016. With the conference loss, Northeastern continues to be stymied in Williamsburg, as they are now 1-8 all time in Kaplan Arena.
After an early Tribe 10-4 run, Northeastern senior Quincy Ford managed to keep the Huskies in the game as he recorded their final 16 points at the end of the first half. Three straight baskets turned the tide back in the Tribe's favor despite the flurry of Huskie points, and the College entered the half up seven points with the score 26-33.
Northeastern failed to make a comeback in the second half, as the Tribe, who held the lead throughout the entire game, kept the Northeastern offense to a paltry 33.3 percent shooting percentage.
After the intermission, the Tribe came out firing on all cylinders. Led by junior guard Omar Prewitt, who scored twenty-three total points, the College built a double digit lead within thirty minutes.  The lead held for the rest of the game, extending on a triple from junior guard Daniel Dixon to a twenty-four point lead with 1:24 left in the game. The Tribe went 50 percent from the three-point line (including 6-9 in the second half), alongside shooting a season-high 57.9 percentage overall. With 63 points between them, the starters for the College combined for more points than Northeastern's entire team effort.
The Tribe performed well across the board, and on the boards, in what may have been their best performance of the season so far. Leading the rebounding effort with a double-double, senior forward Terry Tarpey racked up eleven points and eleven rebounds. Freshman center Jack Whitman, on his first night back from an injury, delivered a career-high five blocks along with seven points off the bench.
The Tribe notably capitalized in transition all night, and earned at least double the number of points off turnovers (8 to the Huskies 4) and fastbreak points (14 to the Huskies 6).
This win bumped the College up to 3-1 in CAA play, knocking Northeastern down to an identical record to force a shared first-place ranking in the conference.
Up next, the Tribe has a rematch with conference foe College of Charleston in Charleston, South Carolina Jan. 14, tip off at 7:30 p.m.