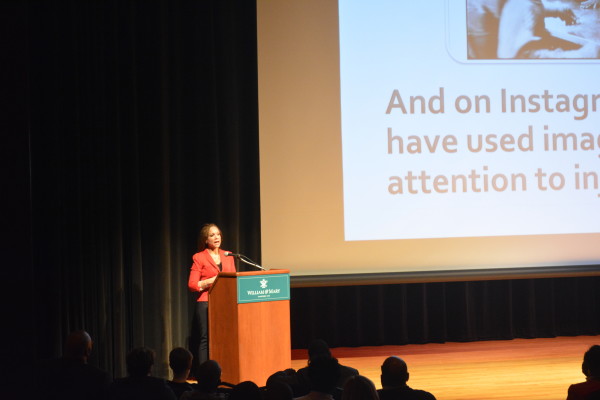 Wake Forest University professor and MSNBC host Melissa Harris-Perry spoke at the College of William and Mary's annual Martin Luther King Jr. Commemoration program Jan. 21. The program was hosted by the Center for Student Diversity.
Harris-Perry's talk focused on Dr. King in the context of Black Lives Matter. Part of her talk analyzed how Dr. King would have used social media platforms like Instagram, Twitter and Snapchat to further his activism and display his humanity.
"You just know he would have been good at [Twitter]," Harris-Perry said. "You know at various points he would have just beat back the trolls, and he would have been loving. People would have retweeted him and he would have been trending for days."
Another major theme of Harris-Perry's talk was the importance of remembering Dr. King as a fallible human. She reminded the audience that while it is good to reflect on the work of Dr. King, it is also important to continue to have courage and move forward.
"If you think that the 1960s movement for human and civil rights had one set of goals, one agenda that was uncontested, you will think that something bad is happening right now, something that is unsustainable," Harris-Perry said.
For many audience members, like Isabel Jabaley '19, this was one of the most important takeaway moments from the commemoration.
"I think what she was saying about all of our heroes being fallible is really important," Jabaley said. "We need to see these people as people. I think that this is something great to take away because once we see these people as humans, and you know that you too are human, you can start to make a difference."
Harris-Perry also addressed a common critique of Black Lives Matter activists: that King would not approve of what some have called their violent tactics. For Nana Amoh '19, linking the remembrance of King with the Black Lives Matter movement helped put things in perspective.
"I think this was important because there's a lot of things I see where people attack the movement, saying Dr. King would not want violence," Amoh said. "Most of the protests are non-violent. The protests that happened at the University of Missouri or at Yale are seen as disruptive, but that's what Martin Luther King Jr. did too."
Additionally, Harris-Perry talked about the history of the Black Lives Matter activists, and she went through the names of the black individuals that were lost to police violence or gun violence in the last years.
Part of her work at Wake Forest University focuses on the intersections of race with other demographics.
One of the last topics she discussed was what it means to be ontologically black.
Harris-Perry said that some bodies, including those of black people, are seen as being problems to society. In addition, she discussed how the bodies of women, the bodies of disabled people and the bodies of transgender people are also seen as problems or burdens to society.
Harris-Perry ended the commemoration with a quote from Maya Angelou, urging the audience to have courage as they continued forward.
Harris-Perry attended Wake Forest for her undergraduate years, and while she was there, she was mentored by Angelou, who was a student of Dr. King. Harris-Perry reflected on a quote from Angelou, which urges people to be brave so that they might consistently have other virtues.
"We are going to have to get creative, and in getting creative we are going to have to follow the young people," Harris-Perry said. "These young people are encouraging us to disrupt the world in new ways, new ways that I suspect Dr. King would have liked, but that doesn't matter because some of what we are going to do is not going to be right; some of it won't work. But that doesn't matter because courage is the most important virtue. Without courage, we cannot practice any other virtue consistently."
Following her commemoration talk, she answered questions and discussed more issues within the national conversation on race such as the recruitment and retention of diverse faculty and students and the twitter hashtag #OscarsSoWhite.
Her speech was part of a week of commemoration events that included three service trips through the Office of Community Engagement and a day of learning and service around Williamsburg.