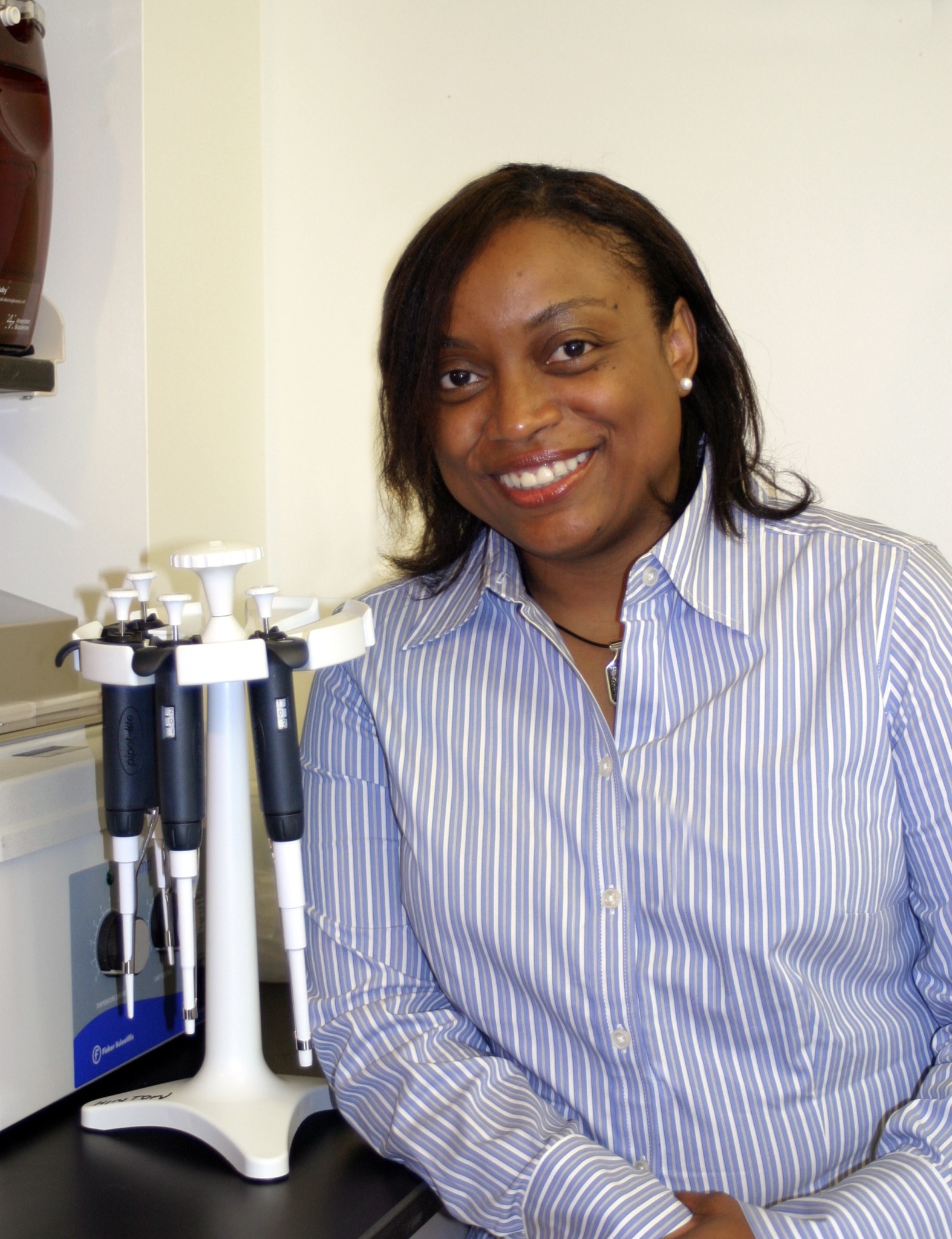 Biology professor Shanta Hinton walked out of an introductory biology discussion lab where she was guest lecturing Feb. 5 to find her colleagues jumping up and down congratulating her. Unbeknownst to Hinton at the time, she had just become the first minority professor tenured in the natural sciences at the College of William and Mary.
After teaching at Hampton University for three years, Hinton entered the College as an assistant professor in 2010. Specializing in cellular and molecular biology, Hinton runs a lab to study the Pseudophosphatase MK-STYX, a protein named after the Greek River Styx due to its association with the dead.
"My research is to prove that this protein actually has functions," Hinton said. "And we do that by using cells that may come from our brain, neurons or cells that come from cancer, such as ovarian or cervical cancer."
Currently, Hinton's lab consists of eight undergraduate biology majors. Although she said sometimes experiments go wrong, she knows her students are learning.
"I respect the fact that I'm here training undergraduates so I expect something to go wrong," Hinton said. "I consider it a great day when we can leave the building and there's not a fire and there's not water coming from the ceilings, the sprinklers."
Describing her childhood, Hinton broke into a smile and summed it up with a single word: fun. She recalled years of laughter and impromptu comedy.
That's what I love about science. The curiosity about it. — Shanta Hinton
Born in Rocky Mount, N.C. to a young mother and father, Hinton was raised with an extended family by her maternal grandparents and parents.
"When I was born, [my father] actually didn't finish high school — he received his GED later on in life — but his attitude was he needed to provide financially for his family," Hinton said. "And my mom, she was going to be the first one to go to college, but she had me."
Since she was a child, Hinton said she had always been curious about the world, which later fed into her love of science.
She said her uncle Earl, who had severe cerebral palsy and never walked, was her biggest inspiration. Although he was the happiest person she had ever met, the reason why he had a disability was always a puzzle for her.
"Even though he was happy, I wondered, but why was he born this way? And the fact that no one could really answer that directly for me, that's what started my curiosity. Because that's what I love about science," Hinton said. "The curiosity about it."
That curiosity was something she rediscovered in science, Hinton said. By the end of high school, she knew she wanted to pursue a scientific career. In her twelfth grade English class, she was instructed to write herself a letter that she would revisit four years later, as a first generation college student beginning a Ph.D. program at Howard University.
"I had written a letter to myself that I should be starting my first semester of a Ph.D. program in chemistry, even though it was not chemistry — it was biology — but I started off as a chemistry major," Hinton said. "So it was fascinating for me to read that letter when she sent it back and see that — especially since I am first generation."
Hinton said that throughout her childhood and undergraduate education at the University of North Carolina at Chapel Hill, she was often the only black student in the classroom.
So, as her undergraduate career wrapped up, she decided to attend Howard University, a historically black university in Washington D.C.
Hinton described attending Howard as a very important decision to her: not only was she able to experience African-American culture, but she also gained confidence as a scientist.
"At Howard, before I even graduated and received my Ph.D., I knew I could run my own lab," Hinton said.
After graduating and teaching for a few years as an assistant professor of biology at Hampton University, Hinton applied to the College.
During the application process, the interviewers told her that she would be the College's first racial minority professor ever hired in the natural sciences. Hinton said she was encouraged by that straightforwardness from the College.
"They were very upfront," Hinton said. "And I think that's the best way to be."
When she was making her decision on where to accept a job, Hinton said that she thought it was important for students to see a minority professor.
After choosing to accept the position at the College, Hinton said although she was initially worried, the transition has been wonderful.
However, speaking about her race, Hinton said that she never wanted to draw attention to the fact that she would be the first minority professor in the natural sciences.
"I probably blocked it during the process so that I would be successful and it wouldn't become a part of my legacy or the biology department's legacy here," Hinton said. "I turned down many interviews because people wanted to interview me way before this and I always said no, it has to be about the science, because that's so important to me."
Over the past five years as an assistant professor, Hinton said she has been focused primarily on her students and on researching the MK-STYX.
Even after receiving the news that she would be tenured, Hinton noted that she was only thinking about the next steps for research.
As far as I'm concerned, I love research and I definitely love the MK-STYX. And if I can get the whole world to enjoy it like me — that is my push. — Shanta Hinton
However, Hinton said she was surprised to be congratulated by current and former students, housekeepers, faculty and even on YikYak, an anonymous, location-based social media forum.
"Honestly I would not step back and think about it if it was not for the community, because I am still thinking, what's the next thing for research?" Hinton said. "But I have to step back and respect the fact that it is impactful and has been influential for other people."
Her family has also played a role, Hinton said. The day she was tenured was her great aunt's 87th birthday, and she recalled the constant support and love her family has given her. Hinton said she is encouraged by the increasingly diverse student body. However, she said, the faculty in the natural sciences needs to be more diverse if inclusivity is to be achieved.
"I definitely would not be the only person of color in chemistry and biology," Hinton said when asked what full representation of racial minorities would look like at the College.
As a professor at the College, Hinton said she is reminded every year of why she chose to pursue teaching.  For each of the past five years, her honors thesis students have been accepted to Ph.D. programs, giving her a 100 percent success rate.
Her best moment, Hinton said, was when a first generation student, like herself, defended his honors thesis after being accepted to a Ph.D. program. She said that seeing undergraduates achieve great things is very important to her.
As a newly tenured professor, Hinton says she is looking forward to her next steps as an instructor and researcher.
"As far as I'm concerned, I love research and I definitely love the MK-STYX," Hinton said. "And if I can get the whole world to enjoy it like me — that is my push."