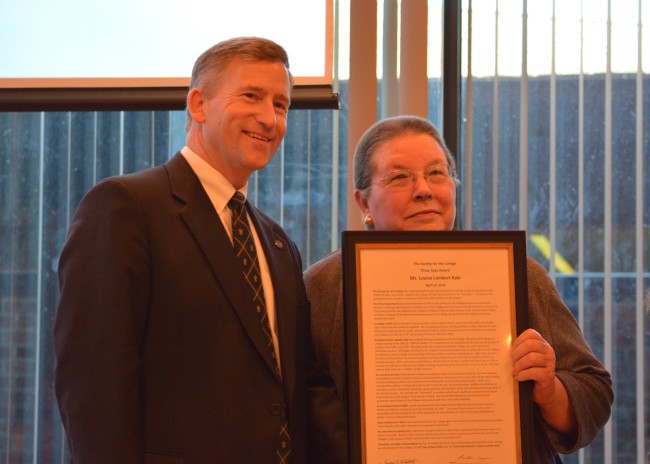 The Society for the College, an independent alumni organization for the College of William and Mary, hosted their second annual College Honors Ceremony Wednesday, April 13. At this event, the Society recognized two professors and one former administrator for their contributions to the College.
The alumni organization presented two professors — biology professor Shanta Hinton and former philosophy professor George Harris — with the William Small Award for Faculty Excellence. This award, named after one of the natural science professors who mentored Thomas Jefferson, is designed to honor excellent faculty.
According to President of the Society Andrew McRoberts '87, all of Hinton's students who chose to write an honors thesis have been accepted into graduate programs. Many of the students who work in Hinton's lab recommended her for the award, and some attended Wednesday's event.
"Dr. Hinton draws the respect and admiration of her students," McRoberts said. "Her students told us that they truly appreciate her commitment to them."
Dr. Hinton draws the respect and admiration of her students," McRoberts said.
Hinton is also the first tenured professor in the natural sciences at the College who is of a racial minority. McRoberts cited an interview with Hinton where Hinton said pursuing the sciences is more important than focusing on her accomplishment as a racial minority.
Along with a certificate of recognition, Hinton also received a monetary award. In her acceptance speech, Hinton cited lessons she learned from her family as valuable pieces of advice she tried to pass on to her students.
"William and Mary has been a perfect fit, so I don't have any bad stories to share about working here," Hinton said. "I've enjoyed interacting with students and giving them what my family gave me, which is hope and jubilee. It's an honor that I have a chance to hopefully inspire them."
Harris, the other recipient of the William Small Award, recently retired from teaching at the College. As part of his career, he published four books. McRoberts and philosophy professor Paul Davies said these were some of Harris' most notable accomplishments.
Before the Society presented Harris with his award, Davies introduced Harris and spoke on their past work together. According to Davies, it is noteworthy that Harris often disagreed with administration on issues he cared passionately about, such as COLL Curriculum, which he actively argued against before his retirement. Davies said that Harris worried that the COLL Curriculum would decrease the College's academic excellence.
"I would like to thank Paul and the Society for the award, it's a humbling experience," Harris said. "It sounds like I follow controversy and controversy follows me, but I want everyone to know how grateful I am to have been able to have a career as an academic at the College."
Besides presenting two professors with the William Small Award, the Society also recognized former Executive Director of Historic Campus Louise Lambert Kale with the Three Keys Award. This award is given to someone who represents three principles: academic excellence, good governance and a recognition of history and traditions.
Although College President Taylor Reveley was not able to attend Wednesday's event because he was abroad at the time, he prepared a statement on Kale's service as executive director of historic campus to be read before she was recognized.
"It is quite wonderful the Society plans to bestow the Three Keys award on Louise … She is a William and Mary treasure," Reveley said.
It is quite wonderful the Society plans to bestow the Three Keys award on Louise … She is a William and Mary treasure," Reveley said.
Kale grew up at the College while her father served in various administrative roles. Upon graduating from college at Sweet Briar College, she returned to Williamsburg, where she first served in the fine arts department and then in a leadership role at the Muscarelle Museum of Art. Former College President Tim Sullivan '66 asked her to serve as an overseer of ancient campus, which is the role she served in until her retirement. During her time in that role, she founded the Spotswood Society and oversaw the Wren Renewal Project.
Current Executive Director of Historic Campus Susan Kern introduced Kale and updated members of the Society on recent projects related to ancient campus. According to Kern, one of the biggest projects revolves around creating an audit of archaeological data, including the data collected under Kale's supervision. The Society donated a monetary award to ancient campus to help with future projects.
"My greatest secret is that I really had a great time working in the Wren building," Kale said. "There were days I thought I shouldn't even get paid for doing this … When I came to work at William and Mary it was like coming home. Working at the Wren building was the finest experience you ever could have had."
The Society does not receive any funding from the College for presentation of such awards; it is completely funded by supporters' donations. According to McRoberts, since its founding in 2007, the Society has worked to honor people who have been significant in preserving traditions and those who have expanded the Society's understanding of its founding principles. McRoberts also said that he hopes this event becomes more of a tradition, since it has now occurred twice.