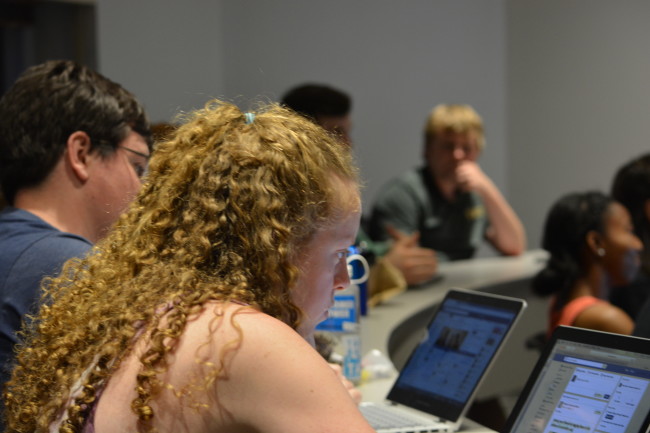 During the Student Assembly senate's last meeting of the semester, senators voted on legislation meant to correct budgetary problems — allocating funding for Steer Clear and printing more blue books. The meeting was initially delayed because of a failure to meet quorum.
Sen. Annelise Yackow '18 introduced the Blue Book Act which allocates $5,000 to print more blue books for upcoming final exams. In the past, SA has funded the exam books to reduce costs placed on students.
Earlier in the year, when Earl Gregg Swem Library switched management, the print shop doubled the price of printing a blue book from $0.25 to $0.50. Although the bill was introduced on the senate floor before committee discussion, it was moved to old business by a vote of unanimous consent.
According to Chairman of the Senate Danny O'Dea '18, although the senate did not want to have to allocate more funding, it was necessary leading up to finals.
"I don't feel comfortable passing this bill," O'Dea said. "It puts us in a position where we really don't have a choice but to fund something like this. While this is extremely beneficial to the students that we fund this, it angers me and I hope it angers you as well."
I don't feel comfortable passing this bill," O'Dea said.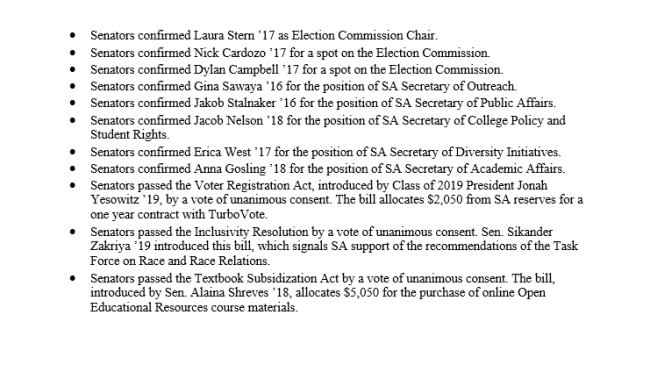 Senators passed this bill by a vote of unanimous consent. Moving forward, SA Vice President Hannah McKiernan '17 said she would like to negotiate for a better blue book price to prevent this happening again in the future.
Senators also discussed the Safe Driving Act, introduced by Yackow at a previous meeting. This bill allocates $16,009 from SA reserves for Steer Clear. Funding for Steer Clear is normally allocated in each year's budget, but representatives from Steer Clear failed to attend the Executive Appropriation Committee's meetings or submit funding requests.
Following a transition in Steer Clear leadership, it became apparent that they would not having funding to operate next year. This bill allocates necessary funding, but requires Steer Clear leaders to meet with SA in the fall to discuss the problems necessitating this bill.
Similar to the Blue Book Act, this bill evoked frustration from many senators. Sen. Olivia Camper '17, one such senator, said that this created an opportunity for an important conversation.
"I see this as an opportunity to have a conversation," Camper said. "They are not accessible to a lot of students on campus. They are often hard to get in touch with, and there are problems with their apps. I think it will be good to sit down with them and say they will get funding if they do x, y and z. This is an awesome opportunity to talk with them before we start up again in August."
I see this as an opportunity to have a conversation," Camper said.
O'Dea said that he did not like that this bill was necessary, and said he hoped other senators did not like this as well.
Class of 2019 President Jonah Yesowitz '19 recommended that this bill serve as a last chance for Steer Clear.
"I don't like that this is a bill," Yesowitz said. "If this were to happen next year I don't think we should fund them."
Because the senate agreed Steer Clear is an important resource for students, they passed the bill by a vote of unanimous consent.
"I would rather fund a dysfunctional organization than leave our students unsafe at night," O'Dea said.