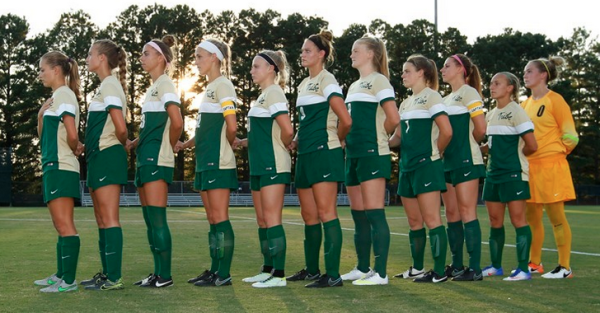 [soundcloud url="https://api.soundcloud.com/tracks/280526095″ params="color=ff5500&auto_play=false&hide_related=false&show_comments=true&show_user=true&show_reposts=false" width="100%" height="166″ iframe="true" /]
A new season of fall sports is beginning at William and Mary, and the Flat Hat Sports Desk has all the information you need on each program. Click the links below for our 2016 sport-specific preview analysis.
Men's soccer: 2016 season preview
Three years ago, the Tribe suffered back-to-back heartbreak losses to end the season, falling to Drexel 1-0 in the 2013 Colonial Athletic Association Championship game before losing on penalty kicks to George Mason in the NCAA Tournament. This year might be William and Mary's best chance to take home the CAA title since that season.
-Staff Writer Henry Trotter
Women's soccer: 2016 season preview
While football and men's basketball take the main spotlight on campus, William and Mary women's soccer has been an underrated success story. Jill Ellis '88 has had a successful stint coaching the U.S. Women's National Team, despite an early exit from Olympic play this year. Former goalkeeper Caroline Casey '16 is one of the most decorated players in school history, as she finished last season with an All-American honor and was subsequently drafted to play professionally in the National Women's Soccer League for Sky Blue FC. This year's Tribe squad looks to continue its strong legacy and justify its preseason ranking of first overall in the conference.
-Associate Sports Editor Chris Travis
Field hockey: 2016 season preview
William and Mary enters the 2016 season facing several daunting uncertainties, most notably the gaping hole left in goal by the departure of Meredith Savage '16.
-Sports Editor Josh Luckenbaugh
Volleyball: 2016 season preview
Coming back from a long offseason, William and Mary's volleyball program looks to start a new era this fall. A new coaching staff and new team members bring new hope with them to the squad, which finished sixth in the Colonial Athletic Association in 2015.
-Sports Editor Nick Cipolla
Cross country: 2016 season preview
After a strong 2015 season, William and Mary is back with another busy schedule this fall. The Tribe will be looking to build on its success from last year, which included several quad meet victories for both the men and women.
-Associate Sports Editor Vansh Bansal