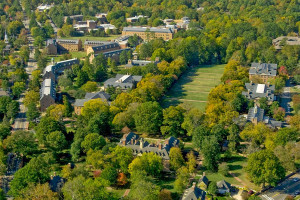 The global rise of populism, nationalism and illiberal democracies is taking hold of the College of William and Mary — in the comfort of a lecture hall.
A series of lectures called The Global Rise of Illiberal Democracies, co-sponsored by the government department, the Dean of Arts and Sciences and the Wendy and Emery Reves Center for International Studies, covers the rise of populism and nationalism in democracies throughout the world. Government professor Rani Mullen hosts these lectures.
"There was a lecture in the spring of last year, I think March or so," Mullen said. "We posed the rise of liberal and illiberal democracies. A bunch of us went to dinner afterwards and said, 'It's really quite worrisome that this is not just a U.S. phenomenon. How do we understand it?' So we broke down some of the questions that were posed at that time and decided to discuss these individual questions in a series of lectures."
These lectures host professors from multiple disciplines at the College. Theatre and Asian and Pacific Islander American Studies professor Francis Tanglo-Aguas discussed the growing nationalist sentiment in the Philippines. He also weighed in on the rise of President of the Philippines Rodrigo Duterte.
"We're all specialists in other areas, but it's interesting in these cases and with our different knowledge together to say, 'How do we understand this? What's driving this? Are there commonalities?'" Mullen said.
Priya Ponnapula '17 and Nick Petrihos '17 help Mullen to organize the lectures. Ponnapula is an international relations and economics double major and has taken all of Mullen's previous classes.
"I'm in her student seminar on Afghanistan right now, it's great," Ponnapula said. "It's really inspiring, and I really wanted to help her out with these [lectures]."
Petrihos, a government and business analytics double major, is also in the Afghanistan seminar and, like Ponnapula, has taken some of Mullen's previously offered courses.
"[Mullen] asked Priya and I to help with these events," Petrihos said. "She held them last year and they got big turnout. I help organize the events so I book the rooms, catering, take photos, print name tags, make, hang and change flyers. [Priya] takes care of the actual hard work, which is to find panelists and organize the discussion."
The lectures also present research opportunities to students interested in illiberal democracies.
"We're asking students to come in and share their ideas and thoughts," Mullen said. "William and Mary has become so international and people can bring their experiences to their research."
Petrihos said that he hopes to launch an independent study in the spring on a similar topic.
These lectures on illiberal democracies will extend through this spring semester, but their structure and focus are subject to change. It is not yet decided what the lectures will focus on in subsequent academic years, or if the series will continue.
"Just getting six or seven lectures together is a bit of a challenge because everyone is just so busy," Mullen said. "The idea is that during the election year here, because it is such a phenomenon, we'll see how it goes and see the feedback we get from these panels, and then re-evaluate them based on that for next semester."
While students are encouraged to attend, these lectures are also open to the Williamsburg community.
Petrihos discussed what he saw as an encouraging turnout at the first lecture, saying that the wide variety of people who came made the lecture feel more inclusive and widespread.
"We get people who are not just students, but professors and a lot of members from the community too, which I think is great to see," Petrihos said. "It's not just a conversation between professors and students, but a campus community and Williamsburg too."
The first lecture introduced the topic of illiberal democracies and debated whether illiberalism is on the rise in the United States. The 2016 presidential election and Donald Trump's campaign formed the backbone of the discussion.
Mullen said she values the different perspectives that are presented at these lectures, believing that they offer a unique look at the changing global political climate.
"I see this as a communal endeavor," Mullen said. "People from China, the woman who was talking was from Poland, they bring that discussion of, 'I don't quite understand what's going on.' It was interesting the more people would talk about it happening in Eastern Europe and Western Europe. Students were asking how similar it is to the U.S. case. It's to put the U.S. in a global perspective."
The next lecture, scheduled for Nov. 15, will cover the rise of global inequality and its relation to the rise of populism.