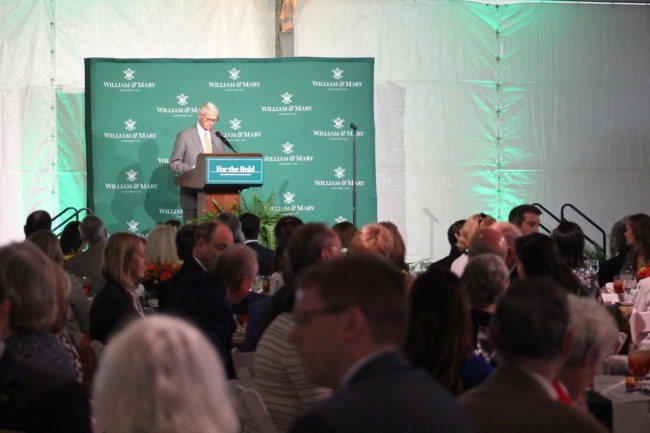 Fundraising efforts at the College of William and Mary continue to ramp up, with a record-breaking $46.3 million raised in the first quarter of fiscal year 2017. Much of this success can be attributed to the continued success of For the Bold: The Campaign for William and Mary.
The For the Bold campaign has three pillars: reaching 40 percent alumni participation by 2020, strengthening alumni engagement and raising a billion dollars. Now, a year after the campaign's public launch, $623.8 million have been raised towards the third goal, representing over $91 million raised since October 2015.  University campaigns commonly face a level of deflation after the first year of the campaign launch, as the initial ballooning of excitement wears off.
Vice President of University Advancement Matthew Lambert '99, who spearheads the effort, differentiated between the College's campaign and other university efforts in avoiding the loss of momentum.
"It is common in campaigns of this magnitude to face a post-launch dip in giving but William & Mary continues to buck national fundraising trends and has made remarkable progress since the start of the public phase of the For the Bold campaign," Lambert said in an email.
To Lambert, this success is due to continued engagement of the College with alumni.
One way the College has devised to avoid a post-campaign launch slump is to simply keep launching the campaign. Starting with the green and gold illumination of the Empire State Building Sept. 29, which coincided with the launch of For the Bold in New York City, a series of regional campaign launches will be underway in the spring, including launches in San Diego, Los Angeles, San Francisco and Washington, D.C. A particularly successful subset of the campaign has been directed toward scholarships. $200 million have been raised for scholarships alone, nearly a third of the total campaign value.
Although new numbers on alumni participation rates are not released until the conclusion of Fiscal Year 2017, the previous fiscal year ended with 28.7 percent alumni participation, falling short of the 30 percent target for the year. According to Lambert, however, the College has not fallen behind the 40 percent goal by the conclusion of the campaign in 2020.
"We closed the first quarter nine percent ahead over last year, which puts us on track to reach the overall goal," Lambert said.
For the conclusion of FY 17 in June, the College seeks to achieve a 31 percent alumni participation rate.
Campaign chair Sue Gerdelman '76, said that the campaign is not merely about impressive statistics and the $1 billion; instead, for her it is about the support and engagement of every member of the College community.
"For the Bold is an investment in the people who make William & Mary so extraordinary — and we wouldn't be where we are today without the support of the Tribe community, including faculty, students and staff," Gerdelman said in an email.