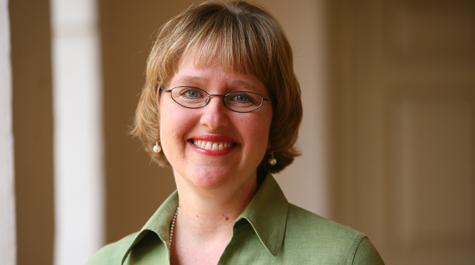 As Vice President for Student Affairs at the College of William and Mary, Ginger Ambler '88 Ph.D. '06 works to create a supportive community within the College and to effect change around issues that matter to students.
The Department of Student Affairs is concerned with student life outside the classroom and the offices and organizations that support such extracurricular activities. The vice president for Student Affairs oversees departments and organizations such as Residence Life and student government, among many others. As head of Student Affairs, Ambler works with a comprehensive staff to represent student concerns and make decisions about budgets and policies.
Ambler first became interested in community building at the College, where she was a member of the choir, a sister of Kappa Kappa Gamma, a leader in a peer education group and a Resident Assistant for three years. As an RA in Monroe Hall, Barrett Hall and the Bryan Complex, Ambler said she was able to develop individual relationships with her residents and to celebrate their successes. She said this was important to her because of how students at the College can become so caught up in their personal academic pursuits — in her position as an RA, she could encourage them to come together as a community and take time to support and celebrate their hall-mates.
"[Being involved in these organizations] was a way to feel a part of the community, to give back to the community and to grow as a young leader," Ambler said.
At the College, Ambler studied English — in her time at the College, she said she focused primarily on grammar, syntax and learning about the dialects and origins of language. However, she said if she could go back she would major in linguistics instead, which was a smaller program at the time. Ambler said she did not know what she wanted to do with this major early on; she just knew she enjoyed literary analysis and the humanities.
Being involved with student affairs on a professional level was never part of Ambler's plan until she was exposed to this profession on a college campus.
"Being a university administrator is not a job that you think about being when you grow up," Ambler said. "It's not something you run around the playground saying, 'I want to be a student affairs administrator when I grow up.'"
Ambler said that her experiences outside the classroom influenced her career path, as she enjoyed being involved in residence life and helping other students have enjoyable experiences at the College.
"It was all those other experiences that I had — being a peer educator, working in residence life, being involved in clubs and organizations that I realized the impact that the professional staff here at William and Mary had on me and my experience," Ambler said. "So I discovered my calling being here."
Ambler said her connections to the College cemented her decision to become an administrator. Before attending, she was already familiar with the College: her grandmother graduated in 1939, her godmother in 1974. During Ambler's sophomore year, she met her husband while working as an RA.
"His younger sister was a freshman the first year I was an RA and she lived in the room across the hall from me, and so he used to come over and visit his sister a lot and I learned that he was coming to visit me a bit too," Ambler said.
Sam Sadler '64, M. Ed. '71, Ambler's predecessor, urged her to consider pursuing a career in student affairs. Ambler also received encouragement from her area director, who she said prompted her to consider a similar position.
That, according to Ambler, was the first time that she could ever seriously see herself working as a professional in a university setting.
Ambler went on to attend the Ohio State University to earn her master's degree in higher education and student affairs. She then served in student affairs positions at Ohio State and Franklin and Marshall College before moving back to Williamsburg to work as assistant vice president for student affairs from 2001 to 2008.
Concurrently, Ambler received her doctorate of philosophy in educational policy, planning and leadership over a 10-year span while working full time and raising her third child. Handling these responsibilities required being able to effectively manage her time and focus on each responsibility separately, according to Ambler.
"Sometimes family was the higher priority, sometimes academics took priority, and at the same time making sure I was doing my job," Ambler said.
Ambler said that her decision to return to the College was due to positive experiences she had as an undergraduate: traditions, a sense of community and close relationships.
"Finding a group of people with whom you share something of meaning gives meaning to your overall time," Ambler said. "And you'll find that those are the people you still gravitate towards as an alum."
Ambler said she hopes to create a culture of well-being on campus, focus on leadership and effect change on issues that matter to students. Building the new wellness center is particularly important to her, as it is a physical manifestation of the College's commitment to health. Beyond that, Ambler said she simply wants students to know she is available for them and wants them to succeed.
"I would like students to know that there's a person behind the emails," Ambler said. "That's why I love working at William and Mary, it's because of the students."