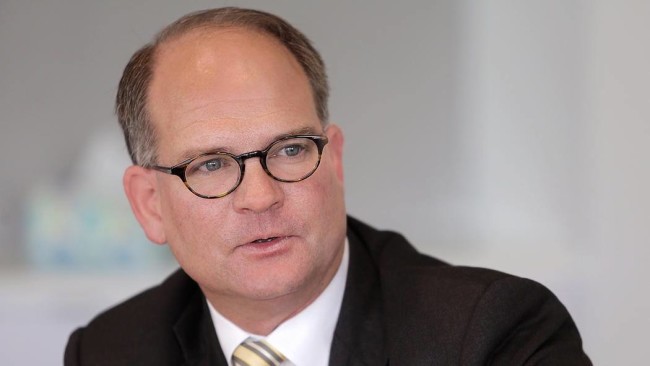 Since his time at the College of William and Mary, Monty Mason '89 has spent much of his life involved in local politics. Now, after three terms representing District 93 in the Virginia House of Delegates, he is running as a Democratic candidate for the Virginia Senate.
"I grew up around the Virginia General Assembly; it's always been part of my life," Mason said. "I was somewhat involved in it growing up."
At the College, Mason double-majored in government and history and said that he pursued his passion for politics through his education. He was a member of what is now known as the Student Assembly Senate and eventually served as senate chair and class president. Mason also served as the president of his fraternity, Phi Lambda Pi, which is no longer active on campus.
Mason and his wife, Pam, moved back to the City of Williamsburg approximately 13 years ago, and since then, Mason said that he has enjoyed spending time giving back to the College and Tribe Athletics.
"I've chaired our class gift campaign three or four times and chaired the Tribe Club to raise money for athletic scholarships," Mason said. "It's extremely rewarding for us. Pam worked in the athletics department for several years and we knew a lot of the student athletes through that. We live right on the other side of Lake Matoaka. We're really knee-deep in William and Mary."
On top of campaigning, Mason works for VISA as a fraud and risk specialist and says he works a second job as a father of two children — an eight-year-old and a six-year-old.
"I often like to say, 'I have two jobs and I'm trying to get a third one,'" Mason said. "I have children in first and third grade and Pam is president of the PTA at Matthew Whaley Elementary School. A day in the life of the Mason household is a pretty active one."
Mason said that one of his favorite hobbies is golfing, but for the last three years he has been too busy campaigning to golf much. When he isn't, he said that he and his family enjoy spending time supporting Tribe Athletics.
"William and Mary Athletics is a huge, fun thing for our family to be involved in," Mason said. "We have had the same tailgating spot for several years; we love seeing the basketball programs. The facilities at Plumeri Park are outstanding; women's lacrosse program is on the up. Then of course you've got the old legends like Jimmye Laycock. While this is fun for our family, people come here and they don't leave. Jimmye has had the chance to leave several times and he's been here for 37 years. People come and stay as part of the institution. [The College] is the complete package."
Prior to his race this year for the Virginia Senate, Mason had been the representative for District 93 in the Virginia House of Delegates. He was re-elected as a delegate in November 2015, winning his race against Republican Lara Overy '08. According to Mason, the re-drawing of District 93 was part of the inspiration for him first running for the House of Delegates.
"The seat had been re-drawn and it had changed hands," Mason said. "When I saw that, I remarked to a friend of mine in the City — while I was serving as chairman of the Economic Development Authority — that, 'They may have just drawn me a district.' I had been very active in the College and the City leading up to that and it seemed like it would be the right time to take that opportunity."
Mason, who is now running in a special election to fill the seat left empty after the death of Senator John Miller in April 2016, said that he hoped to stay involved with students and to prioritize legislation that relates to higher education and issues that predominantly affect college students.
"It is so important that we make sure that the next generation of leaders is involved and gets to know us," Mason said. "I get to live and work in the community. It's a great opportunity to get to know the students and get their input."
Mason said that while he was working in Richmond, he noticed a push to pass legislation that would benefit college students after situations like the kidnapping and murder of University of Virginia student Hannah Graham, but that often other representatives would not get input from current college students on their proposed legislation.
"After the U.Va. situation, we had a lot of sexual assault legislation dealing with college students," Mason said. "I needed the input of people who were in school then. Anytime you have situations with mental health or sexual assault, you have a rush to pass legislation to keep these situations from happening again. That is noble and just, but we have to be careful about going too far."
To Mason, a clear example of this happening was a bill that was proposed that would have required mandatory reporting of sexual assault. College students said the legislation might keep them from coming forward and reporting assaults. Mason said that this would have done more harm than good, and that he sees this type of input as a reason to prioritize interacting with college students as an elected official.
Looking to Nov. 8, Mason said that one of the most important issues for students to think about in the future is drawing districts fairly, particularly for state elections.
"One of the most important issues for your involvement in future government is fairly drawn districts," Mason said. "My house seat is one of only seven or eight competitive seats in the House of Delegates out of 100 seats. Some districts are always going to be red, some are always going to be blue, no matter who draws them. But if you had more competition across the board, that's good for the entire system."