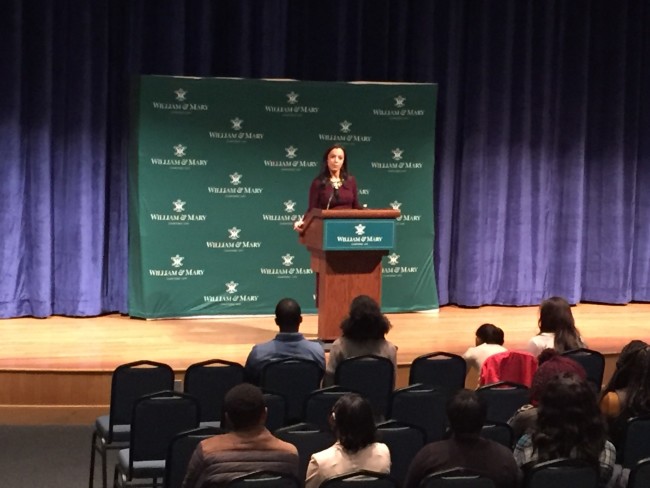 Thursday Jan. 19, political analyst Angela Rye joined the College of William and Mary and the Williamsburg community to discuss Dr. Martin Luther King Jr.'s legacy, especially with reference to the current climate of political uncertainty and change.
Rye was the keynote speaker for the annual Center for Student Diversity's Dr. Martin Luther King Jr. Commemoration. She is the CEO of IMPACT Strategies, a political advocacy firm based in Washington D.C. In addition to this, Rye is a CNN political commentator and NPR political analyst who regularly joins other news outlets for on-air commentary. During the 112th Congress, Rye served as the executive director and general counsel to the Congressional Black Caucus.
Although the Center for Student Diversity holds the King commemoration annually, this marked the first time the discussion among attendees examined a post-Obama era.
Rye used King's 1967 "Where Do We Go From Here?" address at the 11th annual Southern Christian Leadership Conference Convention as a focal point throughout her lecture. Rye highlighted the main topics of the speech: affordable housing, job creation, voter education and strong minority-owned small businesses, topics she said  "ring eerily familiar" today.
"'With all the struggle and all of the achievements, we must face the fact, however, that the negro still lives in the basement of the great society.' That's a sobering thing to read," Rye said, quoting King.
In this context, Rye shared her impressions of Obama's rise to the presidency. She said that she was initially skeptical, doubting that a black man would be elected president in America. However, as the prospect seemed more and more likely, Rye became proud of her country. For Rye's now 99-year-old grandmother, Obama's election was even more significant: it marked the first time she ever called herself black.
"My grandmother would say she was Creole, she was Indian, she would say she was brown, whatever that meant that day, but this woman has been black ever since Barack Obama was elected," Rye said.
To Rye, the election of Obama meant the shattering of a misnomer, of prejudice and of implicit bias. Children would be born with a black man as president and it would be completely normal.
Discussing the symbolic importance of the period, Rye recalled moments like when Obama danced with a 106-year-old black woman before the 2016 Black History Month reception at the White House or when he let the five-year-old black son of a White House staffer touch his hair.
However, Rye said she rejected the idea that the Obama administration marked the beginning of a post-racial era, the fulfillment of King's dream. She noted that America's very founding was based on racial oppression.
Discussing Donald Trump's rise to power, Rye brought attention to a sustained division in American society.
"This election highlighted that divide even more so," Rye said. "We battled with what it means to make America great again, when for so many of us, America had never been greater."
Drawing a stark contrast to her characterization of Obama, Rye listed acts of misogyny and racism by Trump throughout his campaign and career.
"You can't disassociate the actions [Trump] took during his campaign from who he's been his entire professional life," Rye said.
The day after the election, Rye said she threw herself on the floor and just cried. When she got up, Rye said she was still angry; however, she said she began to think about where to go from there.
Guiding the discussion back to King's 1967 speech, Rye shared three of King's main points: assert dignity and worth, organize strength into economic and political power and create full employment in a guaranteed annual income.
"We must massively assert our dignity and worth," Rye said on the first point, quoting King.
Drawing a parallel between King's statement and the Black Lives Matter movement, Rye concluded the organized portion of the event by encouraging students and community members to join together, attend demonstrations and become part of the national dialogue.
Opening the discussion to the attendees, Rye responded to questions regarding unifying local and national advocacy groups, the Women's March on Washington and how to engage politically with younger members of the community.
Audience members shared details about a demonstration in Merchants Square the following day.
Another question concerned how Rye engages with her colleagues who voted for Trump.
"What I have done — and I don't know if it's helpful, but it's helped me survive this," Rye said. "The people that I go on air with — I've been very conscientious about who they are as human beings outside our political banter on air."
However, Rye continued, she has largely avoided political conversations with her Republican counterparts.
After the event, students and community members gathered for a chance to meet Rye in person.
Two of the students waiting to meet Rye were Bianca Bowman '20 and Samir Talaware '19, who discussed their plans for inauguration weekend.
"Now that I know that there is something in Merchants Square, I might go to that, then we are driving to D.C. for the Women's March on Saturday," Bowman said.
Kim Green, a Fellow for Education Programs in the Office of Community Engagement, said she came to the lecture looking for a little inspiration, given what she called the "rocky" political climate.
"I think that a lot of people could have come here today and given a really good MLK speech," Green said. "They could have given a speech that left students inspired, they could have quoted some MLK speeches, but what Angela Rye did today was modern, appropriate, and I think she was completely honest."