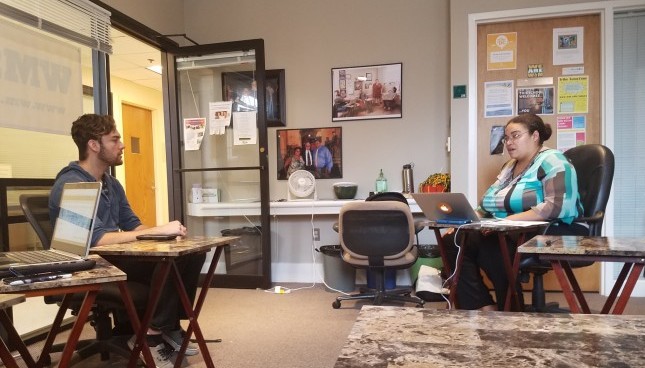 Amid a campus-wide initiative to promote diversity on campus, an effort that began with the establishment of the President's Task Force on Race and Race Relations last spring, two African-American faculty members announced plans to depart Williamsburg.
Center for Student Diversity Director and Senior Associate Dean of Students Vernon Hurte recently announced that he plans to leave the College to move to Iowa State University, where he will become the Associate Vice President and Dean of Students. Hurte began working at the College in 2004 as the assistant director of the Office of Multicultural Affairs, which is now the Center for Student Diversity.
English, linguistics, community studies and education professor Anne Charity Hudley has accepted an offer to become the North Hall Endowed Chair in the Linguistics of African America and director of undergraduate research at the University of California, Santa Barbara.
While Hurte said he was not anticipating leaving the College, he described this new position as his dream job. At Iowa State University, he will oversee 14 departments ranging from the Writing and Media Center, to Greek life affairs, to Title IX and support for LGBTQ, multicultural and international student communities.
Hurte said that he was excited to face the challenges of Iowa State's larger student body and that the campus's focus on community is reminiscent of the College's.
In many ways it's the dream job to be able to really impact, on a much higher level and at a more expansive table, the student experience at Iowa State," Hurte said.
"In many ways it's the dream job to be able to really impact, on a much higher level and at a more expansive table, the student experience at Iowa State," Hurte said.
Charity Hudley arrived at the College in 2005 and has since served as the inaugural community studies professor. Charity Hudley also serves as the co-director of the William and Mary Scholars Undergraduate Research Experience. Her role will be filled by WMSURE co-director, psychology professor Cheryl Dickter and Reference and Instruction Librarian Natasha McFarlane.
Charity Hudley said that she is looking forward to engaging with the university's focus on interdisciplinary studies, which she said is bolstered by the fact that UCSB is the only major research university in the country that does not have a predominately white student body.
"[This] creates all the innovative things that we try to do in terms of diversity and people of color," Charity Hudley said. "That is the mission of the university. So I'm going there not only to work and teach, but to learn."
The search for replacements for Hurte and Hudley's positions will take place over the course of the upcoming semester. According to Vice President for Student Affairs Ginger Ambler '88 Ph.D. '06, Dean of Students Marjorie Thomas, as direct supervisor of the Center for Student Diversity, will personally chair the search committee to hire Hurte's successor. This process typically incorporates input from faculty, students and staff.
The process also involves a nationwide search during which the committee will review applications before interviewing candidates and then invite finalists to visit campus to interact with students and other faculty.
Ambler said that faculty diversity and inclusion is a very high priority for the Division of Student Affairs. According to the Task Force Report on Race and Race Relations, as of 2010, the College's full-time faculty included seven African-American professors, three Hispanic/Latino professors, nine Asian professors and one American Indian or Alaska native professor.
The College's Division of Student Affairs was named one of 2017's most promising places to work in higher education by "Diverse Issues in Higher Education." Ambler said that she hopes that this sends a message to job candidates that the College is an inclusive and welcoming environment.
"Dr. Hurte has made an incredible impact, not only on the lives of individual students, but on the lives of those who were fortunate to be his colleagues and on the university as a whole," Ambler said. "He is just a phenomenal professional and outstanding advocate who is deeply devoted to diversity and inclusion in all its forms."
Dean of Arts and Sciences Kate Conley described the process through which academic departments submit requests to fill faculty positions such as the one that will be left vacant by Hudley. After her office reviews requests and considers its budgetary allowances, requests are submitted to Provost Michael Halleran so that a search can begin.
Conley said that budget cuts due to the state budget might delay hiring, but the College's commitment to completing the COLL curriculum will lead to strategic hiring in certain academic departments. Currently, the Office of the Dean of Arts and Sciences has not received a position request from the English or linguistics departments.
While she waits for department requests, Conley said that efforts to diversify the faculty have produced several candidates who she is hopeful will be final hiring choices.
"There's the federal definition [of racism] which really looks at race and gender," Conley said. "In arts and sciences we try to think of diversity more broadly."
According to her, this broader definition includes race and gender as well as religious beliefs, sexual orientation and military service.
We're looking for different personal backgrounds but also areas of intellectual interest," Conley said.
"We're looking for different personal backgrounds but also areas of intellectual interest," Conley said. "We really want scholars who work on a broad diversity of topics to come to William and Mary and help to diversify our curriculum in addition to diversifying the faculty as individuals.
Chief Diversity Officer Chon Glover '99 Ph.D. '06, who previously served as the Director of the Office of Multicultural Affairs from 1999 until 2008, initially hired Hurte to be the assistant director of the office.
Glover cited the Task Force on Race and Race Relations as a critical factor in the College's efforts regarding faculty diversity, including the Halleran's $1 million hiring initiative to increase the number of faculty of color.
Glover said that the College is using strategies to attract a more diverse applicant pool to the College. One such strategy is posting listings in publications that focus on diverse groups. Glover also attends the Southern Regional Education Board's Faculty Diversity Institute in order to directly recruit and meet over 1,000 students of color who have recently completed doctoral programs or are looking for entry-level faculty positions.
Glover likened the institute to when college recruiters visit high schools in order to make information more accessible to students.
"We develop and cultivate relationships with [candidates] so that if something becomes open in their area at William and Mary, we can encourage them to apply," Glover said.
Conley said that she is confident that the College will hire good candidates to fill Hurte and Hudley's positions.
"I'm sure we'll hire well," Conley said. "We won't hire exactly Vernon. We won't hire exactly Anne, but I'm sure we'll hire good new colleagues."
The departure of Hurte and Charity Hudley has left students questioning who will be capable of filling their roles. Hudley said that she plans to remain in contact with the students she is currently working with after she departs the College and hopes that her move inspires them to continue their own personal and academic progress.
One such student is WMSURE fellow Nansi Rodriguez '19. Rodriguez reached out to Hudley before she arrived at the College to learn more about the WMSURE program and currently organizes a research program for minority students.
"The most prominent thing that I like about Professor Hudley is her personality," Rodriguez said. "She's always so bubbly and makes you feel like you can accomplish anything."
Rodriguez said that it was important to have faculty of color at a predominately white institution, especially considering the current national conversation on race. She said she would encourage the administration to hire a new faculty member of color who is willing to talk to students of color and speak up on their behalf.
"It means more coming from a person of color because I know that they understand where I'm coming from," Rodriguez said. "I feel like some faculty take notice but don't take action like [Hudley] does."
Meronne Teklu '17 said that advocacy was important when reflecting on her experiences with Hurte.
"Everybody knows who Dr. Hurte is and how special he is to the community," Teklu said. "For the students that [Hurte] knows well, his move will be difficult. I don't know who's going to be able to advocate that well for students. I don't know if people really understand that this is a really big deal that these two incredible people are leaving our community."
Hurte said he hopes that the future director of the Center for Student Diversity approaches the position with a desire to know the campus and build relationships with its students while continuing to promote issues of faculty diversity.
"The academic experience is better for all students when students have the opportunity to engage with a diverse faculty," Hurte said. "It's not just the content knowledge, but the way in which one's lived experience allows the content to live in different ways. We can never miss the importance of being able to bring different voices to the table."