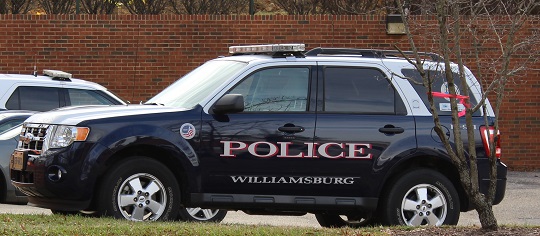 The Williamsburg Police Department responded to a shots-fired call at 2:15 p.m. Feb. 26. The incident occurred at a hotel in the 900 block of Capitol Landing Road.
Upon arriving at the scene of the crime, officers immediately detained the suspect in the shooting. They then spoke to a witness at the scene who identified the suspect as Brian Keith Lyons, a 33-year-old male. The witness directed the officers to the spot where Lyons dropped his firearm, a .40 caliber handgun, after firing it, according to Williamsburg Police Department Major Greg Riley.
Officers then spoke to the victim, who described himself as an acquaintance of Lyons. The victim said he met with and confronted Lyons about discharging his firearm, at which time Lyons proceeded to aim his firearm at the victim and fire again. The discharged round missed the victim and hit a car that was between the victim and Lyons. The victim was not injured during the incident.
Officers also learned that Lyons was staying at the hotel involved in the shooting and proceeded to conduct a protocol sweep for any other injured persons. No other individuals were found, but officers said they noticed various narcotics in Lyons' room. Officers then obtained a search warrant and seized the items upon returning to the hotel. Some of these items include cocaine and marijuana. According to Riley, other substances were recovered but have not yet been identified.
Based on their observations of Lyons' behavior at the scene of the crime, which was reported as "erratic," and the presence of alleged narcotics in Lyons' room, officers came to believe that Lyons had either acted under the influence of certain substances or experienced a "mental crisis." Lyons was subsequently transported to Riverside Doctor's Hospital where doctors performed a mental and medical evaluation on him. According to Riley, Lyons was medically and mentally cleared at the hospital, meaning that there was no issue contributing to his behavior.
After the evaluation was performed, officers transported Lyons to the Virginia Peninsula Regional Jail. He is currently charged with attempted murder, use of a firearm in the commission of a felony, brandishing, possession of cocaine, possession of marijuana, possession of firearms while in possession of certain substances and reckless endangerment.