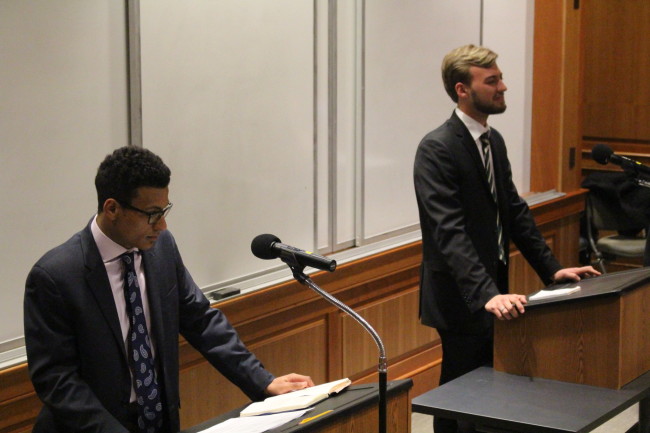 Feb. 14, three students representing various multicultural student organizations presented on the floor of the Student Assembly Senate and shared their concerns about the 2017-18 academic year's Executive Appropriations Committee process, which they felt had not taken into account the specific needs of these multicultural organizations.
One of these three students, Pallavi Rudraraju '17 said that often, she feels that multicultural student organizations have to work to "sell" themselves to members of either the senate finance committee or the EAC board when they seek funding.
"Multicultural organizations do not get enough funding at this school for enough events," Rudraraju said. "We have to go to places like the [Center for Student Diversity], Africana studies, academic departments, because we aren't receiving it from [Student Assembly] … you're supposed to be our main advocates."
Another student who attended the Feb. 14 meeting, Sherifa Atwa '17, agreed with Rudraraju and said that she feels like she has to make her culture or her beliefs desirable to seem worthy of funding.
"I feel like I have to sell my culture to get support," Atwa said.
Now, with SA elections Thursday, March 23, reforming the EAC process, as well as the senate's protocol for approving activities and event requests, has moved to the forefront of both Elijah Levine '18 and Chairman of the Senate Danny O'Dea '18's platforms.
Both candidate pairs have promised to amend the budgeting process to be more inclusive of the needs of multicultural organizations. For Levine, this reform appeals to the cultural change part of his and Sen. Annelise Yackow '18's two-pronged platform.
According to Levine and Yackow's platform, the two plan to do a "large scale overhaul" of SA funding for multicultural student organizations that would include establishing different funding guidelines for them. While Levine initially said he was interested in creating a system separate from the EAC that would create a different categorization for funding similar to that used by service groups, he and Yackow now plan on developing a new set of regulations for the senate finance committee. Yackow said that she hopes these new guidelines will make it harder for the senate to deny funding to multicultural organizations.
"We tend to deny a lot of multicultural organizations that used to get funding, like the African Cultural Society," Yackow said. "The way A and E [activities and events requests] are now, is that it makes it harder for senate to give funding that could have been acquired through the budget process … we don't want to form a separate group to approve EAC funding."
O'Dea and Srikanth also have included this reform in their platform under a broader category called "Student Assembly Reform." In this section, they discuss reforming the EAC to alter the structure of the questions that traditionally focus on attendance of multicultural events to determine funding. The two plan on altering these questions to make the process more accessible.
The two also plan to transfer the costs associated with keeping Earl Gregg Swem Library open for longer hours during finals to the College to create options for alumni giving, where money would be allocated to specific student concerns such as multicultural organizations, mental health initiatives and SA events, to create "after action" reports for events that are funded by SA, to codify guidelines for the finance committee to improve internal communication between the executive and legislative branches and to improve the role of cabinet delegate, which is a senator appointed by the SA president to attend cabinet meetings and report back to the SA Senate.
Two of these issues stem from initiatives started in the 2016-17 academic year to improve relations with the SA executive branch after former SA President Yohance Whitaker '16's administration. At the beginning of this year, the senate approved the Cabinet Delegate Act, which gave one senator the power to sit in during executive branch meetings to learn what the different executive-level secretaries were working on. Former Sen. E'Driana Berry '17 held this position until she graduated, and now, Sen. Brendan Boylan '19 holds this position.
According to O'Dea, these steps would help prioritize a "refocusing" on SA's goal of serving the student body.
Srikanth said that she has seen from personal experience as a member of the South Asian Student Association that it is difficult for multicultural organizations to get funding.
"One of our big things in the diversity platform is to try and increase funding for multicultural organizations," Srikanth said.
O'Dea also said that he has been working with the current administration under SA President Eboni Brown '17 and SA Vice President Hannah McKiernan '17 to reform these senate funding guidelines. According to O'Dea, Yackow has also been involved with this process.
"These aren't buzzwords for us, they're things we actually care about," O'Dea said. "For large events that require massive amounts of funding that would also require students to pay at the door, the SA right now is going to be offering to front-end that funding. This would help multicultural organizations that often host events like this."