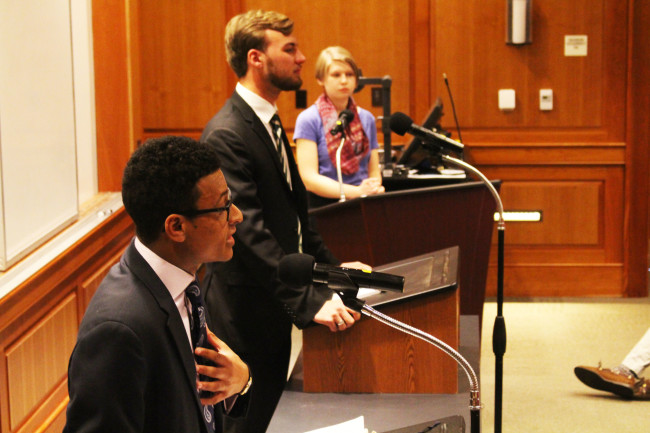 Students at the College of William and Mary will vote for the next Student Assembly president and vice president March 23. On the ballot are Chairman of the Senate Danny O'Dea '18 and Elijah Levine '18 and their respective running mates, Nami Srikanth '19 and Annelise Yackow '18. The Flat Hat reviewed each of the proposed policies.
While each candidate addresses topics of diversity, mental health, sexual assault and inclusion of international students, O'Dea and Srikanth's platform includes more proposed solutions and more broad platform categories.
Diversity
Levine and Annelise suggest creating a social media-based campaign to discuss diversity, support the City of Williamsburg's refugee resettlement resolution and ensure that the College declares its status as a sanctuary campus for students protected under the Deferred Action Childhood Arrival program. Currently, according to University Spokesperson Brian Whitson, the College has no intention of becoming a sanctuary campus, following a precedent set by other public institutions.
Under their diversity platform, O'Dea and Srikanth include student accessibility services. They suggest working to expand hours of transportation assistance beyond Campus Escort's hours of 9:00 a.m. to 1:00 p.m. to account for student commitments in the evening. Campus Escort runs from 9:00 p.m. to 1:00 a.m. on weekdays.
Sexual Assault
Under their platform regarding sexual assault, Levine and Yackow suggest "establishing transparent and clear definitions of terms surrounding sexual assault." Levine said that he believes it is necessary for the administrative offices at the College to include the investigation of multiple forms of sexual assault and include it in official documents. The College, through their Office of Audit and Compliance, includes forms of sexual assault such as stalking, rape and intimate partner violence in collecting and reporting for Title IX.
They also say they would like to strengthen the parameters of no-contact orders, but specifically mean that if a student is issued a no-contact order, they will be moved farther away than one residence hall.
O'Dea and Srikanth propose subsidizing Physical Evidence Recovery Kits for students who have been sexually assaulted. Currently, PERKs are provided "at no cost to students" according to campus resources from the Haven, who attend the College and access one at the Riverside Regional Hospital.
Campus Life
Levine and Yackow propose adding a subsidy at the Student Health Center for students seeking Plan B, an emergency contraceptive. Currently, there is already a subsidy available for this drug at the Student Health Center. Alternately, O'Dea and Srikanth also propose increasing advertising for subsidies already available, such as ones for Plan B and testing for sexually transmitted infections.