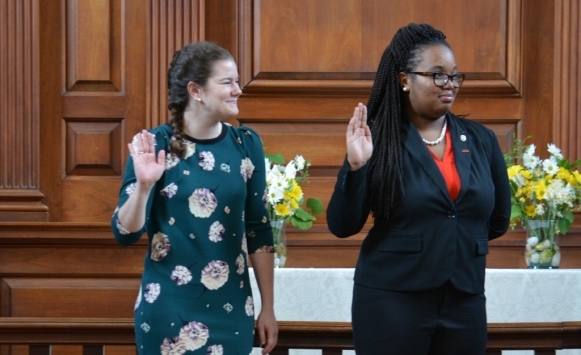 Over the course of this year, outgoing Student Assembly President Eboni Brown '17 and Vice President Hannah McKiernan '17 have advocated for Sexual Assault Nurse Examiners, hosted speakers from End Rape on Campus, supported the allocation of SA funds for blue books, purchased water for Jefferson Hall and pushed for a rewording of the alma mater.
We've had a pretty successful year, not to toot my own horn," Brown said.
"We've had a pretty successful year, not to toot my own horn," Brown said. "We got done a lot of the things we set out to accomplish. We were able to do a lot of the things that we wanted to do in the beginning … the inclusion, the advocacy and the collaboration. I think we've had a difficult year in terms of dealing with things on campus … but Hannah and I and our team and the administration have worked together to get a lot of things done. Looking back from when I was first starting out, I never would have imagined getting as much done as we have."
McKiernan said that she, too, believes that their campaign was successful, but that she underestimated how difficult some of their campaign would be, such as starting conversations on campus.
"A lot of our platform was just focused on starting conversations," McKiernan said. "I probably was pretty naive in coming in and thinking that we could have this conversation and change it. That's not really how things work, and while it hurts and can be really hard and disheartening to deal with, I think we did a good job of reframing what success meant to us. … Obviously we aren't going to be able to change everything immediately."
McKiernan and Brown said that they each struggled in different ways throughout their terms, but were united in remembering that things were bigger than the two of them.
According to McKiernan, whose responsibilities included presiding over the SA Senate, one of her biggest challenges came from trying to blend her leadership style with the atmosphere she found in the senate. She said she struggled to feel valued by SA at first, but that she has learned to be assertive for what she thinks is right.
Brown said for her, one of the biggest challenges was trying to please everyone.
"It's hard to toe that line being your representatives," Brown said. "There's this idea of servant leadership, I don't think people understand what it is. It's a pretty term, but it requires understanding that so much of the stuff we do is bigger than us. It doesn't matter whose name is on the bill, at the end of the day what matters is the result. Our face doesn't need to be on anything, but if we're continuing to work that's what servant leadership is. It's removing yourself from the equation to make sure everyone else's voice is amplified. I think that's something I grew frustrated with, because at every twist and turn people were capitalizing on the chance to have their face or name on something."
Together, the two said they learned how to be leaders and represent all of their interests and passions. They agreed that going into their roles as president and vice president, they feared they would have to silence or not acknowledge facets of their identities.
For McKiernan, this meant that she initially was worried that when she came into SA, she'd have to cover up parts of her identity because she felt that she did not fit in with others who had been in SA for longer.
I came into this thinking that I was going to have to put on my SA hat and cover up who I am as a person to get work done and make those relationships and just kind of ignore some of the things that make me who I am," McKiernan said.
"I came into this thinking that I was going to have to put on my SA hat and cover up who I am as a person to get work done and make those relationships and just kind of ignore some of the things that make me who I am," McKiernan said. "I didn't do that. It's not fair to me to be quiet or agreeable all the time. I have to be myself. Literally it was just this recognition that I had that it was okay for me to be exactly who I am around people."
Brown said for her, this often meant struggling with a feeling of not racially fitting in, depending on the situation.
"I felt that sometimes I had to toe the line, being a black student on this campus but also working with administration," Brown said. "Sometimes I felt too white to be black, but sometimes I was surrounded by whiteness and I was too black to be white. I have to be a student and I have to be a student leader. I have to be the voice of the administration that gets them to listen to what I'm saying, but that's sometimes not as harsh as I want to be. I've been trying to balance my blackness and my opportunity to lead with me being a person."
As of April 10, Brown and McKiernan's official roles in SA ended, as SA President Elijah Levine '18 and SA Vice President Annelise Yackow '18 were inaugurated. However, McKiernan and Brown said there was advice that they wanted to pass on to Levine and Yackow.
McKiernan said that she wanted to advise Yackow not to get too caught up with senate responsibilities, and to remember that SA vice president also comes with a duty to the larger campus community.
"Annelise has a lot more SA experience than I did coming into the position," McKiernan said. "She knows people in senate, she knows who to work with; she's coming in with a lot more institutional knowledge than I did. But I would tell her that as VP, things get pushed to you. Being on your game in those moments is really important … I think [I would say] not being afraid to do that and trying to stay focused on what you're interested in and not letting yourself get bogged down in senate and realize you're here to do things for the campus community."
Brown said she wanted to tell Levine to always remember what motivated him to run for president and what he initially wanted to change on campus.
"You always have to remember what was your 'why,'" Brown said. "There are times when you will feel like you are ready to give up. There have been countless nights where I just went home and cried or yelled or was angry. If I had allowed those emotions to consume me, I would have gotten nothing accomplished. You have to remember the people who voted for you, the people who didn't vote for you. You have to be, and stay, motivated by the little things you do and don't accomplish. This has been a long year. It's bigger than you, you need to be working to make everyone's voices heard."
After they graduate, Brown and McKiernan will be pursuing similar paths in different states. They both have accepted jobs with Teach for America and will be pursuing master's degrees through Johns Hopkins University.
We're both doing the same thing in different places because we can't escape each other," McKiernan said.
"We're both doing the same thing in different places because we can't escape each other," McKiernan said. "Eboni is teaching middle school math in North Carolina and I'm teaching kindergarten in D.C."