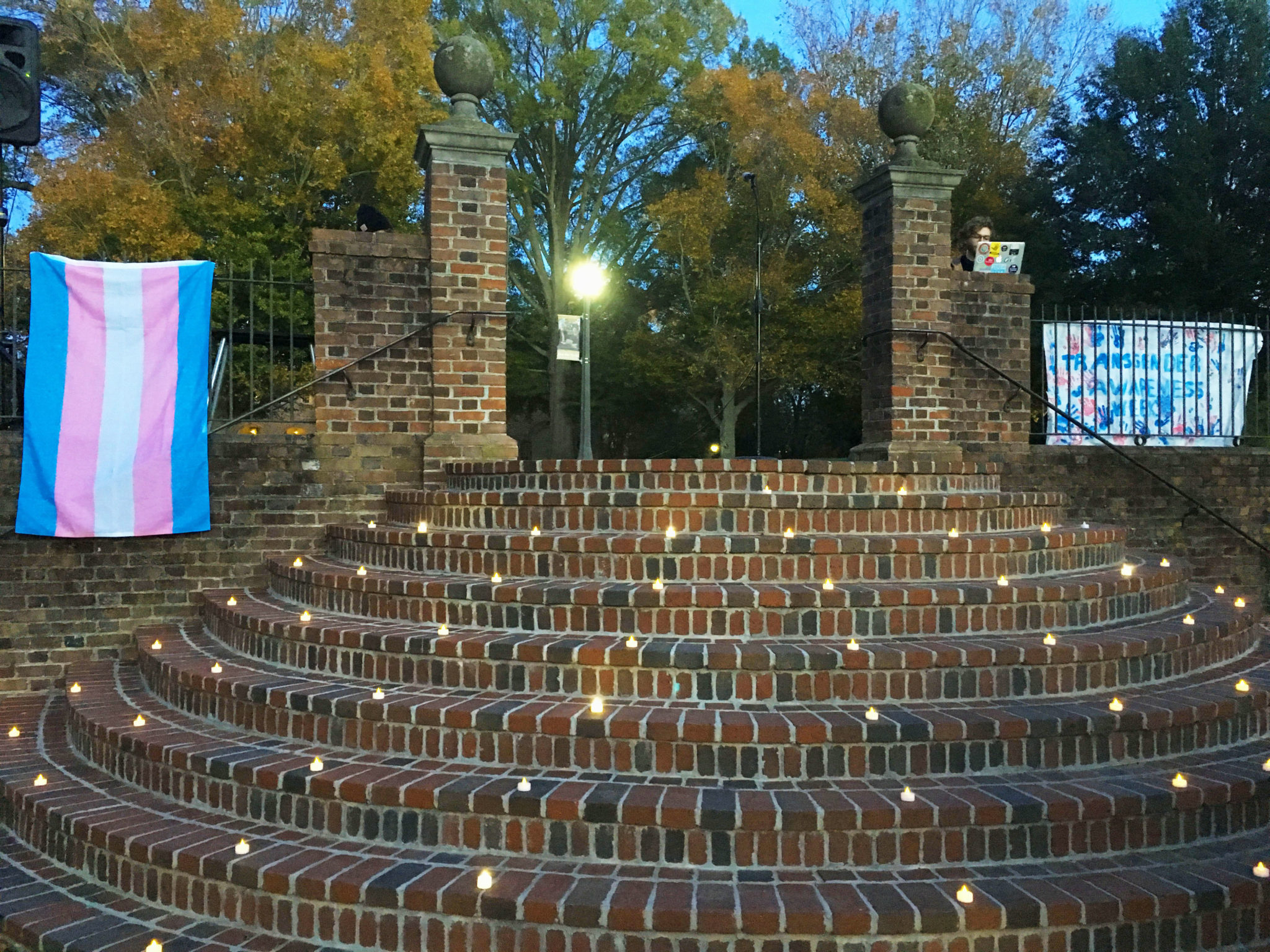 A small crowd gathered in silence on the steps of the Sunken Garden Nov. 20. The stairs were lined with the glow of electric candles. At the top stood a student reading a list of names into a microphone.
"I will be reading the list of trans people wrongfully killed in 2017," Lambda Co-President Andrew Uhrig '20 said at the event's start.
The vigil was part of the Lambda Alliance and Student Assembly's joint series of events during Transgender Awareness Week.
The week included a film screening, a talk with writer and activist Jacob Tobia and a gathering at the Triangle to raise money for the Transgender Assistance Program.
The College of William and Mary's Nov. 20 event was one of a series of vigils held across the nation for National Transgender Day of Remembrance, observed annually across the world since 1999.
I think it provides an opportunity for people to realize how fearful it can be, as a trans person, to exist in different spaces, because there are lots of people throughout the world who are killed because of anti-transgender violence," Uhrig said.
"I think it provides an opportunity for people to realize how fearful it can be, as a trans person, to exist in different spaces, because there are lots of people throughout the world who are killed because of anti-transgender violence," Uhrig said.
The event used a website that listed the names of transgender people killed worldwide by the year in which they were killed. The lists, of which there were 10, spanned from 2007-2017. Several different speakers participated, switching off in between lists.
The list for 2017 included 287 individuals. The reading of the list took 15 minutes and 30 seconds to complete in its entirety; 54 of the people were not identified, and were instead recorded simply as "name unknown." It was the longest list of the 10, all of which were read aloud at the College's vigil.
Reading all 10 lists, from all 10 years, took an hour.
"I would like to stress that for every name or person that we know of there are countless others whose death we will never know about," outgoing Lambda Co-President Trace Hernandez '18 said in an email. "This could be because police departments or families misgender the trans person after death or because a particular person's death did not garner any media attention. Additionally, there are many names who were not even on the list that did garner attention, like Scout Schultz, the non-binary student at Georgia Tech who was murdered by campus police."
A majority of the names listed at the event were Hispanic or Latinx in origin. An even greater majority were female or feminine. This is part of an oft-noted trend, wherein trans women, especially trans women of color, are killed more often than both white trans people and people who are not trans.
"It's incredibly important to remember and recognize trans people, especially trans people of color, because they're just disproportionately highly killed," Lambda Co-President Sydney Scafidi '19 said.
According to its coordinators, the vigil, and the awareness week of which it was a part, were an attempt to help students at the College to learn more about transgender people and their experiences. It also aimed to help people understand what can be done to help celebrate trans people and progress their rights going forward.
"I think trans rights are supported," Uhrig said. "I don't know if I would say that trans individuals are supported though."
Uhrig said that recent policy changes, barring discrimination based on sexuality or gender identity, uphold rights, but that individual trans people don't have many spaces to turn if they feel "smaller" forms of discrimination.
According to Hernandez, a lack of gender neutral housing for first-year students, inadequate preparedness for trans-specific healthcare needs on the part of the Student Health Center and coverage from the College's healthcare plan, and misgendering by professors are ways that the College's progress toward trans rights has been slow.
"I'm trans, I use they/them pronouns, I identify as gender-nonconforming, and a lot of people get confused when I say that because people assume that if you're trans, that you're either a trans man or a trans woman," Uhrig said. "But since I'm neither, I tell it that I'm trans in that I transcend the gender that I was assigned at birth. … The whole point of being trans is that you are assigned a gender at birth and you transition to a different gender."
Both Uhrig and Hernandez noted that, despite the tragic nature of the vigil and the names behind the lists, they wanted people to realize that a transgender identity is not in and of itself a negative thing.
"[The events] took a lot emotionally to do because it felt, for me as a trans person helping organize everything going on, that I was almost exploiting my own identity as a trans person to really put the information out there, and get people to come to these things," Uhrig said. "Because I almost have to defer to the narrative of 'Oh, being trans means that I have trauma, and because of that trauma you should respect what we have to say about trans people.' It feels like there's little room to actually celebrate and have that recognized."
Hernandez agreed that emphasis should also be placed on the stories of trans people who are still alive.
As important as it is to honor our dead, it is just as important to celebrate trans people," Hernandez said. "I don't want people to think about how daunting the task of dismantling transphobia is, but I want them to be galvanized to be more trans-inclusive in their everyday lives and lift up the voices and stories of trans people."
"As important as it is to honor our dead, it is just as important to celebrate trans people," Hernandez said. "I don't want people to think about how daunting the task of dismantling transphobia is, but I want them to be galvanized to be more trans-inclusive in their everyday lives and lift up the voices and stories of trans people."