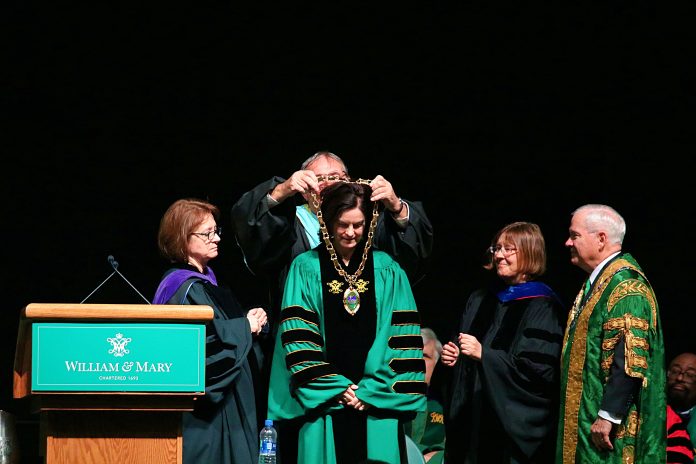 This year, the College of William and Mary's Charter Day ceremony was a little bit different. Beyond the usual celebration of the College's birthday was the inauguration of College President Katherine Rowe, the first woman to hold the title.
After Board of Visitors Rector John Littel and Chancellor Robert Gates '65 adorned her with the presidential medallion, Rowe took the stage to share her reflections on the history, traditions and future of the College. Using an idea John Milton explored in "Paradise Lost," Rowe focused on how the College can reconcile necessary change with 326 years of beloved tradition.
"Now is the moment to reflect on the change that will make us more ourselves and make the Alma Mater of the nation more of the global leader we aspire to be," Rowe said. "The urgency to engage with change is felt across higher education, not just here. It comes from external forces that we don't control but must engage with creatively. Globally, changing demographics and technologies set an imperative for all organizations to raise our standards of equity and inclusion, for universities to recruit the most talented staff and students and faculty in the world."
Rowe also listed three approaches to change that she already sees in motion at the College. To her, these are passion for experimentation through collaboration, reflection and openness to questioning assumptions.
"326 years ago, we were founded on the impulse to try for the two-point conversion, to expand in unlikely directions, to cultivate surprising ideas," Rowe said. "Now, on the 100th anniversary of coeducation and 50 years after our first African-American students were in residence, we celebrate each change that makes us more ourselves. Indeed, the promises of innovation, inclusion and partnership have been hallmarks of this institution since our charter, down to the ampersand in our name."
Celebrating Rowe
The Feb. 8 ceremony featured other changes to recognize Rowe's inauguration. The William and Mary Choir sang a rendition of "Simple Gifts," a song Rowe enjoyed in her childhood. Poet Laureate and English professor Henry Hart wrote and read "A Villanelle for the Inauguration of Katherine A. Rowe" and the Reveille's a capella performance of "Happy Birthday" included a tribute to Rowe.
Additionally, representatives from the Faculty Assembly, the Staff Assembly, the Professional and Professional Faculty Assembly, the Student Assembly and the Graduate Council presented Rowe with gifts. SA President Brendan Boylan '19 and Graduate Council President Lindsey Whitlow J.D. '19 presented Rowe with a woodcut print of the Sir Christopher Wren Yard's trees framed with sycamore wood made from the campus woods. Matthew Parciak '19 and Amy Zhang '19 had made this gift.
Also making history at this year's Charter Day was the re-investiture of Gates. For the first time in the College's modern history, a chancellor will serve two consecutive terms. Gates said that he agreed to serve a second seven-year term because he loved the College and was optimistic for its future. He also said that after learning that Rowe would be president, his excitement to work with her partially contributed to his decision to stay in his position.
"I'm incredibly enthusiastic about our future with Katherine as our president," Gates said. "Not to mention that after 326 years, we're a little overdue for a woman at the helm. I can only imagine how proud Queen Mary must be as she turns to King William and says, 'It's about time.' I truly look forward to working with her during my second term and I will do everything I can to support her."
In the Wake of Northam 
While there was much to celebrate, Virginia Gov. Ralph Northam's blackface scandal and the allegations of sexual assault against Lt. Gov. Justin Fairfax were not far from the minds of those at Charter Day.
Feb. 4, Rowe announced in a campus-wide statement that after conferring with the governor's office, Gov. Northam would not attend Charter Day. The College selected Virginia Supreme Court Justice William Mims '79 to speak in his place.
Justice  Mims, representing the commonwealth of Virginia, said that these are troubled times in Richmond and in Washington, D.C. He said that the commonwealth's citizens are happy to have Rowe in office as president and believes that her vision and passion are right for the College.
"The commonwealth and indeed the nation is bruised today," Justice Mims said. "These are troubled times, in Richmond, and in Washington. Yet, we can gather in Williamsburg and look forward to the future with hope. While our gaze is firmly fixed on the future and the bright promise of the Rowe years, it is right and proper to look back as well for enlightenment. One of William and Mary's scholars from antiquity who served the commonwealth and who can light our path is George Wythe."
Wythe was the first law professor at what is now the Marshall-Wythe School of Law, making him the first law professor in the nation. Over the course of his personal and professional life, Wythe's views on slavery changed. He freed his slaves after much deliberation and then used his position as a lawyer to advocate for others to do the same. He also tried to make it illegal to own slaves in Virginia.
"President Rowe, during your administration, may the College send forth many young women and men, imbued with the spirit of Wythe, to serve the commonwealth," Mims said.
100 Years of Women
Another theme present during the Charter Day festivities was the College's recognition of 100 years of coeducation. One way that this theme was included was in the remarks of Charter Day student speaker Jacqueline Keshner '19.
Keshner began with the story of Queen Mary, who was half of the royal couple responsible for signing the College's charter.
Keshner said that she believes Mary is often overlooked in the story of the College and that most students do not know very much about her life.
She also called on the audience to think more critically about what the language of the founding charter means and how it should be applied today.
"One century after we first admitted women to the College, we are still reflecting on the past," Keshner said. "Yet, we are inaugurating a president who is asking us to think forward. A legacy is not just a story of the past. It is a story of implications or the future. It is a story comprised of stories, and it is written in the present."