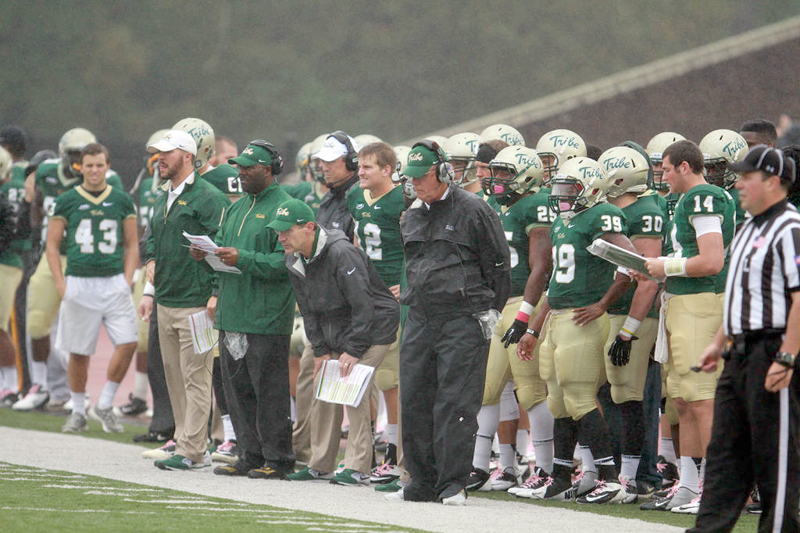 Season record: 7-5, 4-4 CAA
Head coach Jimmye Laycock engineered a five-game improvement from 2012, but fell short of post-season play after suffering a 31-20 loss in the season finale against in-state conference foe Richmond.
"It is what it is, you are who you are," Laycock said after the Richmond loss. "Got our seven wins, now it's time to go home."
After bringing on offensive guru Kevin Rogers as the program's new offensive coordinator, the focus immediately centered on the off-season quarterback competition. Laycock announced that early favorite junior quarterback Raphael Ortiz, who had suffered from shoulder issues, was done for the year after Ortiz underwent surgery Oct. 23.
Senior quarterback Michael Graham won the job for the opener against West Virginia and started the first eight games of the season, throwing for 989 yards and five touchdowns, ultimately completing 81 of 152 attempts. Graham, who suffered concussion-like symptoms in the team's loss at Villanova, left the Homecoming game against James Madison due to his injury and would not return for the remainder of the season.
In relief, senior quarterback Brent Caprio posted similar numbers to Graham. Appearing in  seven games, Caprio totaled 1,018 yards and five touchdowns; he completed 75 of 135 attempts. Caprio and Graham both threw just two interceptions each.
Overall, Roger's offense only managed 20 or fewer points in eight games. In contrast, the 2012 William and Mary squad scored 20 or fewer points five times under the direction of then-offensive coordinator Zbig Kepa.
Scott Boone, meanwhile, helped the College's defense to rank among the nation's best for the majority of the season. Boone, the team's defensive coordinator, coached a defensive unit that shut out Rhode Island and Football Championship Subdivision playoff-bound New Hampshire while allowing one score or fewer in six games.
Under Boone, senior safety Jerome Couplin III was named to the Buck Buchanan Award Watch List Nov. 15. The Buchanan Award annually recognizes the nation's best defensive player. Couplin led the College with 70 unassisted tackles, totaling 113 tackles while not missing a game.
The College was ranked as high as No. 16 nationally and placed six players on the Colonial Athletic Association all-conference first team. Junior wide out Tre McBride was named the CAA Special Teams Player of the Year, while four other players joined the CAA all-conference second team.
Despite the improvement from last season, the program missed the post-season yet again. The Tribe last qualified for FCS playoffs in 2010, when Georgia Southern topped the College 31-15 in a first-round home matchup.
For now, however, Laycock and his coaching staff return to the confines of the Jimmye Laycock Football Center to begin work on another season.