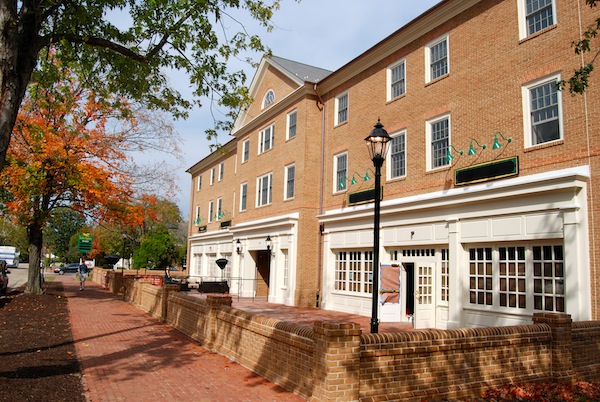 The Tribe Square restaurants have been included on the meal plan as of July 1, following negotiations between owners, College of William and Mary administrators and the school's new dining services provider, Sodexo USA.
Last year, MOOYAH, Pita Pit, the Crust and Subway (which has since closed), complained that the College's mandatory on-campus meal plan hurt their businesses and resulted in lost revenue.
Vice President for Administration Anna B. Martin disagreed and said that a combination of circumstances led to last year's decreased revenues. She explained that it was impossible to add the eateries to the meal plan in January at the beginning of a semester that saw the College choosing between renewing a contract with Aramark or selecting Sodexo instead.
"What happed was that in the process of going through the RFP [request for proposal], the proposers [Aramark and Sodexo] were then told that we'd want them to take the Tribe Square tenants and put them under their umbrella as subcontractors," Martin said. "When the contract was then awarded to Sodexo, they began working with those four tenants so that this could be initiated July 1 when they took over. If Aramark had still been the provider, on July 1 [the Tribe Square proprietors] would have been under the umbrella of Aramark as subcontractors. Had it been in the fifth year of a ten year contract, we'd have approached it in a different way, but if you're in a position when the RFPs have gone out, the proposals have come in, it just makes more sense to say, 'we can do this but we have to do this in a more logical way.' We'll make it available to you in July."
Associate Vice President of University Relations Brian Whitson noted that the negotiations needed to happen between Tribe Square and the College's dining service provider, not the College itself.
"This was always an agreement that needed to be reached directly between … the university's independently contracted dining services provider (Sodexo as of July 1) and the owners of the Tribe Square businesses," Whitson said in an email. "We were delighted to help facilitate those talks between both sides and think this will be a positive step for everyone involved."
Pita Pit owner Kim Twine expressed her gratitude for the increased communication between the Tribe Square owners, Sodexo and the school administration. She noted that College President Taylor Reveley gave the Tribe Square proprietors an "open door policy" to contact him if they have any issues in the future. However, she explained that other local vendors have slim chance of ending up
"We know for a fact we will never be allowed on swipes," Twine said. "We can't really go into much detail, but it's part of [Sodexo's] business model. They don't offer that to anyone, ever. … Sodexo isn't allowed to add any other places. … No places like Brickhouse will ever be allowed on the meal plan; that's what the College has told us."
Twine said she is most excited to implement Pita Pit's on-campus delivery option. She said she believes revenues will increase dramatically this semester.
"Nobody thinks that it's really going to make a big difference in our sales, but we are determined to show them that this mandatory meal plan really hurt everyone and our sales can only go up from here," Twine said.
Despite looking forward to implementing a new online ordering system and potentially extending store hours, MOOYAH owner Alpen Patel expressed some disappointment in being excluded from meal swipes.
"After we talked to Ms. Martin and President Revelely back on Jan. 22, we were under the impression that they would negotiate with Sodexo to get us on the meal swipes — all four restaurants were under that impression," Patel said. "But when it came to negotiating with Sodexo, we later found out that that wasn't on the table; it was either take Sodexo's offer or take no offer. Going into this new semester, I'm borderline satisfied and borderline unsatisfied."
Martin refutes the charge that meal swipes were ever up for negotiations. She explained that including subcontractors on meal swipes would go against standard industry practice.
"What's true even on campus is that you don't use meal swipes in Swem; you use Dining Dollars," Martin said. "We increased the amount of Dining Dollars in the meal plan, because that's what students want. We added another $1.6 million worth of Dining Dollars every year. I think the struggle is with the tenants understanding what it means to be part of the meal plan."
MOOYAH Burgers, Fries & Shakes Vice President of Operations and Franchise Development Michael Mabry explained that Mooyah has also been included on meal plans at Baylor University, University of Texas San Antonio, Southeastern Louisiana University and University of Central Arkansas — all Aramark locations.
"[The mandatory meal plan at the College] almost put us out of business," Mabry said in an email. "We are ecstatic. Our brand fits perfectly with the college age student."
Pita Pit Vice President of Brand Marketing Kevin Sanders also noted that a number of Pita Pits across the country are included on university meal plans. Universities own some of the eateries, while others, like the restaurant at the College, are independent franchises.
"Providing students with more choice and better access to healthier food options is never a bad thing," Sanders said in an email. "We understand that these decisions take time and appreciate everyone's perseverance. In the end, we believe it was the right decision for everyone involved — especially the students."