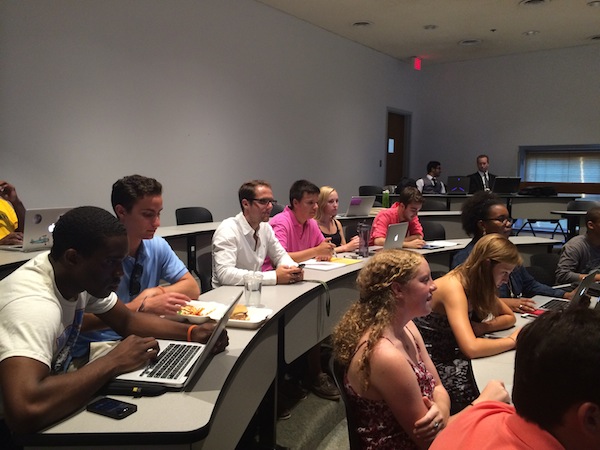 The Student Assembly Senate discussed last semester's initiatives as well as two new bills on Tuesday, the Victorious Vans for Soccer Fans Act and the Homecoming Grant Act Round Four.
Senate Chair Dan Ackerman '16 emphasized the importance of explaining procedures to the new freshmen after the Sept. 25 election.
"I had to vote in my first meetings for thousands of dollars for koozies and I was told to vote yes, so I voted yes," Ackerman said.
Sen. Seth Opoku-Yeboah '16 said the Victorious Vans bill, which would provide van transportation to home soccer games for students, works alongside Parking Services and the Athletics Department to help provide the vans throughout the semester. Ackerman assigned the bill to the Student Life and Finance committees for discussion Sunday.
The Homecoming Grant Round Four Act will allow organizations to apply for funding for events open to the student body during the week leading up to Homecoming.
"I want to leave it to be discussed in committee — the success and the failures in the previous Homecoming grants," Ackerman said. "I think we've worked a lot and I think … we can be a lot stricter. … There should be more understanding that we don't need to allocate every penny if this does pass."
Ackerman assigned the bill to the Student Life and Finance committees for discussion.
The senate discussed the Tribe Football Tailgates program, now in its second year, which the SA will sponsor again this year. The first tailgate will be before the first home football game Sept. 13. SA members are responsible for monitoring each tailgate and making sure alcohol is contained at the venues registered for it.
"We'll just need all of you guys to have the badges, monitoring, making sure everything is not getting out of hand and staying sober," Ackerman said.
Sen. Yohance Whitaker '16 said the Code Revisions Committee will meet by the Sept. 21 deadline stipulated in last semester's act. Whitaker said the committee will provide its recommendations concerning the code in November.
Sen. Chase Jordan '15 spoke about the Ice Cream LDOC Act, which provided ice cream to students on the last day of the Spring 2014 semester.
"It was a success," Jordan said. "We scooped a lot and it was fun and my forearms hurt."
The next Senate meeting will occur on Sept. 8 in Blow 331 at 7:00 pm.