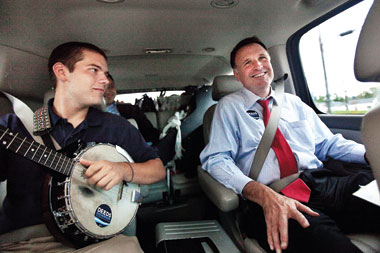 This November will mark a year since former College of William and Mary student Austin Creigh "Gus" Deeds took his own life and stabbed his father, state senator Creigh Deeds, D-Bath. Monday evening, Deeds spoke to a small audience about his efforts to reform mental health policy in Virginia.
The audience's knowledge of the history behind Deeds's dedication to mental health legislation was assumed; he only alluded to the events that led to the loss of his son last year, and focused mainly on giving general mental health advice and explaining the basics of the bill that he is spearheading in the General Assembly.
The bill, though broad in its scope, addresses specific problems Deeds said he believes to have cost Gus his life, such as the availability of beds in psychiatric hospitals and the time limit for holding a patient in emergency custody.
"I was dumbfounded that we didn't have a bed registry for psychiatric beds online," Deeds said.
In addition to creating this online registry, the bill demands that if a private bed cannot be found, as was the case when Gus was brought to the hospital, then a public bed must be provided. The emergency custody time limit will also increase from 48 to 72 hours.
"Mental illness is just like any other illness," Deeds said. "The brain is just another part of the body. … If you go to the emergency room in cardiac arrest, they don't turn you away because they don't have a room. If you commit murder, the police do not turn you away from the jail because they don't have room."
The bill also proposes to conduct a four-year mental health study, which he said would become more challenging as time goes on and the immediacy of the situation fades. Deeds said this problem came up after the 2006 Virginia Tech shooting.
"There are desperate things that occur in our society, and we try to face them and then the urgency passes and we're onto the next crisis," he said. "This year, while I was sitting in General Assembly session every day with scars darker than they are now, with eyes red from crying, it was impossible for legislation not to pass. People wanted to respond. The hard work is going to be going forward. The hard work is going to be making sure that we maintain the urgency to address our inadequacies in mental health here."
The event, sponsored by Student Assembly, HOPE, Active Minds, AMP and NAMI, marked the beginning of the College's Mental Health Awareness Week. Following Deeds's talk, SA members spoke about mental health initiatives for the upcoming year.
"It is important that we continuously discuss topics in the field of mental health, not just in response to tragedy, but in our everyday lives," Student Assembly vice president Kendall Lorenzen '15 said in an email. "It is difficult at times to 'maintain the urgency' when we discuss mental health as an abstract topic as Senator Deeds addressed, but it is something that we must do to attain a true community of support and understanding."
In terms of advice for students, Deeds had three points: Do not worry about things you cannot control, always look forward to the future knowing that things will get better, and take care of yourself and your friends.
His call to "be your brother's keeper" resonated particularly with HOPE mental health branch vice president Rachel Boykin '15.
"When Sen. Deeds began to give the audience advice, it reminded me of the analogy of why the flight attendant always tells us to put on our Oxygen mask first BEFORE helping others: because how are we expected to fully and effectively help others if we are not receiving the necessary nutrients ourselves?" Boykin said in an email.