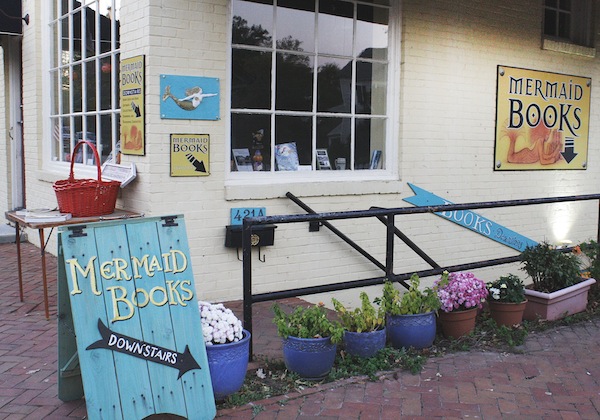 Every wall of Mermaid Books is lined with seemingly endless shelves of used books, which are filled with the markings of previous owners. There are books ranging from old Virginia tourism guidebooks, to college student's' British literature textbooks, to someone's grandmother's cookbooks, to rare, out-of-print, first edition classic novels.
Mermaid Books is a used bookstore currently housed on Prince George Street. It was opened in 1977 by Mary Lewis Chapman, an alumnus of the College of William and Mary, and is currently owned by Hatley Mason.
"Her vision in opening this store was to provide a good place to get used books that were in readable condition and I've tried to continue that goal," Mason said.
Mason grew up in Richmond but came to Williamsburg often, and frequented Mermaid Books before he bought it.
"I would often go down to Aromas to eat and then come down here to look at books," he said.
In 2009, Mason discovered that the store was closing because the owner couldn't find anyone to buy it. He didn't want to see the store close, so he bought it.
"I've lived here in Williamsburg the past two summers and I've gotten to know Hatley and his wife really well," Charlotte Jones '15 said.
Jones's experience is not atypical. Mason makes an effort to get to know everyone who walks into his store.
"One of the things I like most about owning Mermaid is that I get to meet a whole lot of wonderful people," he said. "There's a real tradition of bookstores supporting the local culture and community and I try to continue that."
Mermaid Books can be difficult to find because entering involves descending a staircase on the side of I Must Say, an antique store also located on Prince George Street. Nevertheless, many students of the College are still able to find and enjoy what Mason's store offers.
"I heard about the store by word-of-mouth and some of my friends took me there the night before Fall Break," Max Sterling '18 said.
Mason said he tries to make Mermaid Books an inviting and welcoming environment for college students, locals and tourists alike. Whether his customers want to find a specific book or simply browse the store, he says he tries to help them find a book they will enjoy.
"You can go into any section and he'll be like, 'I know this and that about what you're looking for,'" Jones said.
Mason said he loves discussing the various books in the store with customers. He particularly likes finding, displaying, discussing and selling first editions of books by F. Scott Fitzgerald, James Joyce, Ernest Hemingway and Jack Kerouac, but the books that he sells are varied in topic, genre and author.
"I was really impressed with the quality, range and variety of the books at Mermaid," said Sterling.
Mason sees himself not just as a bookstore owner, but as a collector. He says his favorite books to collect for the store are out-of-print, first edition books by classic or offbeat authors, including first edition copies of Fitzgerald's "This Side of Paradise" and Kerouac's "Big Sur."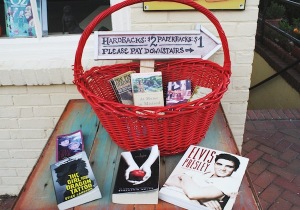 "I'm fond of books that were controversial or changed the literary landscape when they were published," Mason said.
Helping customers find books that mean something to them, or remind them of a certain something, is one thing Mason particularly enjoys about owning Mermaid Books. He says it is particularly exciting for him when customers are able to find the exact same edition of a book that holds memories from their childhood.
"It's nice to be able to give people back a memory," Mason said.
Mason tries to fill the store with books that people can't find elsewhere in Williamsburg. While the William and Mary Bookstore offers new copies of classic novels, Mason said that Mermaid Books tries to provide a more affordable alternative for students with older copies of the same classics, in addition to the more expensive and rarer books geared more toward collectors.
"I can see how it could be overwhelming for some people. There are books everywhere and almost no room to move," Sterling said. "But it's a very tempting and nice environment for a book lover."
Mason is thankful for every person who comes into, browses or enjoys his store and wants to keep helping people in Williamsburg explore their love for books.
"I love talking to people and hearing their stories," he said. "This store is a place of stories. Everybody who comes in here has their own story and I love connecting with them."