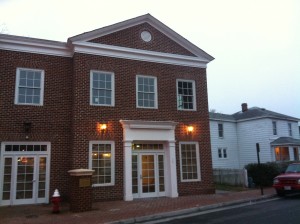 The Jimmy John's restauraunt located at 747 Scotland Street closed Jan. 1, following less than a year of operation.
Williamsburg Economic Development Director Michele DeWitt said she does not think the sandwich restaurant's closing could be linked to any citywide trends in business.
"Sales and meals taxes show increases in the city," DeWitt said.
Council member Scott Foster '10 J.D. '14 agreed that the restaurant's departure is not indicative of a larger trend in town.
"New restaurants have to fill a niche within the Williamsburg market in order to be successful," Foster said. "City restaurants, new and old who have the right formula are doing well, as evidenced by several who are thriving and even looking to expand."
The Scotland Street location was less than a block from the College of William and Mary. It was near several other restaurants, such as the College Delly, Pita Pit and MOOYAH. The latter two eateries reached an agreement with the College that allows students to use Dining Dollars from student meal plans at those locations.
Mike Morris is a managing partner of Colonial JJ LLC, which operated the Scotland Street location. He helps operate the Jimmy John's in New Town, along with several locations in Hampton and Virginia Beach.
Morris said in an article in the Williamsburg-Yorktown Daily that there was insufficient business at the Scotland Street Jimmy John's to justify its continuing operation. While Morris is considering new locations in Newport News, he does not intend to open another Williamsburg location.
The New Town location opened in the fall of 2013, and the Scotland Street location received its business license in February 2014.
Jimmy John's, founded in 1983 in Champaign, Ill., recommends on their franchising information page that new locations be near areas of dense daytime populations, like offices and college campuses. They also recommend a residential population greater than 25,000, local annual median incomes of $40,000 or more, and ample parking.
According to the US Census Bureau, Williamsburg had a population of about 15,200 in July 2013.