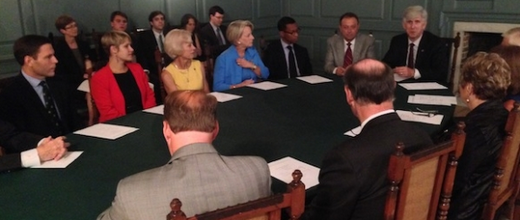 In its Feb. 4 meeting, the Board of Visitors' Richard Bland College Committee approved three resolutions and discussed progress in enrollment, faculty affairs and operations.
To start the session, chair of the committee John Littel addressed questions on the transfer process between Richard Bland and the College of William and Mary. He pointed out that many students might not be aware of the resources available to them.
"On the William and Mary end, there is a real energy and desire to make that process not just simple, but also really make sure that the students succeed," Littel said.
Debbie Sydow, president of Richard Bland, next outlined points of emphasis — growing and strengthening enrollment efforts, improving academic quality and effectiveness, and working on operational efficiency — which three presenters discussed in greater detail.
Chief Information Officer Chandragupta Gudena shared insights on enrollment at Richard Bland. In fall 2014, 1,411 students were enrolled at the college. This number is projected to reach 1,528 by fall 2015 and 2,100 by fall 2019.
To reach these goals, Richard Bland will target geographic regions with current high enrollment and continue to encourage dual and online enrollment.
Dean of Faculty Vern Lindquist updated the committee on faculty affairs.
He discussed a resolution designed to update the AA degree curriculum. Ninety-seven percent of Richard Bland graduates choose AS degrees over AA degrees, which require extensive foreign language, science and algebra credits. Twenty-three percent of AA students' coursework consists of foreign language classes.
"For many students, [the classes are] just going to be more than they're interested in, but it's also going to be more than they're capable of," Lindquist said. "If the foreign language is four courses in a sequence, that does not allow for any stumbles. One stumble … means you're not going to graduate on time."
By amending these requirements, Lindquist said he hopes to align credits more closely with transfer institution partners while giving students flexibility to pursue their interests.
Originally, the Faculty Senate Forum did not support the update, which allowed electives to constitute one-third of required classes. It has since been amended.
The committee approved the resolution but moved to give the Dean of Faculty discretion to determine the total number of electives allowed, as well as take into consideration faculty concerns.
Debra Kaufman, Chief Operations and Development Officer, discussed two resolutions.
One resolution moved to update Richard Bland's Discrimination, Harassment, Sexual Misconduct and Retaliation Policy.
"We have made really big strides in conformance and compliance with Title IX," Kaufman said.
Richard Bland will also offer online training on the topic for all faculty and administrators, as well as train students in groups of ten as the year continues.
The committee passed the resolution, giving the president of Richard Bland discretion to make future enhancements without sending them back to the board.
The final resolution proposed repurposing the humanities and social sciences building as overflow residential dorms. The committee passed the resolution.