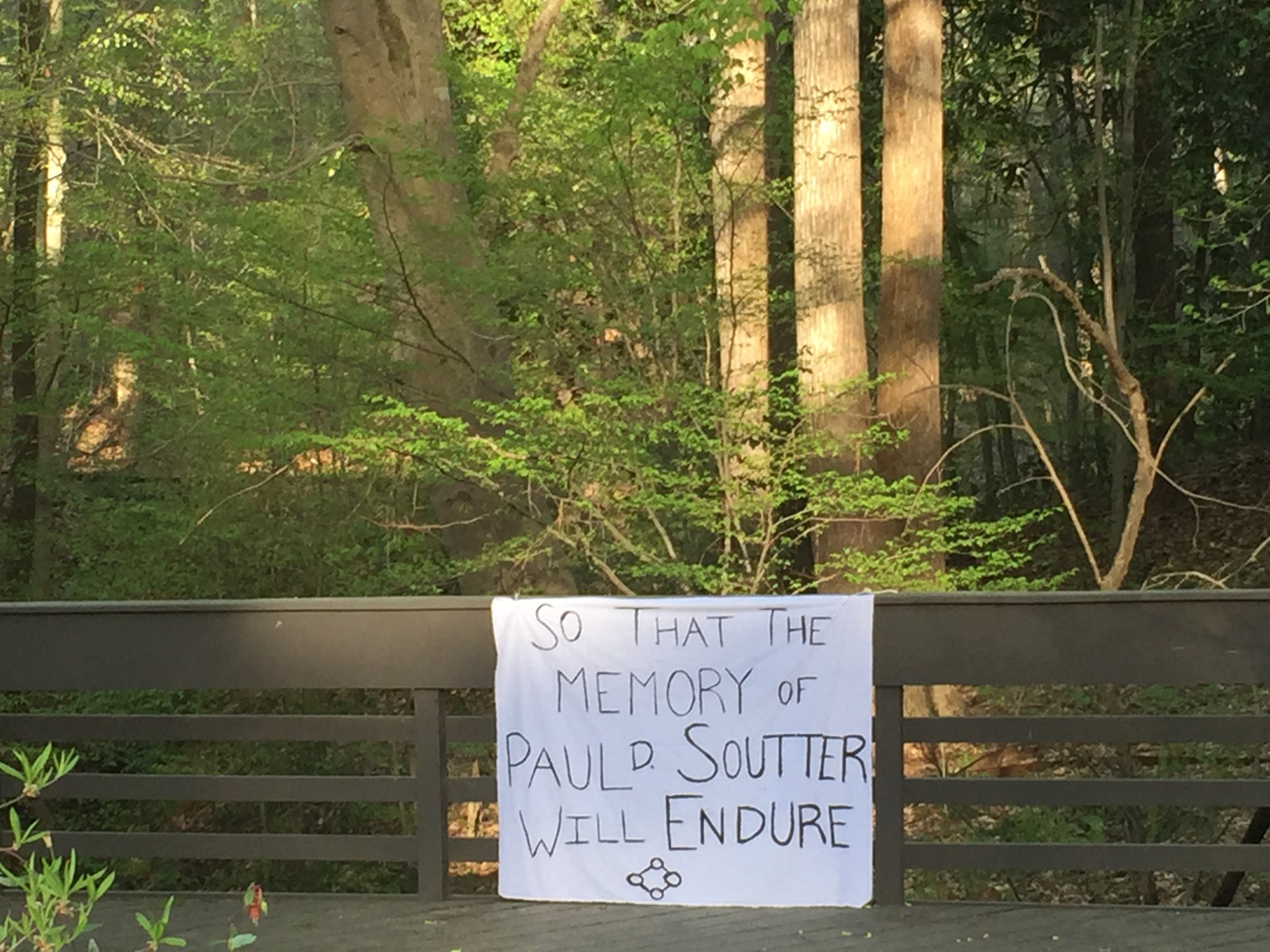 Commonwealth Auditorium was full Wednesday as the College of William and Mary community gathered to commemorate the life of Paul Soutter '17, who died Monday, April 13. Soutter, a talented thespian and a beloved friend during his time at the College, was remembered in reflections shared by friends and family.
Soutter was vice president of Shakespeare in the Dark, a member of Improvisational Theatre and Sinfonicron Light Opera Company. Members of each group, as well as the William and Mary Theatre Department, were in attendance at the memorial.
Rev. Max Blalock shared an invocation before Vice President for Student Affairs Ginger Ambler '86 Ph.D. '06 spoke on behalf of the College. Ambler's remarks, which included a poem by her mother, were followed by reflections from four of Soutter's friends — Kali Gille '16, Emily Heath '17, Kat Knoerl '17 and Jason Via '15.
"His hugs were great, and he smelled like Christmas," Gille said. "He was always there when I needed him, and he always asked for my help when he needed it … It just hurts me so much that he didn't this time, and I couldn't do anything. I don't think I've ever met someone as wonderful, bright and shining as Paul."
Via also remarked on his roommate's light.
"Aside from the darkness, there were moments of spontaneity and light … Although there was struggle and worry and darkness, I wouldn't trade it for anything. I wouldn't trade it for any experience I've ever known. Paul was a bright, shining beacon — and he helped me and many — countless others — more than I was ever able to help him. His light has gone out forever, I think, because he burned so very f – ing bright."
Even as the crowd mourned, there were moments of laughter, as his friends and family tried to remember Soutter's sense of humor.
"And now our room is terribly empty, and he'll never tell me another terrible pun at one in the morning just to hear me groan," Via said. "I don't know why I couldn't help him with his demons, but I hope he left them behind. I like to imagine that he's on another adventure, where he's just wonder and laughter and love."
His friends encouraged those gathered to remember Soutter fully, as a complex being, complete with triumphs and tribulations.
"Paul's a real person with real goodness and real flaws," Heath said. "And that's how I want to remember him — not just the good, but the good, the bad and the in between, because just the good parts would only create an outline. Everything else — that's what fills in the rest of the way. That's what makes a person."
Heath added that Soutter was incomparable, ending her reflection in a simple summary of their friendship.
"I only knew you for 558 days," she said. "But I will miss you for many more."
Knoerl also emphasized Soutter's complexity.
"There's no one who matched me so well … It was something to the likes of Rosencrantz and Guildenstern or Timon and Pumba. He will never know the astounding number of people who have come out to see him in the last couple of days. He would also be very uncomfortable with the number of people showing their love for him. He'd be so uncomfortable. We had a lot of people at the Duck [off-campus theatre house]. There was just so much food, so much love. We were saying, 'He would be there, and he would love everyone that was there, but then he would get really uncomfortable and then leave. Then, we would find him back at home brushing his teeth.'"
Knoerl further reflected on her close friendship with Soutter, referring to him as her soul mate and best friend. She told those gathered of her many adventures with Soutter, including their shared love of "The Office." Knoerl claimed that Soutter was only on season eight at the time of his death, but he would have hated season nine. She reflected on how two particular characters had an inside joke that she and Soutter later echoed in their friendship.
"There's this running joke between these two characters, Jim and Pam: 'If Dwight asks you to be in a secret alliance with him, there is only one response: Absolutely I do.' After one particularly brutal argument, Paul told me something that made me sure being friends with him was the only option we'd ever have. According to him, if Kat asks you to prepare your friendship, there is only one response: 'Absolutely I do.'" Knoerl said.
Knoerl said life would not be easy without Soutter.
"But if anybody were to ask me if it was worth it, if I thought being his friend was worth every moment of pain that has happened and will happen; if you ask me if he was the best friend I would, could, or will ever have on this planet; if you ask me if I love him, I will say: 'Absolutely I do.'" Knoerl said.
Soutter's mother and father, Cate Hubbard and Paul Soutter Sr., followed his friends to thank the community for their support. Specifically, they thanked Gille, Heath, Knoerl and Via for representing Paul fully.
"I enjoyed everything that you said — his weirdness, we fostered it," Soutter Sr. said. "His puns, his love of superheroes, animated cartoons — we've known Paul the whole time, and he was always special. [A] very happy child, sincere child, loving and hardworking child."
His parents said that their son had entered into a depression four years ago.
"[The depression] got deeper. He was still there. The original Paul was still there, but there were shadows," Soutter Sr. said. "I'm glad you guys were able to see both sides."
Hubbard continued the thought.
"[It] means you knew the real Paul Daniel," Hubbard added.
They encouraged the crowd to not let this happen to anyone else in their community.
"For your friends who might be depressed, learn about depression and do what you can to help them," Soutter Sr. said. "Just like with Paul, it's not as easy as saying, 'I love you.'"
Hubbard said that Soutter was loved in life.
"He knew he was loved, but he just couldn't see that he was loved enough for him. He held himself up to a higher standard than anyone ever could have lived up to, so he always saw himself as falling short of his own expectations, which is really a shame," Hubbard said.
Hubbard stated that Soutter loved his time at the College, saying that he considered it his home.
"He actually wrote in one of his journals that his family was established in 1693 — that's you guys. That's everything about this," Hubbard said. "He was a very, very special person, and I will mourn him forever, but I implore you all to not to allow this to happen to yourselves or anyone you love. Drag them kicking and screaming to get help — and don't let them off the hook by lying and saying, 'I'm okay.' It wasn't that he didn't love being here — he really did."
She said that Dean of Students Marjorie Thomas was a great resource and encouraged students to seek her and campus police out if they are in need of help.
Hubbard and Soutter Sr. closed by addressing Soutter's four friends who spoke.
"You make him proud," Hubbard said.
Rev. Blaclock closed the service with a final prayer for Paul, his family, friends and those gathered.
"Even knowing that we are loved and being loved by so many people sometimes isn't enough. But boy, isn't it so much better than the alternative?" Blaclock said.