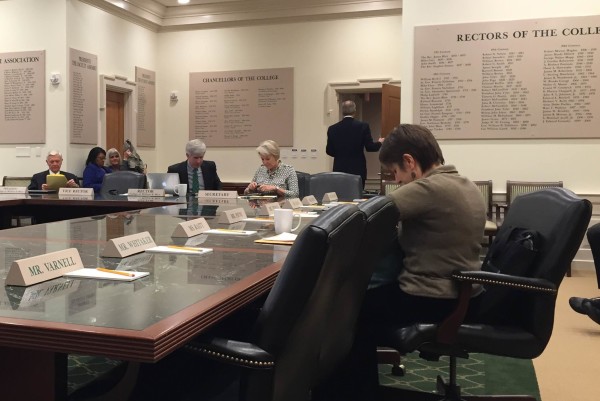 The College of William and Mary's Board of Visitors committee on student affairs convened Thursday to discuss family partnerships with the College and to hear a student presentation regarding diversity on campus.
Student Affairs Committee Vice Chair Lisa Roday opened the meeting and said that she and board member William Payne '01 had been on campus meeting with student groups recently and were working on a survey relating to club sports.
Vice President for Student Affairs Ginger Ambler '88 Ph.D. '06 introduced Associate Dean of Students and Director of Parent Programs and Director of Parent and Family Giving for University Advancement Stacey Summerfield, who discussed partnerships between parents and the College and what that means for fundraising.
"I'm especially proud of the partnership between student affairs and university advancement and the way we are involving parents and families in the life of the university and sustaining the excellence that William and Mary represents not only for students today but for students to come and for their grandchildren to come," Ambler said.
Summerfield and Sikes talked about the growth of this partnership over the years, primarily focusing on more recent years. Sikes presented a study that said that 84 percent of students reported that their parents are involved just the right amount. They also told the board about the success of early decision events hosted in New York City and Washington, D.C. to get families and students from the same region together before the students come to the College.
Sikes and Summerfield discussed the current goal to raise $1 million for the parents fund this year, and the difference between parents who are also alumni and non-alumni parents. The latter have a participation rate of 23 to 25 percent, while the former's rate has gone as high as 55 percent. Summerfield said that although alumni parents are only three percent of the total alumni base of the College, they make up five percent of the donor population.
Roday then introduced student presenters Ryan Goss '16 and Yussre ElBardicy '16. Goss began by highlighting relevant context for their topic — diversity on campus.
"Little did we know at the time that this presentation would fall in the midst of an ongoing national discussion and conversation about this," Goss said. "So we figured that we would take this opportunity to be real with you, to be honest, to be amplifiers of what students are saying."
Goss and ElBardicy talked about the recent events at the College — the die-in last fall, multiple Black Lives Matter protests, sticky-noting the Thomas Jefferson statue and the Mizzou Black Out — that they said exemplified student advocacy on campus. Goss then broke down what diversity is at the College.
"At William and Mary we mean a lot of different things," Goss said. "It's impossible for us to get up and try to do justice to the lived experience of people across these units of identity —socioeconomic diversity, various sexual orientations, communities of race identities and so many more."
ElBardicy talked about the importance of relationships to the College community, particularly those between students and faculty members. According to ElBardicy, the College's student body is 31 percent of students of color, yet only 13 percent of faculty members are of color. She said that students tend to be more comfortable reaching out to whom they can relate, which then overburdens those few faculty members of color. ElBardicy then shared a personal experience with this divide while visiting one of her math professors.
"About 15 minutes into the conversation he paused and he asked me how long I had been in the United States because I spoke English so well," ElBardicy said. "So I kind of clarified, 'oh well I was born and raised in Northern Virginia,' and he said 'yeah, you almost sound like an ordinary, average American. So I said 'okay, well what doesn't make me ordinary or average?' and he just laughed."
ElBardicy said that this wasn't a one-time incident and that each time something similar happens, she has to reaffirm and prove that she's American. She said that such events start to impact a student's College experience as a whole.
Goss then delved into the topic of inter-student relationships and group separation. He also mentioned the harmful effect of social media, particularly anonymous forums. Then he discussed into historic figures on campus, particularly the statues.
"Someone said to me once that at William and Mary 'you feel the weight of history,' and I think that's really a helpful way to think about it," Goss said. "Really these [statues] are exclusively white men in a certain period of our history, some of whom were slave owners themselves. So the issue that was illuminated to us by students is not necessarily the existence of these figures that we've exalted in our statues and our memorials and our plaques … it's more of who is not represented."
ElBardicy said that the statues give off a sense of dominance over campus. They ended the presentation discussing opportunities on campus to encourage conversations on diversity such as the Center for Student Diversity and incorporating the topic more fully into the new COLL curriculum. Multiple board members responded to ElBardicy's personal account with her professor.
"I was also very disturbed by your conversation with that professor," Board Member Christopher Little said. "Regardless of how hard we work and add more diverse faculty, most of the professors that you all deal with are not of color, and it seems to me that a major effort should be that those people, who are not of color, have greater understanding and sensitivity."
In response, Goss said that it only takes one instance like ElBardicy's to establish a feeling of mistrust.
"I think stories are powerful, stories are much more powerful than injunctions to be good, or injunctions to be sensitive," Reveley said. "You told a powerful story. I've heard a lot of powerful stories recently. We need to capture these stories because they can convey the need for change far, far more effectively than a lot of other ways of going at it."
Reveley said that reaching people effectively is a challenge, because the ones that most need to change are the least likely to do so voluntarily. He said that the white community on campus needs a better understanding of what students of color and minorities are experiencing. Senior Associate Dean of Students Vernon Hurte disagreed, saying that stories were 'low-hanging fruit,' and there needs to be a focus on the campus culture.
Adom Whitaker '17 agreed with Hurte.
"I agree that stories can be low-hanging fruit because I would argue that these offences are occurring because of the culture," Whitaker said. "If you look to campus, administration sets the bar for what's acceptable and what's not accepted and so if you're just sharing stories, you're still not changing the culture."
Already over time, Roday ended the committee meeting. She said that they would adjourn the meeting, but not the conversation.