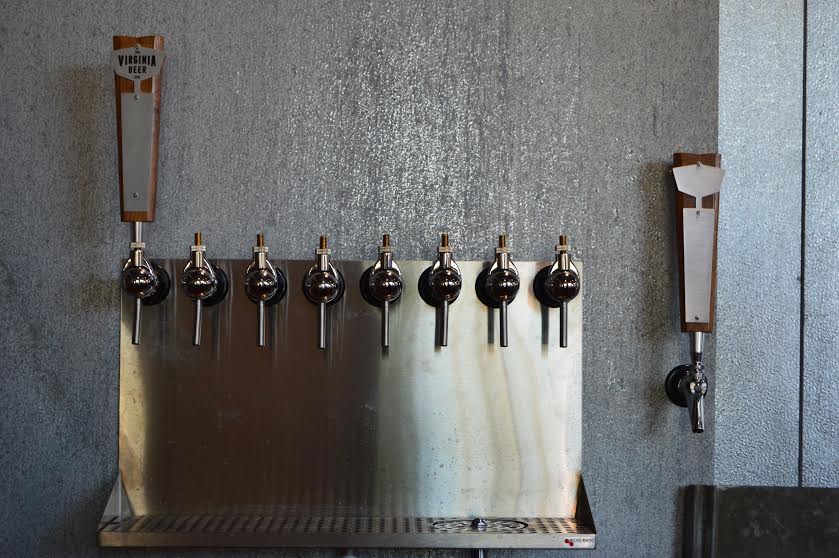 A taproom decorated in wood salvaged from a local 1907 barn, three natural gas fire pits outside and fresh brewed craft beer await those who will visit The Virginia Beer Co. when it opens its doors this March.
Co-founders Robby Willey '05 and Chris Smith '07 met at the College of William and Mary while working for Phonathon raising funds for University Advancement. They solidified their friendship over pints at the Green Leafe Cafe.
"We discovered a wide world of beer beyond Anheuser Busch," Willey said. "The Green Leafe was one of the first places in Williamsburg that really offered any selection that wasn't just the golden lager, and so that kind of led to interest and kind of finding out what kind of beers were out there."
Although both moved on to jobs beyond Williamsburg and the Leafe, that interest never tapered off. Willey started home brewing in 2008, followed by Smith in 2009. After working in the financial world post-graduation, both decided to make brewing a full-time gig. According to Smith, they talked about locations up and down the east coast, but never seemed to consider Williamsburg.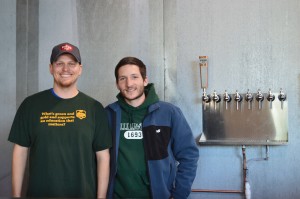 "Williamsburg seemed too obvious, it seemed too much like we're just trying to find an excuse to go back to our college town and drink at The Green Leafe more often," Willey said.
The plan started to take shape in 2010, when talks of opening their own brewery turned serious. By 2012, Smith moved back to the area, and by 2014, Willey joined him. Brewmaster Jonathan Newman joined the team in 2014, migrating north from SweetWater Brewing Company in Atlanta, Ga. The search for the perfect location took a grueling two years until late 2014 when they finally found an old car garage two miles from downtown Williamsburg.
"There's really no space like this, it's a pretty unique concept for Williamsburg," Willey said. "There are definitely breweries in the area, there are definitely pubs, … but to put it all together and have a big event space — the ability to host large groups, live music, live entertainment — the ability to have outdoor space that's comfortable both in warm weather and cold weather and kind of bring the community together, we felt like this was really a unique opportunity and it's not something you see around Williamsburg so hopefully we're filling a need."
The garage has since been transformed into a brew house, taproom and beer garden. The taproom will be full of tables of all shapes and heights, made of the same 1907 barn wood that covers the walls. The patio is made more accessible by a large roll-up door and will feature picnic tables and fire pits.
"We actually have two brew houses," Smith said. "We have a big brew house for production beer for kegging, canning it, sending it out to market and then we have a small, five barrel brew house, so 10 kegs at a time, and we did that because we want to basically have a new beer in the taproom every week, which keeps people coming back."
One addition unique to the patio is a food truck pull-in. Many breweries around the country feature food trucks or take out menus because they don't serve food. Smith said they chose to add the pull-in close enough to the patio so people wouldn't have to put their beer down to get food because they weren't actually leaving the drinking area — something he said is unique for Williamsburg.
The Market
Smith said they recognize that the craft brewery market is only getting bigger — and more crowded. The Washington Post counted 1,447 craft breweries nationwide in 2005, a number that grew to 2,033 by 2011 when The Virginia Beer Co. was in its early stages. In York County, The Virginia Beer Co. will be competing with local staple AleWerks Brewing Company as well as Brass Cannon Brewing, which is relocating from Toano to a new facility on Mooretown Road this March.
"Luckily in this area, I don't think we're worried at all about crowding Williamsburg or the Peninsula," Smith said. "There's still plenty of room for more breweries and that goes for the whole country, you're seeing the problems come into play with distribution. It's a lot harder for a brewery in Virginia to sell beer in Colorado, but it's a lot easier now for a brewery in Virginia to sell beer in Virginia. People like local."
Competition is also fierce in hops, a key ingredient to flavoring beer, with some varieties being contracted out as far as 2022, according to Smith. Within Williamsburg however, Willey said they're excited for the opportunity to make York County a destination for craft beer lovers. Brass Cannon's Master Brewer Scott Kennedy said he isn't worried about another brewery entering the Williamsburg market — he's also excited about the tourism it could bring.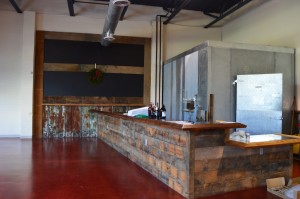 "I think it's good to have more craft beer in the area," Kennedy said. "Now that Brass Cannon is moving we're going to be even closer to where they're opening up and it's going to be more concentrated. That should help get a lot more tourism in the area and all these craft beer people coming in and being like, 'Hey, this is a cool place for craft beer lovers.'"
The College
The return to Williamsburg for the two alumni wasn't just for the Leafe's great beer; it was for their connection to the area. Willey said that not only does the beer have to taste good, but there has to be authenticity behind it. As small business owners, they said they hope to eventually be able to give back to the community, including the College.
"One of our draws as alums who have come back to the area is to stay involved with the College both on the annual giving board that we're both members of, but also as reunion co-chairs," Willey said. "We think there are a lot of great opportunities especially from the perspective of senior class gift events — there's always a wine and cheese event at the Muscarelle, so why couldn't we do a beer and cupcake event at the brewery?"
In addition to hiring students and hosting College-related events, a certain campus icon has become integral to their logo. The design went through many redrawing's, some more intricate than others, but Willey and Smith finally landed on a red background with the letters of "Virginia" curved around the word beer — inspired by a certain bridge on campus. In one of the designs, the Crim Dell Bridge was actually drawn in its entirety, but the image was too complicated for a logo.
One of our draws as alums who have come back to the area is to stay involved with the College…
Willey and Smith said they have discussed future options for donating a portion of proceeds from a possible William and Mary-themed beer to a scholarship fund at the College. One of the beers they will be opening with in March is the Wrenish Rye, an homage to Sir Christopher Wren.
The Beer
The Wrenish Rye is a dry-hopped, rye amber ale which will have a green and gold color scheme to it. The Rye will be one of the four beers the pair plans to have on tap year-round. The other three include an oatmeal stout called Elbow Patches, a citrus wheat dubbed Saving Daylight, and an IPA, or India Pale Ale. IPAs are the most popular beer in the industry right now, but Willey said that their IPA, Free Verse, features Azacca hops that give it tropical notes and Chinook hops for a piney, spicy addition, a combination that leaves it less bitter than most on the market.
In addition to the four staples, The Virginia Beer Co. will also have four beers on rotation, ideally with a new one out each week. Having two brew houses means they can make as many as 60 different beers a year — 60 beers that each need a new, fun, creative name.
"One of the reasons we chose our [brewery] name is so we didn't have to have a theme," Smith said. "We weren't interested in anything enough to have that kind of theme, so we really like the flexibility of having not a clever name and not a funny name — our brewery name is what it is and then we can go from there and be a little bit creative and playful."
Their distribution plan is to stay local — for now. Once open, eight beers will be available in the taproom at 401 Second Street in Williamsburg. In time perhaps the Wrenish Rye or Free Verse could also have a home on one of the Leafe's 42 distinct taps.