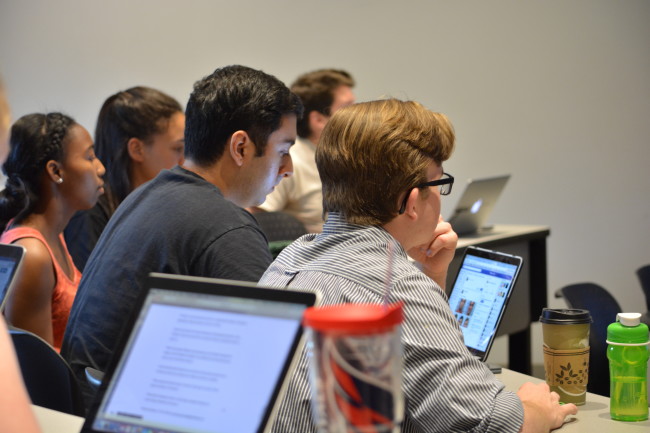 Last March, Student Assembly President Eboni Brown '17 and Vice President Hannah McKiernan '17 won by a narrow margin of 41 votes — one of the closest margins in the last four years of SA elections. They ran on a diversity-centric platform and, shortly before their inauguration, Brown sponsored a bill to address the climate of race and race relations on campus.
Now, a new semester is underway and Brown, McKiernan and the SA Senate are gearing up to address the issues laid out in the spring: transparency, diversity and effectiveness.
According to Brown, one of her biggest priorities in the next few weeks is filling vacancies in SA executive positions, including various vacant secretary and undersecretary positions, for example.
They will also be planning the first events of the "I AM W&M" initiative, which is a week during the spring semester where SA partners with other student groups to highlight diversity and inclusion at the College of William and Mary.
Brown will also be working to further her goals on diversity in the fall semester.
Secretary of Diversity Erica West '17 worked all summer with her undersecretaries to plan an interfaith service to emphasize solidarity with Muslim communities and students. West and Brown are also looking to put up an exhibit from the "No H8" photoshoot that took place in 2015.
Another goal listed in Brown and McKiernan's platform was to lobby for funding to bring a Sexual Assault Nurse Examiner (SANE) to the Williamsburg area.
Currently, students must travel to Newport News for those services.
In their platform, the pair said they planned to attend this year's Road to Richmond event to lobby for funding to bring one of these nurses to Williamsburg or to the College's Health Center.
"Regarding nurses, while we've identified our goals, the Williamsburg City Council only came into office this summer," Brown said in an email. "So we're going to first meet with representatives there and see what their approach is and work with the State on a united front with the city government. We would like to start the conversation sooner, rather than wait for Road to Richmond."
Another more long-term executive goal that coincided with the platform of City Council member Barbara Ramsey '75, was the use of a website that would allow students to "rate" and provide feedback on their local landlords.
This was particularly relevant because three out of five of the City Council candidates were local landlords; two of those landlords, Ramsey and Benming Zhang '16, were elected in May.
This website has not been finalized, but members of SA hope to announce it in the next few weeks. According to Secretary of Public Affairs Jakob Stalnaker '16 J.D. '19, SA initiatives like this are important for community outreach.
One event that Stalnaker was particularly excited for was the Great Williamsburg Adventure Race, which was not planned by SA but was an event that he thought would help connect City Council, Williamsburg residents and College students.
I'm looking forward to creating opportunities for students to become more civically engaged," Stalnaker said.
"I'm looking forward to creating opportunities for students to become more civically engaged," Stalnaker said. "We plan on continuing our voter registration efforts and encouraging student participation in city events."
While efficacy was a buzzword dropped frequently during SA's presidential election, it also became an issue with SA Senate when The Flat Hat reported that not all senators were active in discussion or in the act of writing and sponsoring legislation.
Whether or not it is in response to these findings, Chairman of the Senate Danny O'Dea '18 said he hopes to start off the semester by passing several bills that have already been discussed and written.
"This semester, I intend to change things a bit," O'Dea said in an email. "Senators will be responsible for writing or co-writing at least two bills per semester. Hopefully through this we will be able to pull from the different values that each senator brings to the table."
When O'Dea was running for Chairman of the Senate, much of his platform revolved around working to engage other senators and improve the social dynamic to make senate more effective. He also wants to make sure students are aware of what resources the SA Senate can provide.
My goals this semester are centered around a more engaging student assembly," O'Dea said.
"My goals this semester are centered around a more engaging student assembly," O'Dea said. "I want students to have a working understanding of just how valuable a resource the SA can be to them and their organizations. At the risk of sounding like a broken record, it all comes down to communication. Within the Student Assembly as well as making sure our presence is felt as a guiding force and a voice for the student body, greater communication would go miles in terms of helping the student realize the potential for their various organizations."
One SA initiative that temporarily ended last spring during the final weeks of former SA President Yohance Whitaker '16's term was the launch of an official SA website.
Moving forward, however, the website needs to be updated with new information about staff members and this year's legislation. According to Class of 2019 President Jonah Yesowitz '19, SA members plan looking to "heavily improve upon" their redesign of the website.
Yesowitz said that he did not know any specific details on what information will be added to the website or what the timeline for the redesign will be.
"All I know is what was rolled out last semester is not our final product," Yesowitz said.