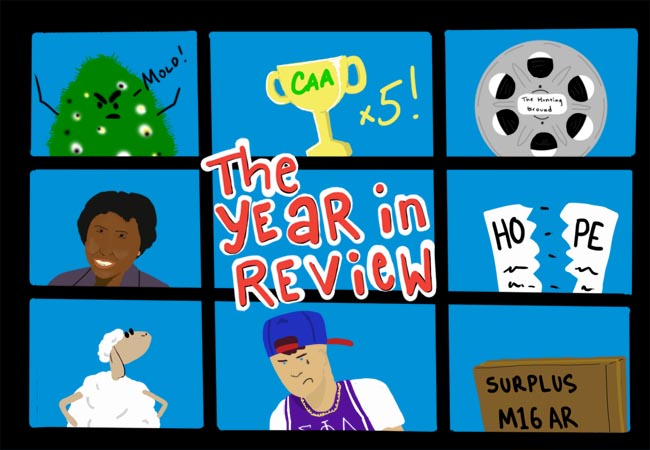 With summer break nearly here, it's time that we sum up the semester with The Flat Hat's rendition of the good, the bad and the ugly
First, we give a thumbs-up to the Global Film Festival's showing of "The Hunting Ground" for continuing an important dialogue on sexual assault and rape culture with a new and creative initiative.
We commend the Student Assembly for dissolving the Undergraduate Council in a move that adds meaning and clarity to the organization.
The College of William and Mary's athletics programs deserve recognition for the five Colonial Athletic Association titles granted to men's swimming, men's and women's tennis, and men's and women's cross-country, as well as Marcus Thornton '15 for his all-time leading scoring record.
Gwen Ifill, the 2015 Hunter B. Andrews Distinguished Fellow in American Politics, spoke to students regarding the media, sharing meaningful experience and valuable insight for students in the field.
Colonial Williamsburg held its annual Sheep Week, which was a great opportunity for the community to make some new wooly friends.
And the last thumbs up goes to the College's Police Department for returning an unnecessary stock of military-grade M16 rifles. Our first thumbs-down goes to the Department for having them without providing training for the officers on how to use them.
A thumbs-down to the administration's response to Health Outreach Peer Educator's drafted open letter regarding the handling of sexual assault on campus. Concerns have arisen about the administration's handling of actual offenses given its response to a letter.
Additionally, the College's handling of document requests submitted under the Freedom of Information Act showed a poor understanding of student journalists' rights at best, and, at worst, an attempt to conceal or delay the provision of public documents.
Another thumbs-down to the Student Assembly for proposing a poorly-researched bias reporting system that lacked a clear understanding of the problems with anonymous reporting.
SA elections highlighted poor outreach, with the class of 2017 not being able to attract enough candidates to fill positions, as well as a dismal voter turnout of 28 percent.
The College also poorly handled reports of moldy living conditions instead of directly addressing the dangers immediately and effectively.
Finally, racism was an ill-addressed topic on campus this semester. Controversial responses to the "die-in" in recognition of police brutality against the African American community as well as the allegedly racist parties held by some organizations were not enough to begin an honest dialogue about a very real problem.
After a semester chock-full of important and often controversial events, it's important to reflect in order to continue these conversations into the coming year. Have a wonderful summer, and stay engaged.
Madeline Bielski recused herself from discussions on SA. Tucker Higgins recused himself from discussions about the HOPE article. Kaitlan Shaub recused herself from discussions about mold.