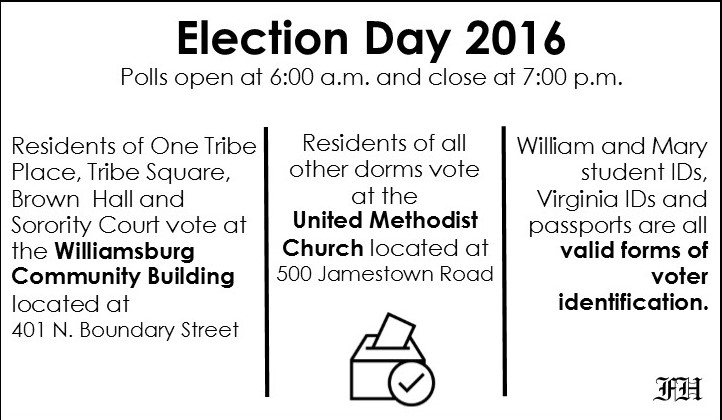 We made it: Today is election day.
Make sure you know what's on the ballot before you vote. If you're registered in Williamsburg, The Flat Hat has you covered. Click here for information on the state's two ballot measures. You can also read our coverage of the races in the House of Delegates, state Senate, and House of Representatives.
If you're interested in The Flat Hat's coverage of the national race, start with this article about the Young Democrats and College Republicans. We've also covered campus efforts to register voters and early voting in the state as a whole. Still unsatisfied? Read about students who are having a tough time picking one of the two major candidates, or our report on the 16 state write-in candidates.
The Flat Has has also profiled the following candidates for local races:
Thomas Holston — Virginia Senate
Monty Mason '89 — Virginia Senate
John Bloom — Virginia Senate
Mike Mullin — House of Delegates
Heather Cordasco — House of Delegates
Shaun Brown — House of Representatives
Scott Taylor — House of Representatives
Thanks for reading.